Do you like toast? I happen to love it! Toast ranks right next to waffles and pancakes as one of my favourite snacks. With the commonest ingredients and a toaster (or charcoal), you can easily whip up some toast and it doesn't even take much time. More importantly, it is fuss-free! With toast, it gives me a good excuse not to learn cooking.
My favourite is French toast that's done Hong Kong style, usually glazed with honey, condensed milk, chocolate syrup or peanut butter. Wow! My entire mouth just filled with saliva!
In recent years, several café chains (茶餐厅) pertaining to Hong Kong snacks have sprouted in Singapore. There's Toast Box, Man Jia Le, and more recently, Hong Kong Kim Gary Restaurant, all with one thing in common – toast done Hong Kong style!
By the way, I love the way toast is pronounced in mandarin – 多士. It sounds really cute!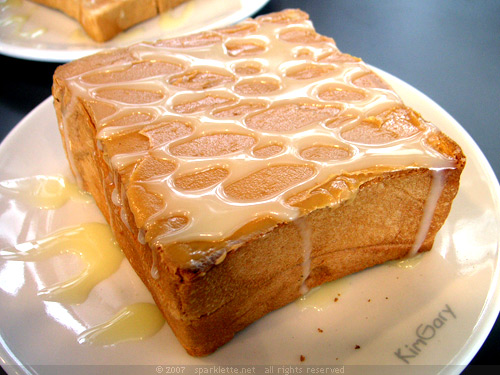 Sweetened Condensed Milk and Peanut Butter Thick Toast (甜奶花生酱烧厚面包)
S$2++
Rating:





I especially like to have peanut butter and condensed milk as toppings. Peanut butter must be the best thing since sliced bread (haha I couldn't resist writing that)! Give me French toast anytime with these two toppings and I'll turn into a happy little girl.
I love that the condensed milk forms a nice random pattern over the toast. It even glistens in the light!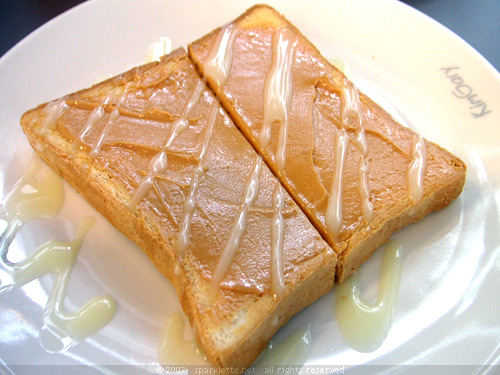 Sweetened Condensed Milk and Peanut Butter Toast (奶酱多)
S$0.50++
Rating:





For those who don't really fancy French toast, Kim Gary also has the same thing done with regular sliced bread. And check this out: you pay just 50 cents to have this yummy snack with such generous toppings! When was the last time you saw a menu item at a restaurant that cost just 50 cents?
Besides condensed milk and peanut butter, other bread toppings you would find at kim gary include jam and even shredded coconut! I wonder what that tastes like.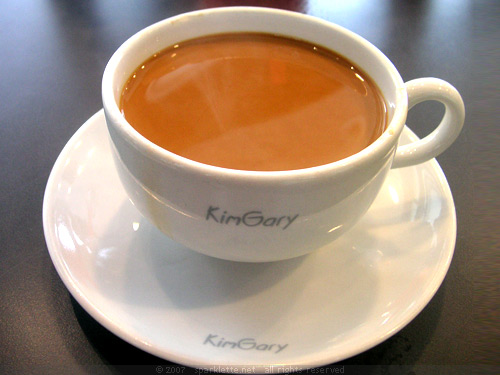 "Yin Yong" in Hong Kong Style (港式鸳鸯)
S$1.40++
Rating:





Of course, the perfect drink to wash it all down would be – what else – the popular Hong Kong beverage, yuan yang! It is a mixture of coffee and tea, said to be invented in Hong Kong (although the Dutch are crying foul). Can't decide between tea or coffee? Go for yuan yang!
Curiously enough, despite naming itself "Hong Kong Kim Gary Restaurant", this place has outlets only in Malaysia and a solo one in Singapore. No complaints from me though. I don't mind having one more Hong Kong snacks café in Singapore with cheap and delicious food.
Actually it is really a restaurant selling dishes such as beef noodles, but I would go there only for the toast.
Hong Kong Kim Gary Restaurant
VivoCity
1 Harbourfront Walk #02-128
Singapore 098585
Tel: +65 6376 8183
Service:





These are more of the Hong Kong toast I've had before, all of which are very creative renditions of such a simple snack! (click on the photograph to get to the particular food review.)
---
Ahhh… pork floss thick toast. With a topping like pork floss, it is found at none other than BreadTalk's sister chain, Toast Box.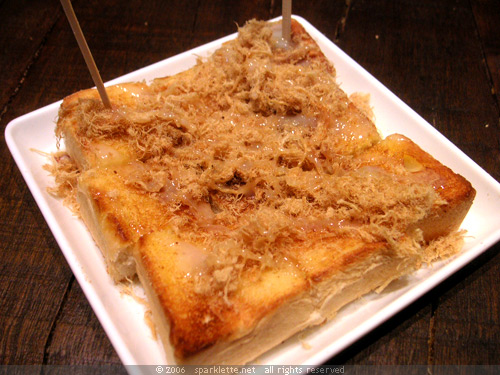 ---
Man Jia Le's French toast with chocolate syrup and peanut butter is another awesome combination, albeit sinful enough to induce a sore throat.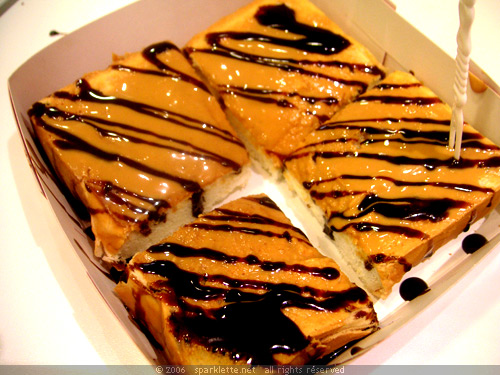 ---
Of course – I bet you saw this coming – there had to be one served with ice cream! french toast with vanilla ice cream at C-Jade Express: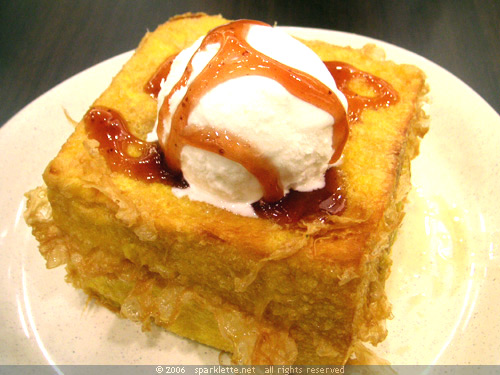 ---
During my Hong Kong trip, snacks such as these were the norm. Bread appeared to be a staple food over there. This chocolate French toast in particular looked almost too pretty to be eaten!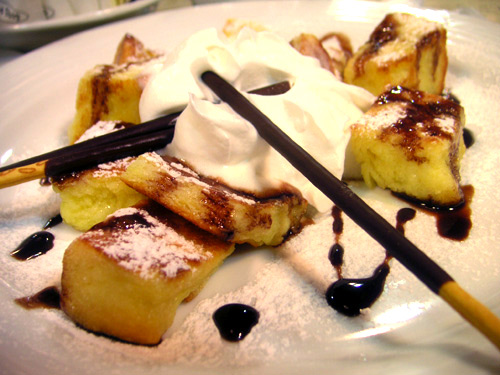 ---
Another toast I had in Hong Kong was simply regular sliced bread topped with honey and condensed milk.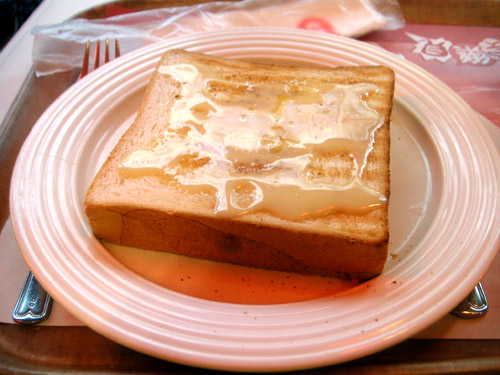 There you go! My love affair with Hong Kong toast. I can't be the only one, can i?