Ever wondered how the tradition of having chocolate log cake at Christmas came about? A long time ago, people used to burn yule logs during the darkest and coldest time of the year for light and warmth. The large end of the log would be placed into the fire hearth while the rest of the tree stuck out into the room. Imagine that!
Eventually people started making the Bûche de Noël, or cakes shaped like logs, at Christmas. To create the bark-like texture on the cake, a fork is dragged through the icing.
For your festive enjoyment, here are 12 unique and colourful log cakes in Singapore that you would want to consider for your Christmas dining.
1. 1 Caramel
At 1 Caramel, the patisserie under the One Rochester group along with 1 Twenty Six has unveiled an assortment of Christmas cakes, tarts and macarons.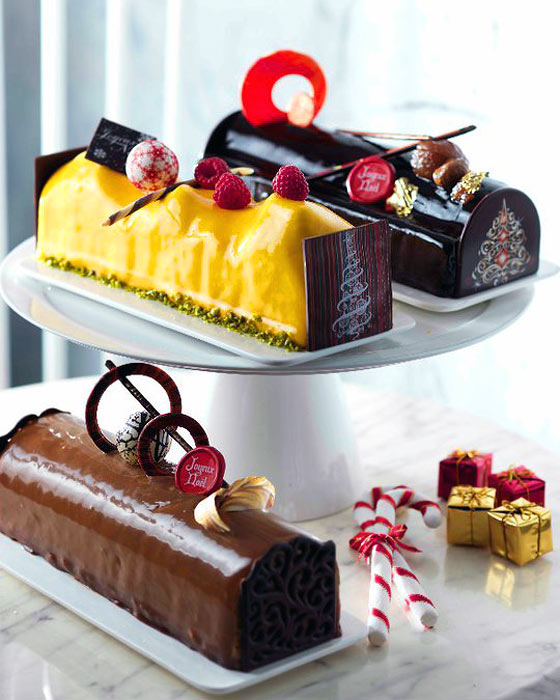 Choose from three log cakes, namely coffee butterscotch, mango citron and Trois Mattron. (S$60 each)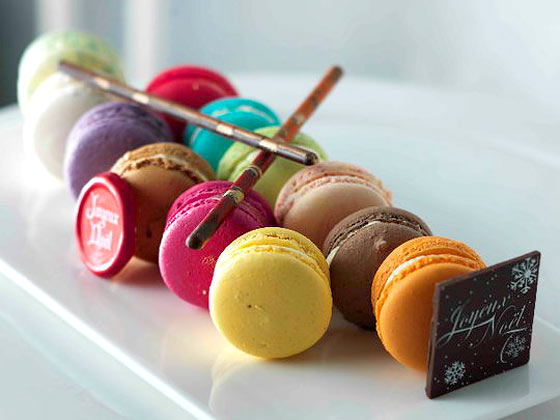 Apart from the log cakes, the multi-coloured macarons are also a big draw. The 12 Days of Macarons (not to be confused with macaroons) boasts diverse flavours. Have one each day over the 12 days of Christmas! (S$30 a set)
'Like' Sparklette on Facebook and browse the entire 1 Caramel Christmas collection 2010.
2. Bakerzin
When we're on the subject of macarons, you know that casual dining café chain Bakerzin would be mentioned somewhere. After all, this is where I had my virgin taste of the little French sweet treat!
Now, how about a log cake made of macarons?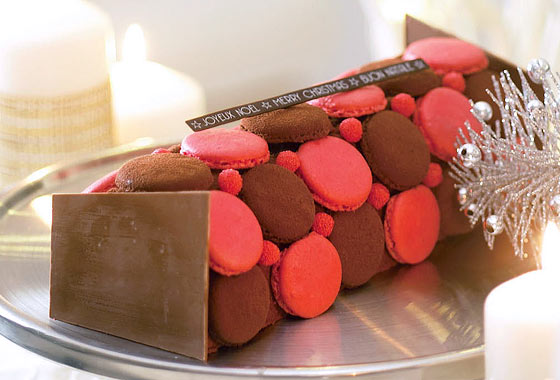 The Merry Creation macaron log cake starts with a melt-in-the-mouth layer of Sacher sponge cake followed by a layer of delightful chocolate mousse and finally crunchy hazelnut praline. The whole cake is covered with chocolate and strawberry macaron shells, with strawberry gummies adding a fun factor. Truly one of its kind! (S$48 for 1kg)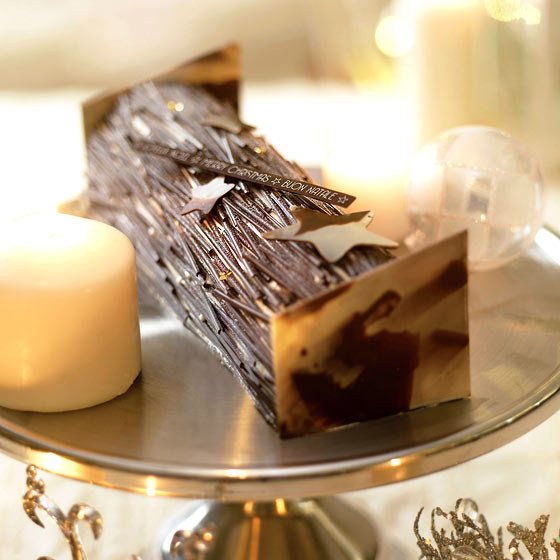 Taking its inspiration from black forest cake, the Dark Beauty log cake is made of chocolate sponge filled with chocolate mousse, sweet cherries and Chantilly cream with kirsch. Decorating it are delicate chocolate strips and Valrhona chocolate stars. (S$38 for 1kg)
'Like' Sparklette on Facebook and browse the entire Bakerzin Christmas collection 2010.
3. The Ritz-Carlton
For a more oriental log cake with a tropical taste, go for the vanilla tofu and citrus orange mousse cake at The Ritz-Carlton.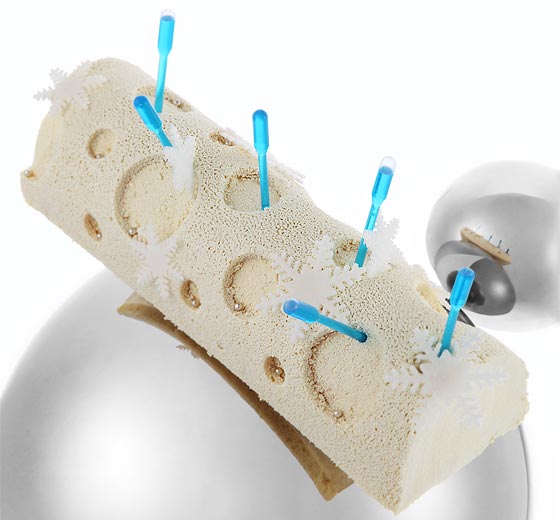 This one would appeal to the health-conscious! There is even a sprinkling of silver beads for good measure. (S$62, serves 10)
The Ritz-Carlton Millenia
7 Raffles Avenue
Singapore 039799
Tel: +65 6434 5270 |
Website
Available until December 25, 2010.
4. Swensen's
Ice cream cakes are a big hit at Swensen's. Even more so when you have them in 7 tantalising flavours that include the very Singaporean durian and chendol!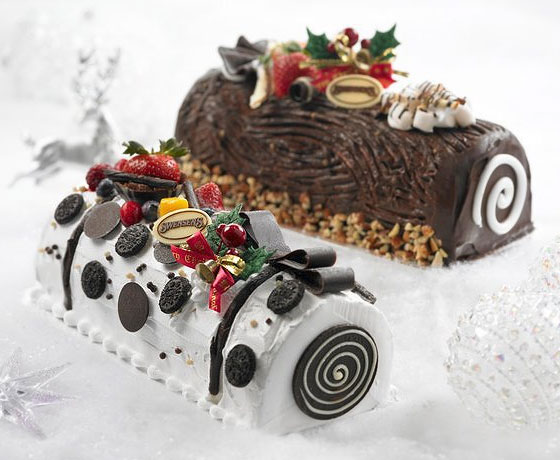 Swensen's specialty ice cream log cakes come in these flavours (S$49 for 1kg):
– Cookie Carousel
– Chocolate Indulgence
– Cappuccino Raisins Fantasy
– Nutty Noel
– Berry Merry Christmas
– Durian Deluxe
– Chendol Jubilee
Durian Deluxe, in particular, has rich and creamy durian ice cream adorned with pieces of white chocolate and mixed fruits.
Check out the other cakes and party food available in the Swensen's Christmas collection 2010.
5. MetroCakes
MetroCakes, the new kid on the block, has come up strong amidst the flurry of competition. The online bakery boasts impressive 3D couture cakes, delectable miniature cakes and of course the Christmas logs. You can order any of the cakes online and have them delivered, all from the comfort of your computer chair!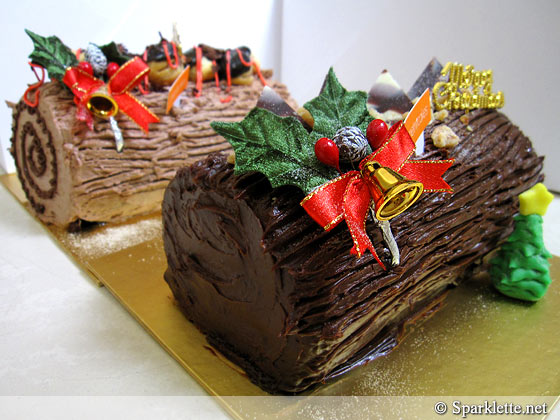 For Christmas, they have two log cakes for your selection – Christmas Knight and Enchanted Woods. (S$44.90 to 99.90 for 500g to 2kg)
Check out a more complete review of the MetroCakes log cakes.
MetroCakes
774 North Bridge Road
Singapore 198742
Tel: +65 6294 9929 |
Website
|
Facebook
Operating hours:
Mon – Fri: 10:30am – 7pm
Sat: 10:30am – 3pm
Closed on Sundays & Public Holidays
6. The Icing Room
Have you ever wanted to decorate a log cake yourself? Put on your creative hats and do just that at The Icing Room, a bakery under the BreadTalk group and the first to introduce the design-it-yourself concept in Singapore.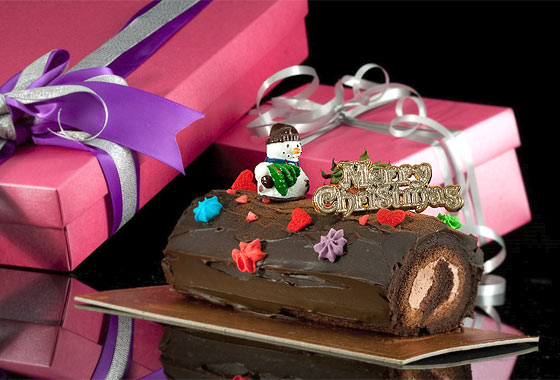 You will be provided with a plain log cake iced with Chantilly cream in chocolate and strawberry flavours and a set of different coloured cream piping bags and Christmas garnishes such as pine trees, message tags and Santa Claus figurines. Each completed cake will then be packaged in a specially-designed Christmas cake box that you can give to your friends and loved ones! (S$13.80 for 220g)
The Icing Room
– 313 @Somerset, #B2-52, Tel: 6884 8189
– Compass Point, #B1-13, Tel: 6388 7061
– Jurong Point, #B1-105, Tel: 6861 4644
– Tampines 1, #B1-K1B, Tel: 6484 6598
Website
Operating hours: 10am – 10pm
7. COVA Pasticceria
This Christmas, you can enjoy a very Italian Christmas with your loved ones at COVA Pasticceria. The elegant café at Paragon, Orchard Road has made available for order an array of Christmas goodies including festive cakes, gourmet gifts and hampers.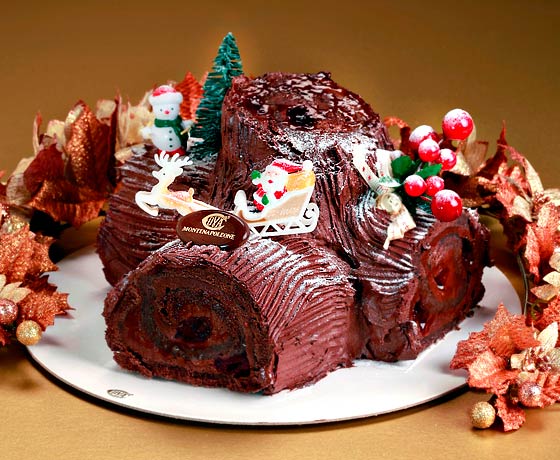 The chocolate & cherries log cake is made with Italian chocolate and pitted cherries. (S$48 for 1 kg)
Check out the other cakes and hampers available in the COVA Pasticceria Christmass collection 2010.
COVA Pasticceria
Paragon
290 Orchard Road #01-20A
Singapore 238859
Tel: +65 6733 0777 |
Website
Operating hours: 9am – 9:30pm daily
Last order date is January 1, 2011.
8. Mandarin Oriental
Mandarin Oriental Singapore presents a range of festive gourmet treats that includes a duo of classy-looking log cakes.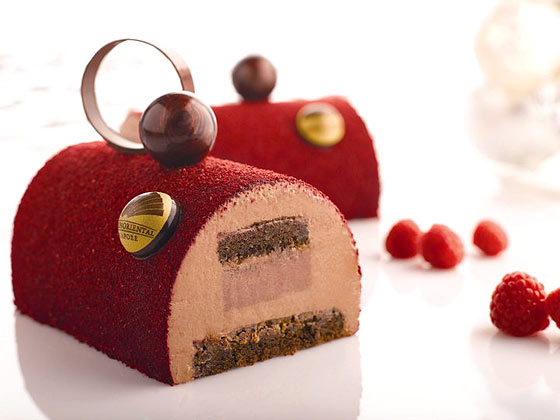 While these do not resemble the yule log in the most traditional sense, the Framboises Buche de Noel with its raspberries, Jivara milk chocolate and macadamia nuts would satisfy any cake lover. Chocolate fans can go for the Truffle Buche de Noel, made of dark Guanaja chocolate with macerated Morello cherries and nougatine (S$36 / 68 for 500g / 1kg)
'Like' Sparklette on Facebook and browse the entire Mandarin Oriental Christmas collection 2010.
9. Klapsons
Klapsons is one of the many boutique hotels that opened in Singapore over the past couple of years. The swanky hotel located along the southern fringe of the central business district has launched a selection of festive goodies this season.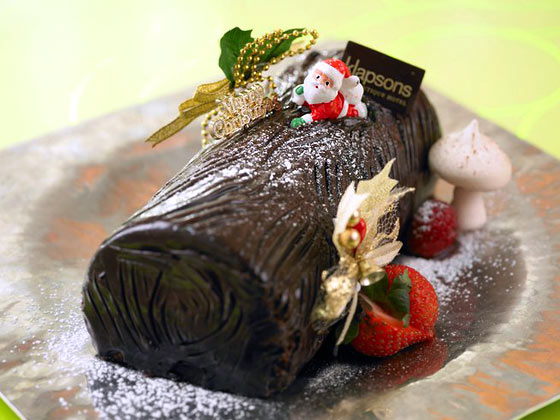 The Chocolate Yule Log would appeal to all chocolate lovers with its thick finishing of chocolate fudge. (S$38)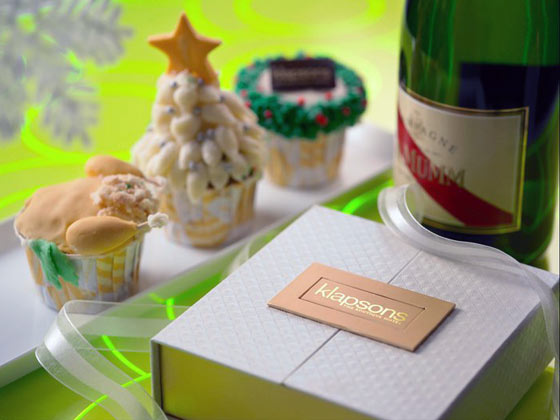 Most adorable of all are the Christmas-themed cupcakes, presented in the form of familiar festive icons like a Christmas tree and even a turkey! Perfect for pleasing the little ones in your life :) (S$22.80 / 42.80 for a box of 6 / 12)
'Like' Sparklette on Facebook and browse the entire Klapsons Christmas collection 2010.
Klapsons
15 Hoe Chiang Rd
Singapore 089316
Tel: +65 6521 9001 |
Website
|
Facebook
Last order date is December 17, 2010.
10. Eatzi Gourmet
Muslim friends need not miss out on all the colourful festive treats when you have Eatzi Gourmet's Christmas collection. The food is certified halal! In case you're unfamiliar with Eatzi, they are under the umbrella of JP Pepperdine, parent company of Jack's Place and Restaurant Hoshigaoka.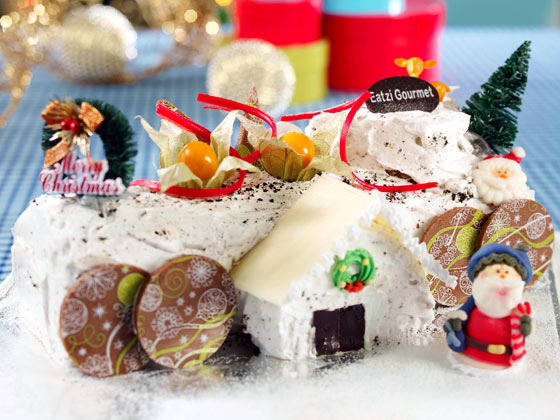 The company's range of Christmas cakes are extravagantly decorated. Take a peek at the Eatzi Gourmet Christmas collection 2010 and you'll see why! The Oreo cheese log is a real treat for cheesecake fans. (S$43 for 1kg)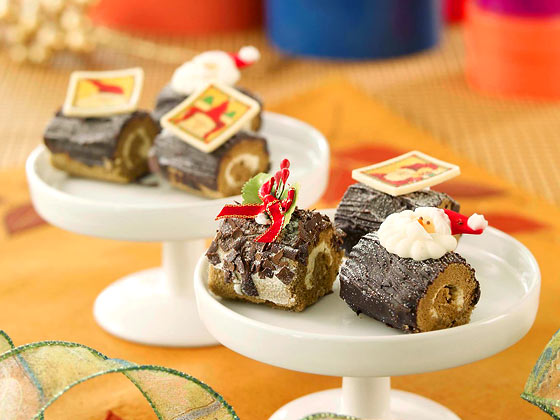 Also check out the Tudor Gold mini logs which come in miniature portions that are perfect for sharing. (S$25 for 12)
'Like' Sparklette on Facebook and browse the entire Eatzi Gourmet Christmas collection 2010.
11. Häagen-Dazs
With Häagen-Dazs' theme for this year being "Share Your Happiness", be sure to share these frosty treats with your loved ones!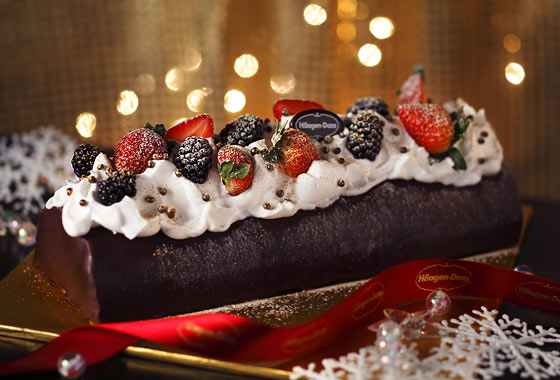 The decadent Belgian chocolate ice cream log cake Christmas Celebration is topped with sugared strawberries and blackberries, with edible gold beans and gold dust lending a touch of luxury. (S$80+, 1 or 1.5kg)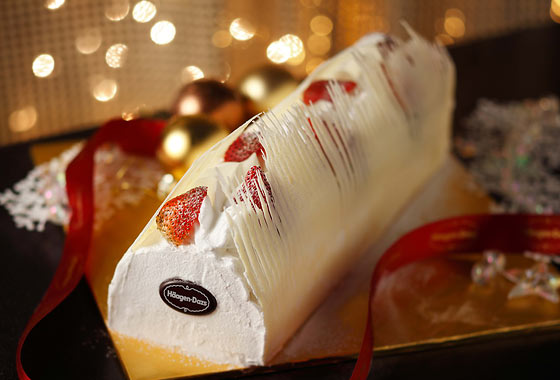 A cookies and cream rendition comes in the form of the Let It Snow white chocolate glazed log, topped with whole strawberries. (S$80+, 1 or 1.5kg)
'Like' Sparklette on Facebook and browse the entire Häagen-Dazs Christmas collection 2010.
12. Goodwood Park Hotel
This Christmas, Goodwood Park Hotel has prepared a wide selection of sweet and savoury delights.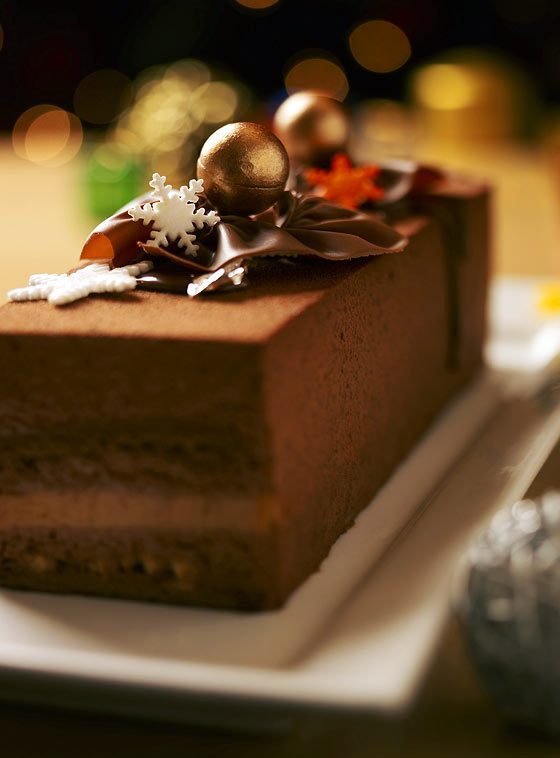 The dark chocolate with caramel cremeux log cake is a creamy mix of dark chocolate and dense caramel mousse complemented with layers of chocolate sponge and hazelnut crumble. (S$58 for 1 kg)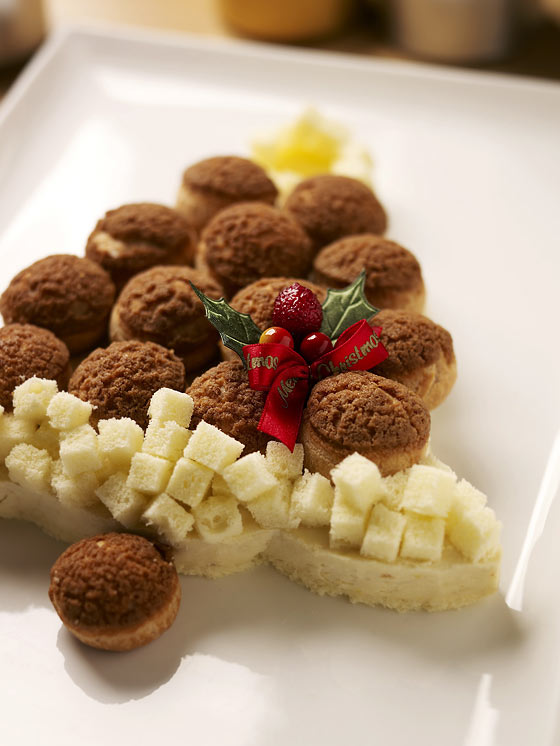 A nod to Goodwood Park Hotel's famous durian pastries and cakes, the durian profiteroles Christmas bell is the hotel's fruity delicacy for this festive occasion. Each fluffy profiterole is filled with pure D24 durian pulp and lined on a sponge cake base to form a delicious showpiece. (S$68)
'Like' Sparklette on Facebook and browse the entire Goodwood Park Hotel Christmas collection 2010.
Goodwood Park Hotel
22 Scotts Road
Singapore 228221
Tel: +65 6737 7411 |
Website
Available at the Deli until December 26, 2010.
Bonus: Starbucks
Every self-respecting geek's (and that includes yours, truly) favourite coffee chain Starbucks has launched a smorgasbord of Christmas-themed food items on the menu. Stop by and pick up a raspberry-glazed doughnut, gingerbread cookie or a mini log cake.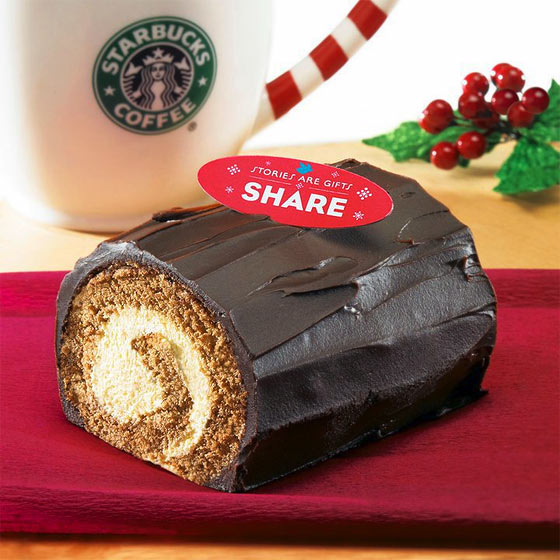 The chocolate coffee log is made with the house dark roast coffee, comprising an airy sponge rolled with smooth custard cream, topped with delectable dark chocolate.
'Like' Sparklette on Facebook and browse the entire Starbucks Christmas collection 2010 and Christmas merchandise.
Have Your Say!

Loading ...
Apart from these, what other log cake have you indulged in this Christmas? Share with us in the comments!