(Note: There are 50 photographs in this post. Loading may take a while.)
Caution to guys: Cute overload ahead! If you wish to skip the ensuing kawaii-ness in entirety, scroll all the way down for some nice photos of a Buddhist temple.
On this day, I paid a visit to Sanrio Puroland — home of Hello Kitty and all things cute! If someone was to designate a kingdom of cuteness, this would be it! I had been looking forward to visiting this indoor theme park even before coming to Japan!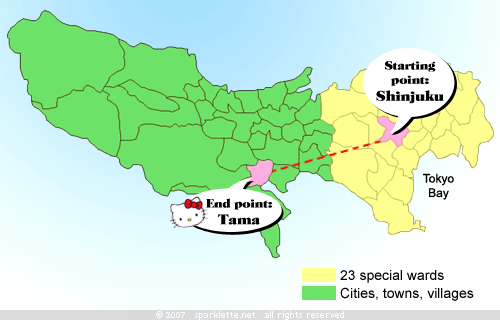 Sanrio Puroland is located in Tama, in the Western part of Tokyo prefecture. It lies outside of Tokyo's 23 special wards where Shinjuku, Shibuya, Ginza and all the places I had visited over the past few days are. Setting out from Shinjuku by train, I had to commute more than an hour before finally arriving at the Keio Tama Center Station.
The moment I came out from the station, I found myself in the town of cuteness!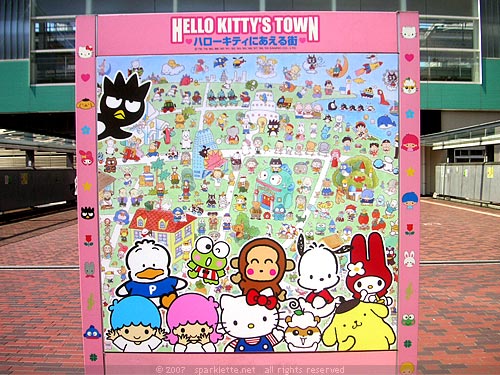 Even though Sanrio Puroland was still a distance away, the surrounding area was already decked out in cuteness!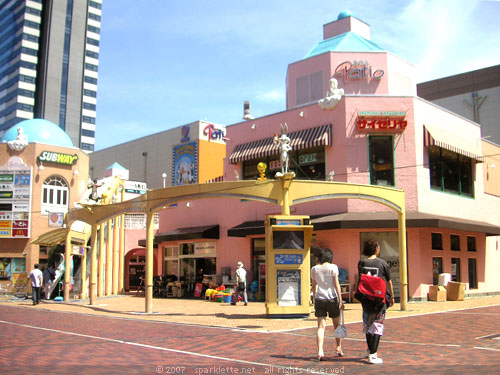 Take this little pink building for instance. It is called Patio and houses cafés and such. It has blue roofs and red and white striped window shades.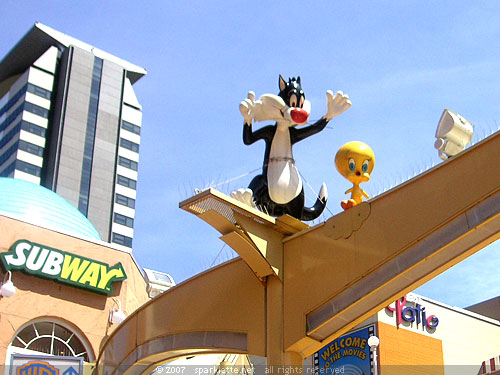 Sylvester the Cat and Tweety Bird balancing on an overhead crossbar!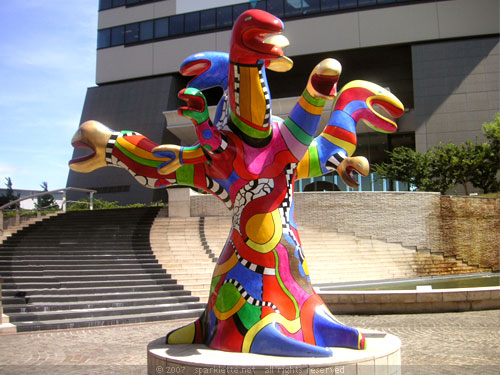 This office building had an interesting sculpture of a very colourful multi-headed creature.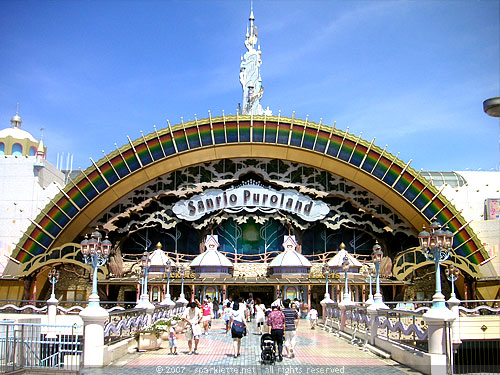 Finally I arrived in Sanrio Puroland! *screams* I felt way more excited about it than I did for Tokyo Disneyland!
A cute lamppost with swirls and all in baby pink and blue! That's the prettiest lamppost I've ever seen! So pretty it looked almost unreal!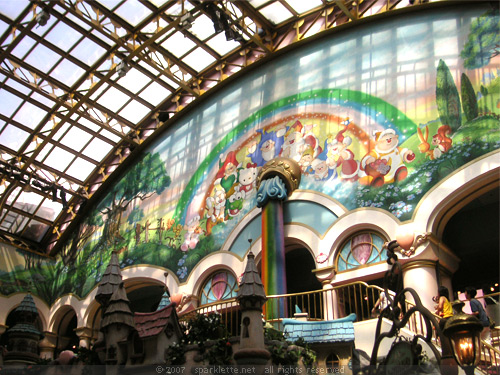 Colourful wall murals of various Sanrio characters welcome visitors to Sanrio Puroland. I love how the arch glass ceiling casts different shadows on the wall.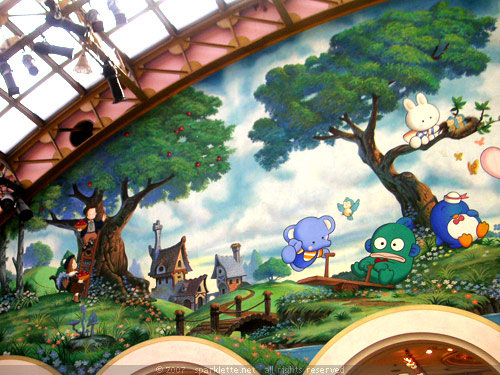 Let's take a closer look at the beautiful murals. Not too sure who the little penguin dude is but he's cute! I think he's been around for many years.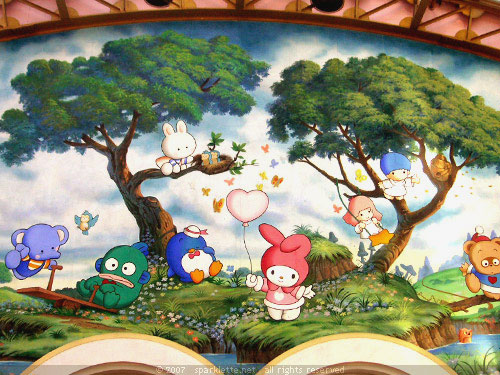 The only characters I can recognise are My Melody and the Little Twin Stars.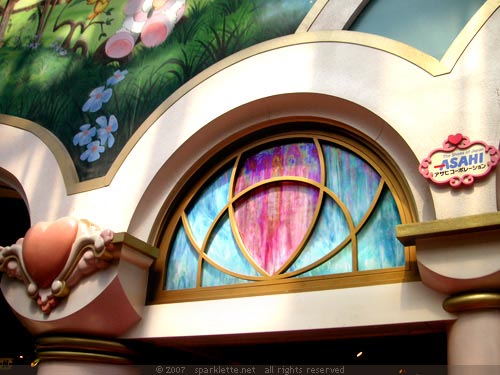 Pseudo stained glass window in shades of pink and blue. Pink and blue seem to be the primary colours when it comes to cuteness!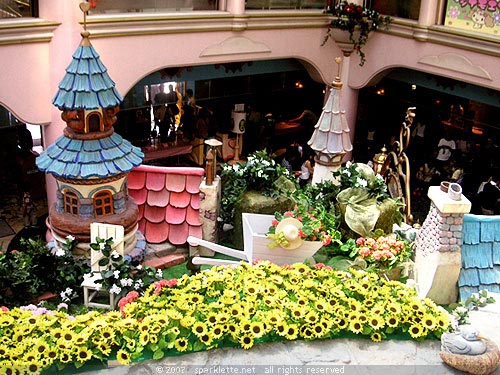 A garden with cheery-looking sunflowers.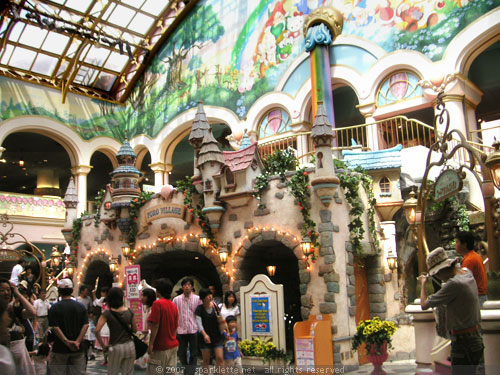 Once again (like Tokyo Disneyland), there was a huge crowd despite it being a weekday afternoon. People, mostly kids, didn't appear to have to go to school or to work!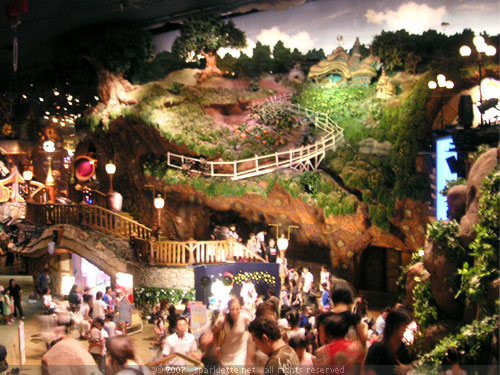 The theme park spans four levels, with the basement holding the main area where all the theme rides and performances are held. Sure, there are a few rides here and there, but I find this place to be more of an exhibition hall for kawaii-ness than anything else.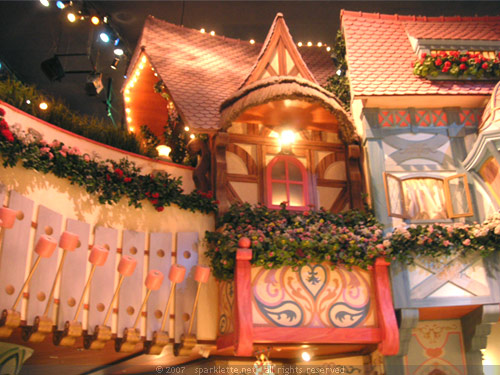 Cosy little cottages in different shapes and patterns!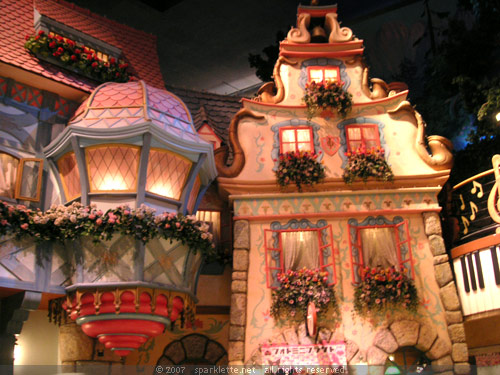 Everything here looks cute!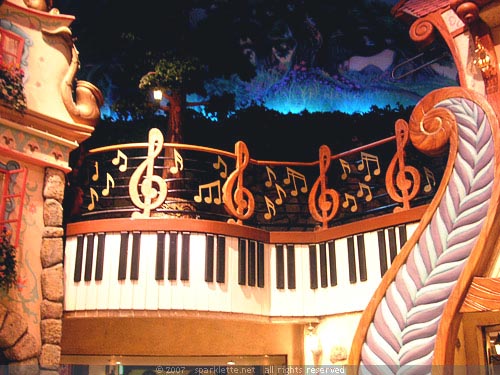 An upper deck with a musical theme!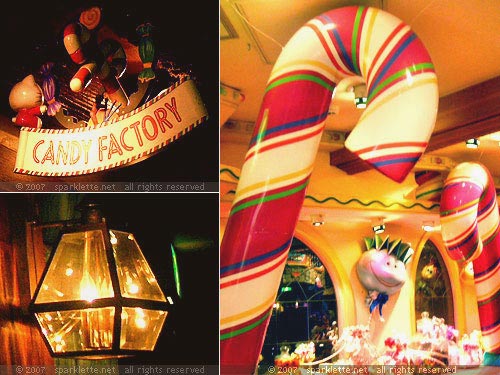 All shops within the area are beautifully themed. You can buy candy at the Candy Factory.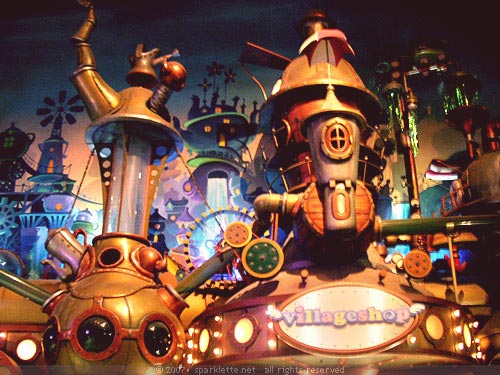 Heck, even the toilet looks awesome.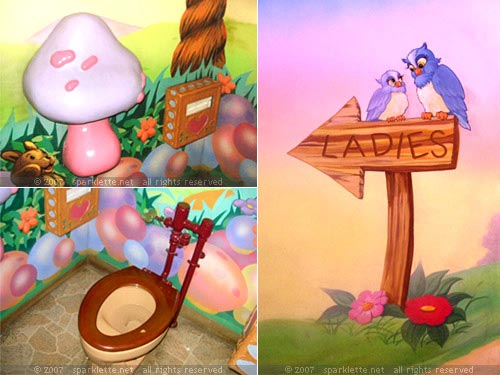 I had never seen a prettier toilet. That must have been the first time I've ever taken photographs of a toilet!
The highlight of the entire theme park is this: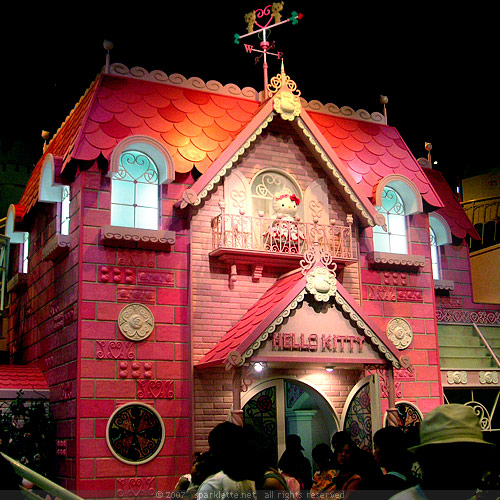 Hello Kitty's house! It's life-sized too! And bright pink! At all times you can see people forming long lines to get into the house!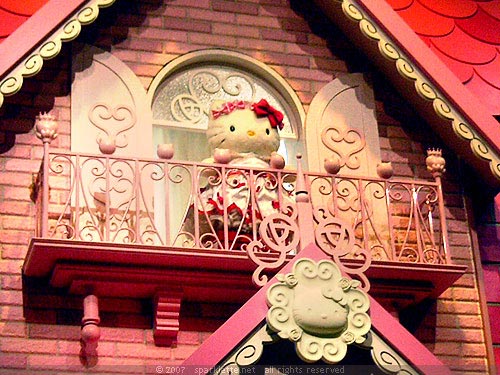 Even with dozens of other kawaii characters by Sanrio, it's evident that Hello Kitty is still the queen of the lot.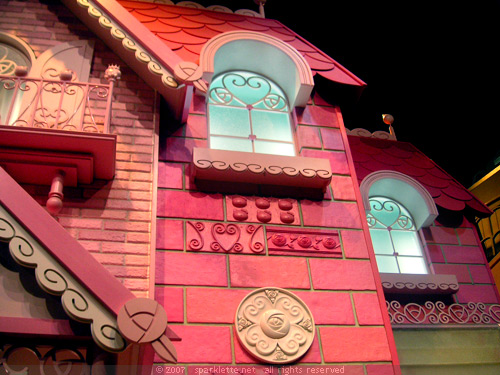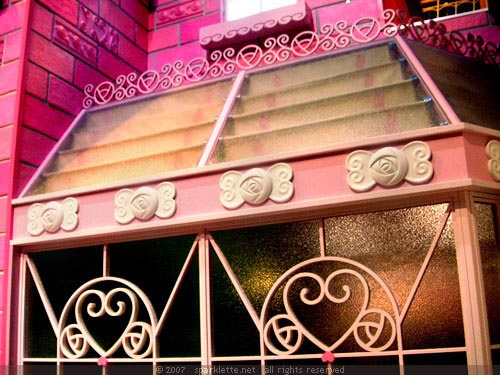 Beautiful windows with white heart-shaped railings.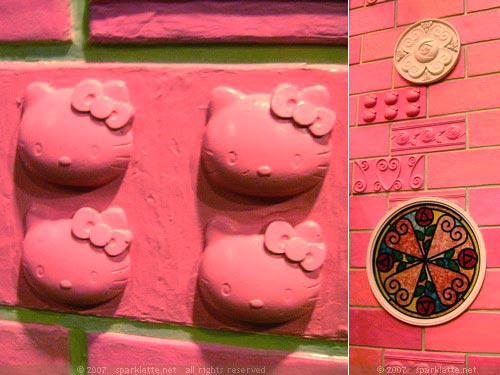 Pink brick walls!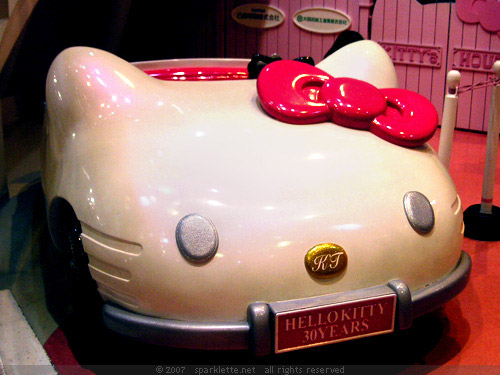 Wanna take a ride? I wonder if that car is functional. Many women would kill to drive it!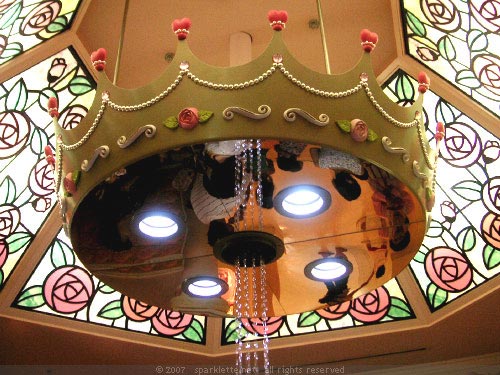 Once you enter Hello Kitty's house, you are greeted by the sight of a beautiful fountain shaped like a crown at the top. The strings of water that rain down appear to have little beads of light moving within them in harmony. There is some optical effect/illusion involved. It shares the same concept as the new fountain at level one of Suntec City Mall.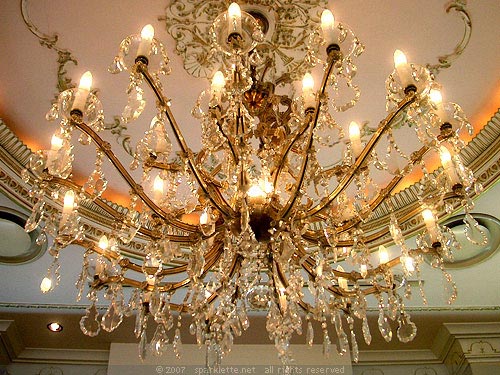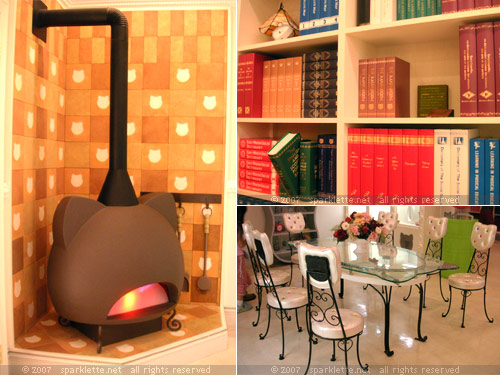 I love the Kitty-shaped fireplace! For the bookshelves, I had fun going through all the titles that Hello Kitty was reading. They were English and I spotted a few of Shakespeare's. Some books would surprise you by randomly tilting themselves out of the shelves!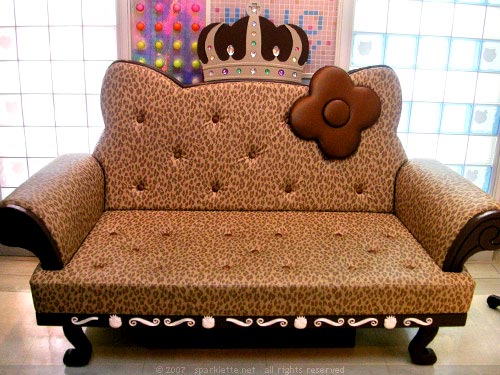 All of Kitty's furniture are shaped like her head!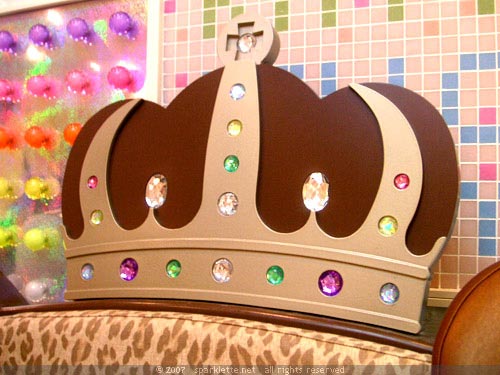 We enter Kitty's bedroom…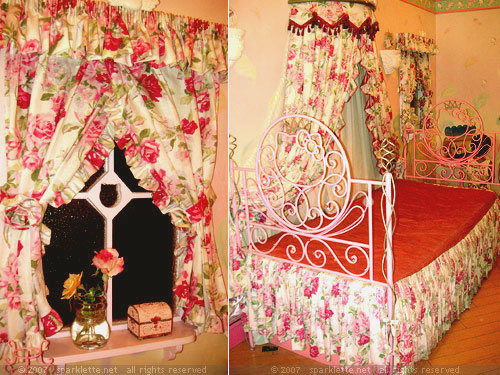 Victorian-style curtains and bed.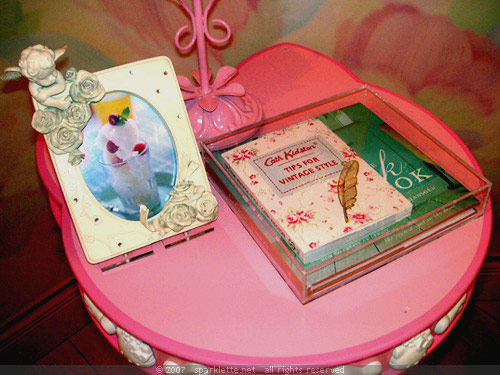 Why does Kitty's photo frame on her bedside table have a photo of an ice cream dessert rather than her friends?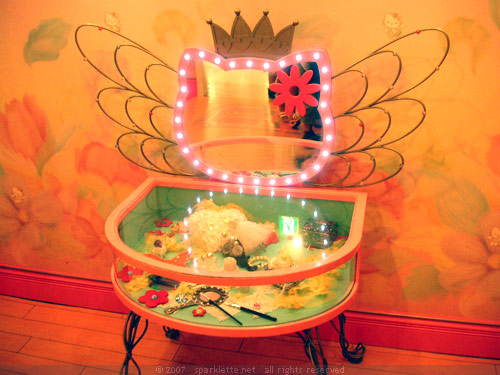 Her dressing table.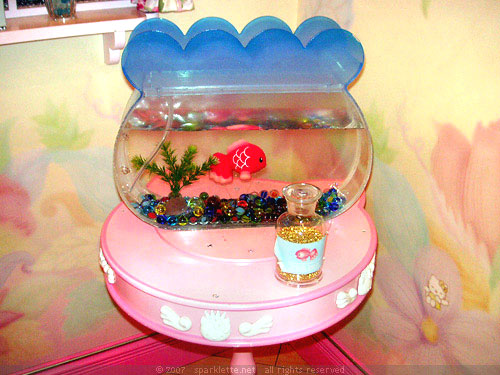 Fish tank with a red plastic fish! The tank is shaped like Kitty's head too! Kawaii!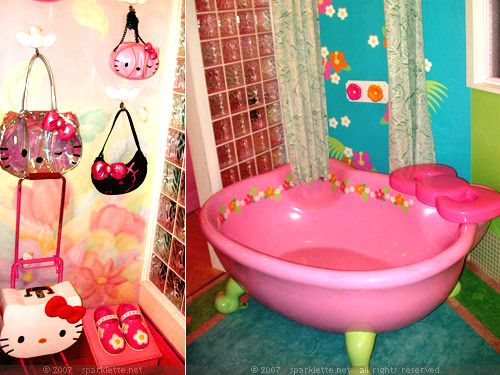 Kitty's bright pink bathtub with a bright pink bow just like hers.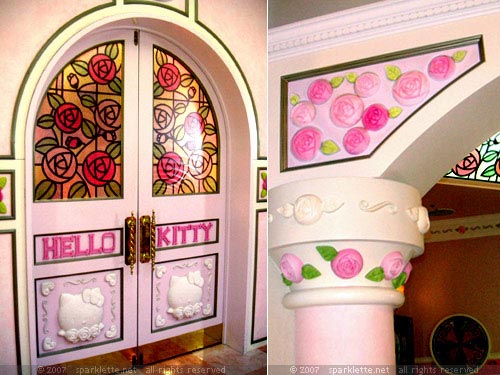 Intricate rose designs.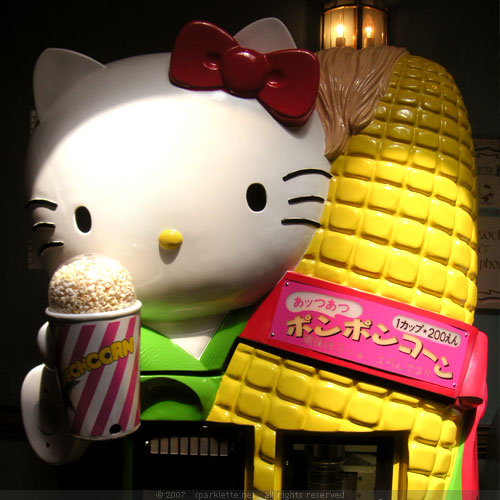 I spotted this Hello Kitty popcorn machine too! Initially I thought the popcorn kernels would be shaped like Hello Kitty's head, but they weren't. That would have been too much!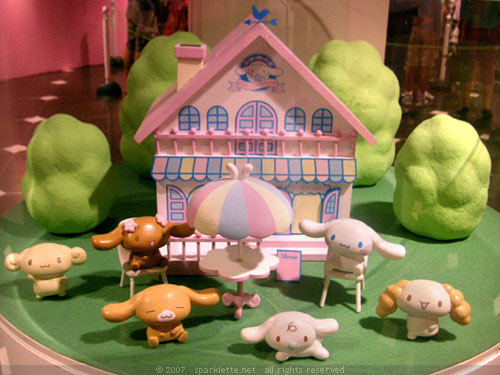 This is Cinnamoroll and friends. I think they're all pastries at a café or something.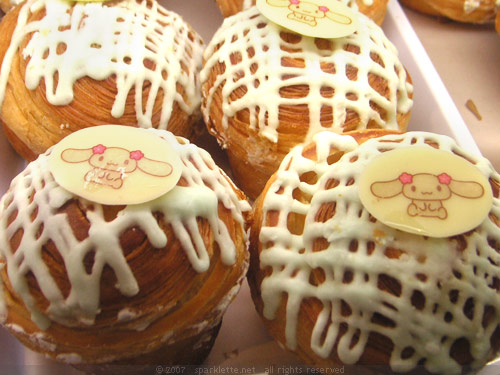 Pasteries featuring Cinnamoroll.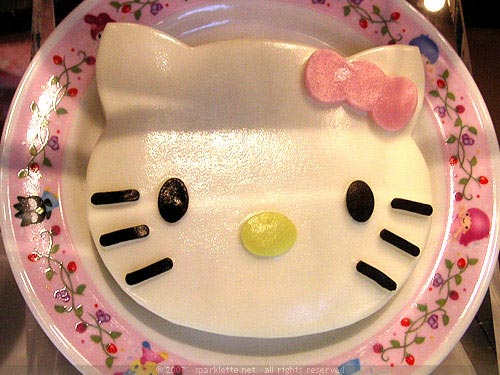 Hello Kitty again!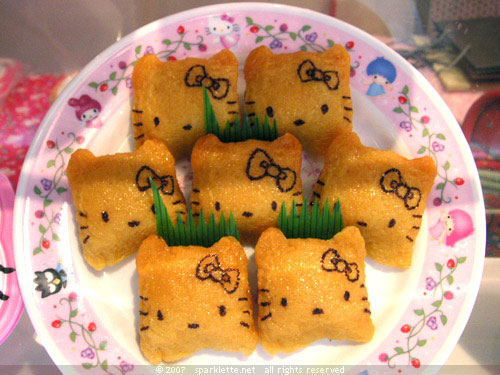 Ahhh! Kawaii!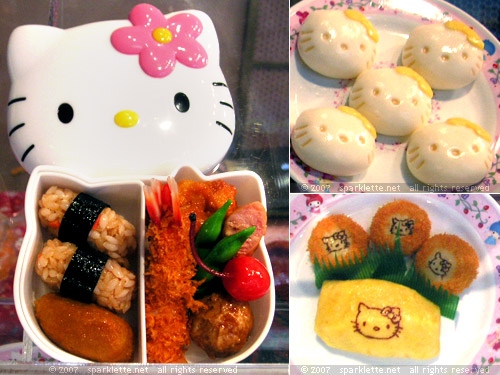 Hello Kitty sushi and pudding!
I simply couldn't resist! I must have a Hello Kitty meal too! I went to a canteen-style restaurant where all the food had already been prepared; you simply grab a tray and follow the queue to pick out any food you fancy. Works great for someone that doesn't speak Japanese!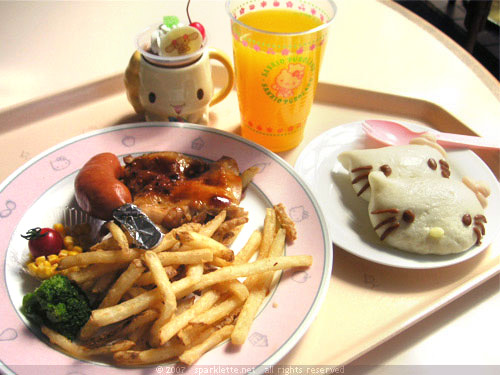 My Sanrio-themed lunch! The cutest meal I've ever eaten in my life!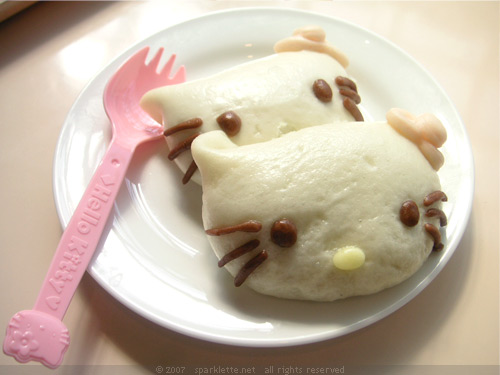 Kawaii! Food in the shape of Hello Kitty's head! I didn't even know what these were until I ate them because the food was all labeled in Japanese. I took them anyway because they looked so cute! As it turned out, they were meat buns!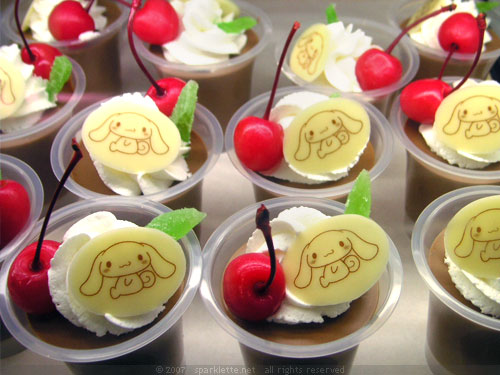 Cinnamoroll chocolate mousse! I love chocolate mousse!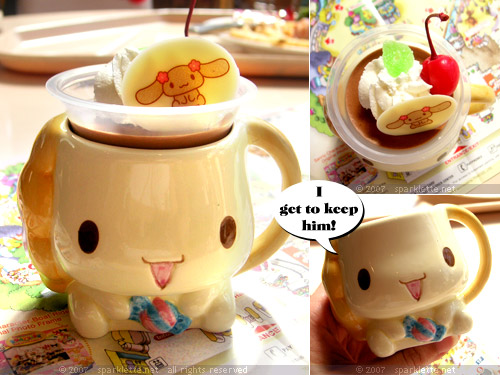 Better still, the chocolate mousse was served in a Chiffon mug (Chiffon is a friend of Cinnamoroll's). I got to bring one home as a souvenir! Yummy!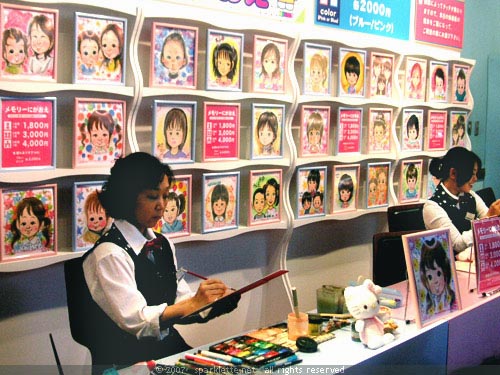 At the caricature corner, staff were on hand to draw cute caricatures for ¥1800 each.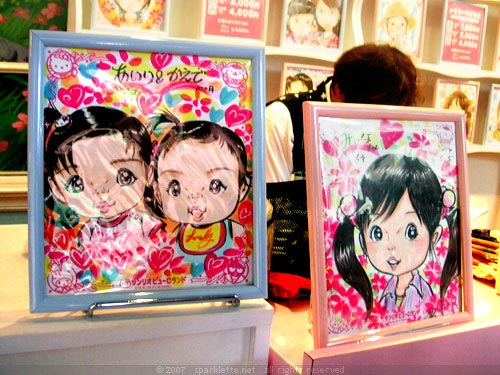 I was really tempted to get a caricature of myself drawn but I was running out of time to get to my next destination!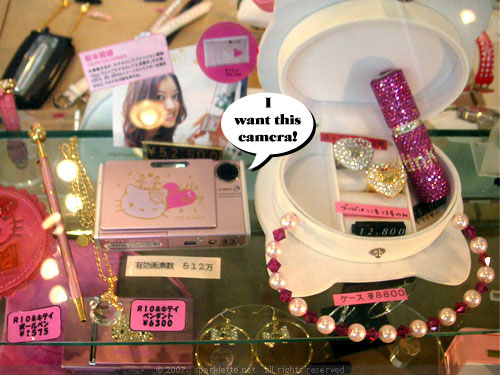 Of course, what's a theme park without gift shops selling expensive merchandise? I would LOVE to get my hands on that shiny pink Kitty camera!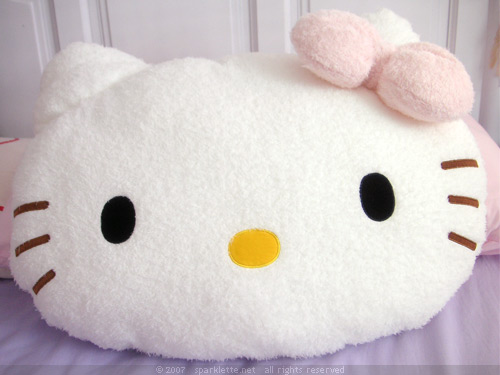 Instead, I got myself something more affordable — a comfy cushion in the shape of Hello Kitty's head (again)! It's really soft and cuddly! I've been hugging her to bed every night since.
I also did a Hello Kitty art-and-craft stick-on on the spot. They give you the black outline on a metal plate and you fill in the spaces on your own with colours squeezed out from tubes (like toothpaste). We have this in Singapore too, but I have never seen one with the same cute Hello Kitty picture.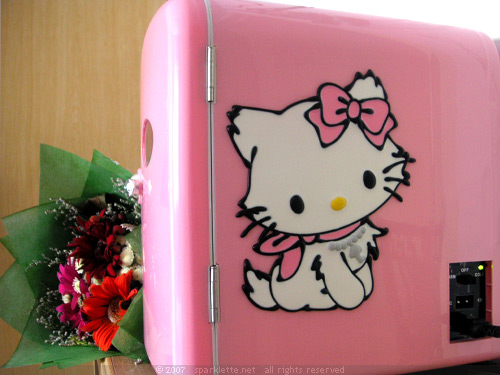 It's now on my pink mini fridge! Notice that it looks different from the regular Hello Kitty; this particular one appears to have fluffy hair!
Update: Daphne left a comment correcting me. The picture is not of Hello Kitty but Charmmy Kitty, Hello Kitty's pet! Ahhh… That explains the different look! Thanks!
Admission into the land of cuteness sure didn't come cheap. At ¥4400, that's equivalent to almost 60 Singapore dollars! In comparison, admission into the much larger Tokyo Disneyland is ¥5800, just ¥1400 more.
Still, to be surrounded by all that kawaii-ness, it was worthwhile. I enjoyed myself thoroughly!
After exiting the indoor theme park, I found myself bathing in the hot Japan summer heat once again. One thing about the Japanese is that they are a very creative people that know how to have fun!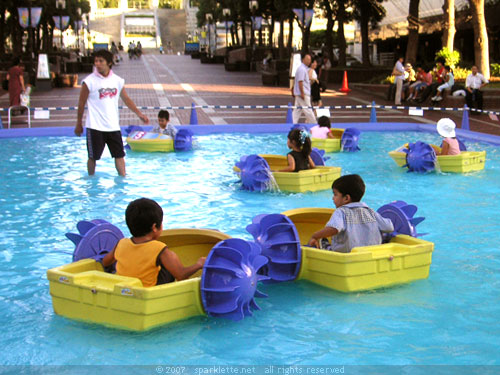 To cope with the summer heat, they have pools like this where children can play. Cafés and restaurants roll out special dessert items for the hot weather too.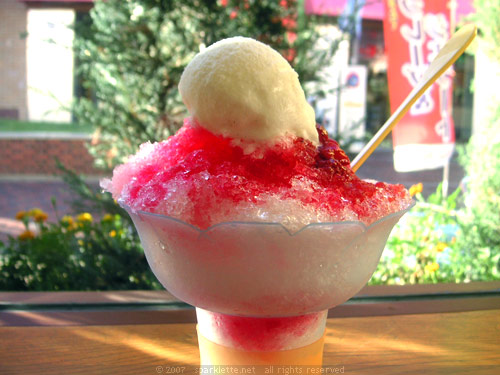 One shaved ice dessert with vanilla ice cream and strawberry syrup, please. I chilled by the glass window of the café and people-watched before heading off to the next destination!
---
I figured since I was doing some solo travelling, I could afford to be more adventurous. I had already ventured all the way out of Tokyo city and thought I should drop by a couple of suburbs before heading back.
Hino is a neighbouring city of Tama and home to a prominent Buddhist temple, Takahata Fudo-son.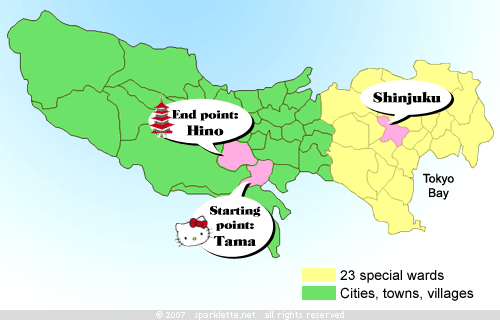 With some help from a nice Japanese dude that spoke decent English (the one and only I had come across throughout the 11 days), I learned that I had to ride the monorail from Tama to reach Takahatafudo (that's a mouthful ain't it).
(from this point onward, my camera ran out of juice and all the following photos were taken on my LG Shine.)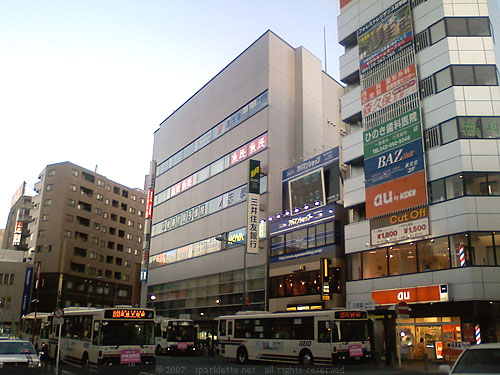 I arrived in Takahatafudo in the late evening and made my way to the temple on foot. At this point, without a map (since I was outside of Tokyo city) or any knowledge of the Japanese language, it was as good as walking blindly.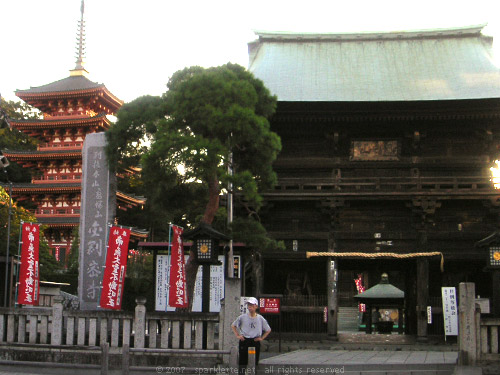 Luckily, the temple was only a short distance away from the Takahatafudo station.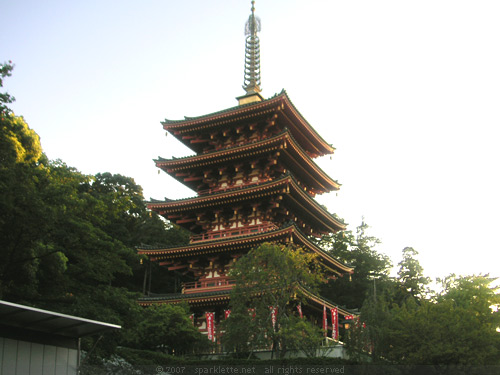 When I saw a pagoda that striking, I knew I had come to the right place!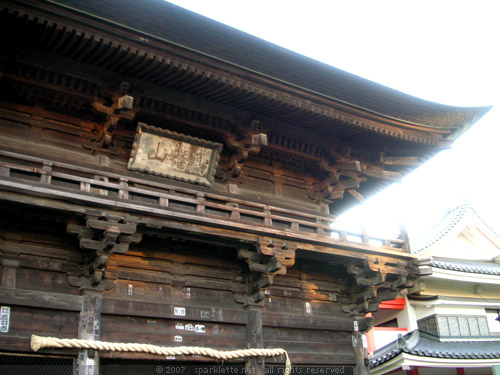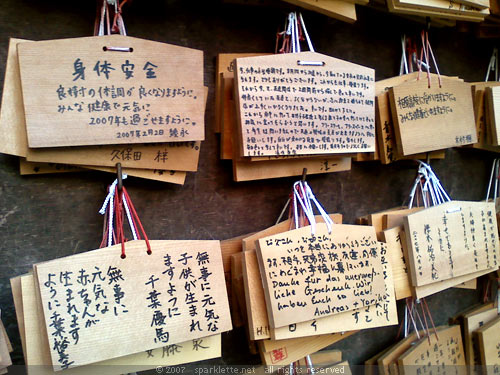 People wrote their wishes on these wooden plates.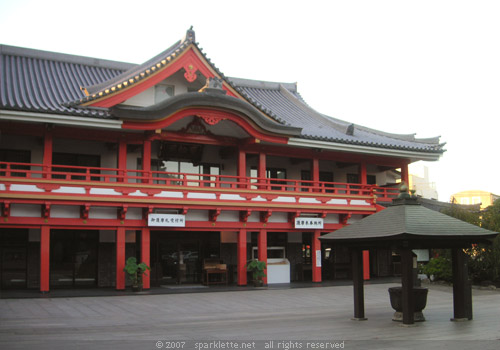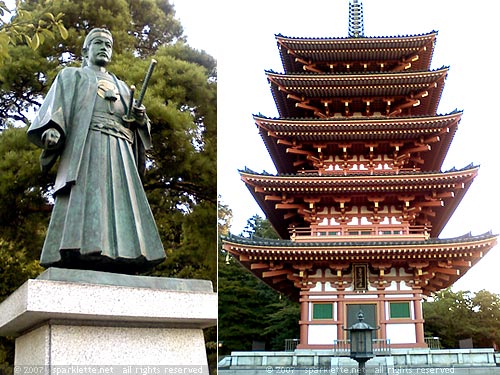 This statue is a memorial for Hijikata Toshizo, a Japanese military leader who lived in the 1800s and opposed the Meiji restoration.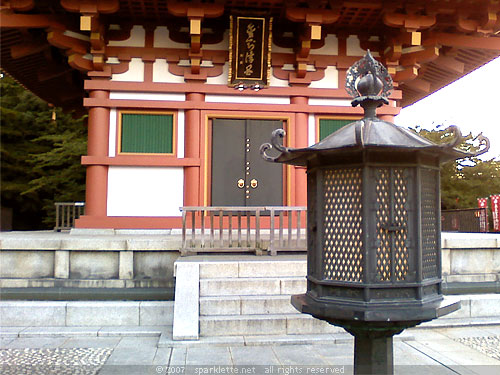 I climbed a long staircase all the way up to the base of the pagoda. It was also here where I saw a drunk man drinking more beer and a young couple making out.
It was getting dark and I was still a long way away from home (in this case, home was my hotel back in Shinjuku). I decided to have dinner in this town before heading back.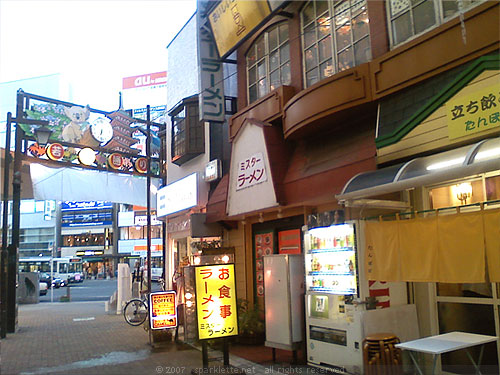 This alley in Takahatafudo is lined with bars and eateries.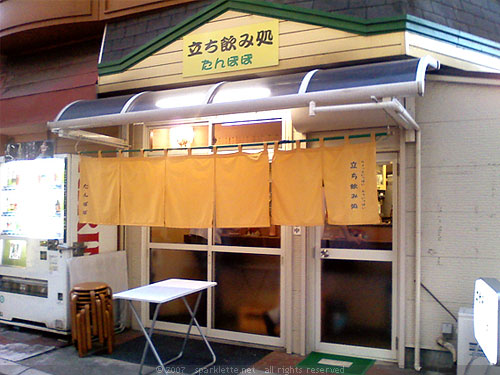 Tiny bars such as these were pretty common. It was so cramped and small that there was only standing room available to customers!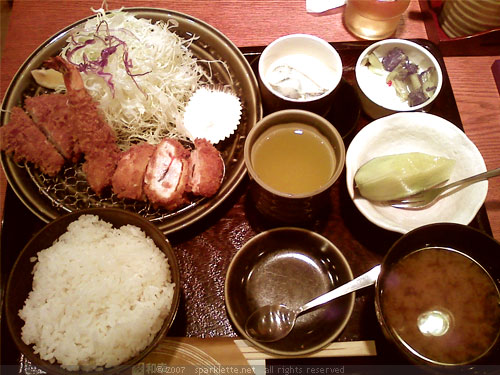 Dinner was at a Japanese restaurant. I had a ladies' set meal that was supposed to include strawberries. But what I got was just kiwi.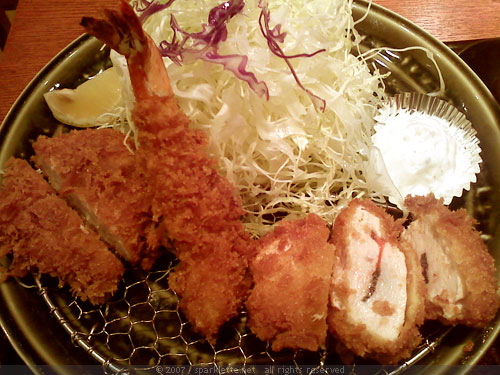 Yummy breaded prawn and chicken.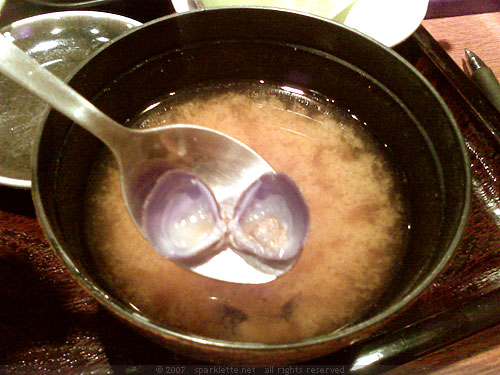 My miso soup had shells in it that resembled tiny clams. They aren't clams, are they? Anyone knows what they are?
---
Then, it was another long trip back to Shinjuku where I had drinks with Beni at hub, a popular chain of English pubs in Japan. Life is good!
This also marks the end of my two-day solo travel in Japan. Over the two days, I realised that Japanese are not as shy as we make them out to be. I lost count of the number of Japanese men who tried to chat me up on the streets; there were at least 5 a day. For such a polite people, they sure are outspoken!
The sleaziest of the lot:
In Shibuya: An elderly man walked right past and whispered "kawaiiiiiiiiii" in a low and creepy voice. It spooked me for about half the day.
In Shinjuku: A fella named "takashi" (who's half Turkish, half Japanese) openly asked if I would sleep with him. The nerve!
In Ueno: A nerdy-looking Japanese dude opened with "can I eat?" I asked, huh? After much difficulty finding the right words, he asked again "can I eat with you?" (I was so glad he didn't say something else!) Then he proceeded to tell me (with much difficulty) that he came from England and could speak English. Ha!
Okay, according to Beni, there was the possibility that they were really trying to recruit me into their porn business. Whatever!