N.E.mation! 7: Vote for Your Favourite Videos to Win iPad, iPad Mini and more!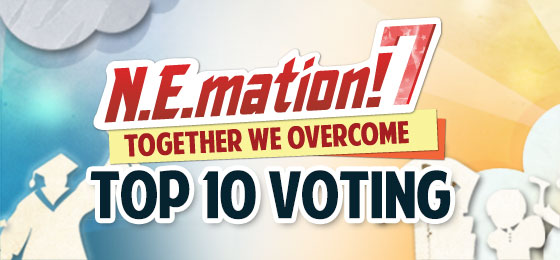 N.E.mation! is a digital animation competition organised for students in Singapore to express their thoughts on Total Defence. The top team wins the cool grand prize of a fully sponsored trip to visit a renowned animation studio in the USA worth more than $15,000.
Into its seventh season this year, the N.E.mation! 7 animation clips are now ready for you to view and vote! Based on the theme, "Together We Overcome", 10 teams of students worked through the December holidays to bring their stories to life! Simply visit nemation.sg on your PC or mobile devices and watch all 10 clips. Each animation clip is only 1 minute long.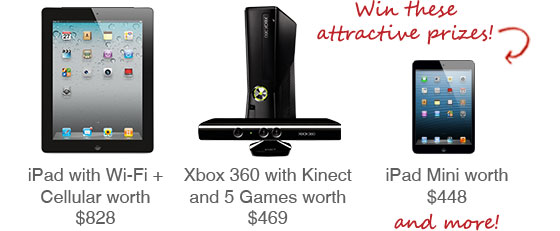 Vote for your three favourite clips and stand to win attractive prizes like the iPad, Xbox 360 Kinect, iPad mini, Canon products, Universal Studios Singapore passes and more!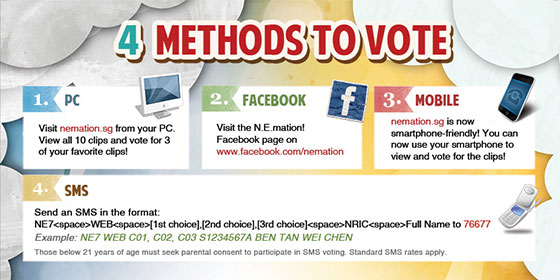 There are 4 methods to vote (which means 4 chances to win!):
Visit nemation.sg from your PC. View all 10 clips and vote for 3 of your favorite clips!
nemation.sg is now smartphone-friendly! You can now use your smartphone to view and vote for the clips!
Visit N.E.mation! Facebook page.
Vote via SMS in the following format:
NE7 WEB [1st choice], [2nd choice], [3rd choice] NRIC Full Name to 76677
Example: NE7 WEB C01, C02, C03 S1234567A BEN TAN WEI CHEN
Those below 21 years of age must seek parental consent to participate in the SMS Voting. Standard SMS rate applies.
Here's a hot tip for you: There are 4 ways to vote and 4 chances to win. Since the winner is drawn from the pool of voters who voted for the winning clip, you can either spread out the chances among the 10 clips or vote for the best clip with multiple chances to be drawn.
Click over to nemation.sg and start watching those clips now!
Voting is from 18 January to 7 February 2013!