Sparklette Hosts Nokia's "You Make It Reel" Competition! [Ended]
Yo, people! I have very exciting news! Sparklette is the exclusive voting blog for the Nokia "You Make It Reel" competition!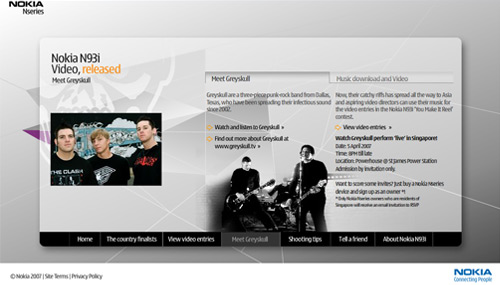 To launch its new N93i mobile phone, Nokia organised this competition in which aspiring music video directors from eight Asia-pacific countries compete against one another to make the best music video. All videos are based on the music of greyskull, a punk rock band from the United States. The best music video director gets to win a cool US$10,000!
Right now, the competition has narrowed down to 7 finalists, each from a different country. You can vote for the best video exclusively over here at Sparklette!
Just by voting alone, you stand to win Nokia N series premiums. The grand prize winner gets a pass to the Nokia indie music showcase! (I love indie music!) this is a highly exclusive, strictly by-invitation-only event where the grand winner of the "You Make It Reel" competition will be announced.
Event: Nokia "You Make It Reel" Indie Music Showcase
Date: April 5, 2007 (Thursday)
Venue: The Powerhouse, St. James Power Station
Time: 8pm
Enjoy live performances of indie rock bands like Summer's Over (from Singapore), Pete Teo (from Malaysia) and of course, Greyskull themselves. I will be there too so you get to be my date for the night! I'm freakin' excited about partying with Greyskull. They're from Dallas which, coincidentally, I've just visited in November! Is that fate or what?
Expect lots of partying and drinks while playing with Nokia's latest mobile phones, exclusive backstage passes to meet and schmooze with the band members! There is one grand prize and a total of nine consolation prizes to be won so vote away!
Voting opens from now to April 3 (Tuesday), 6pm! View the videos below, pick your favourite and fill in the form! This contest is open to readers based in Singapore only. Please do provide valid contact information so that we can contact you on how to get your goodies! Winners will be announced on April 4 (Wednesday) so stay tuned to this blog!
Music video finalists
4. Philippines – Rommel Jonson
News updates
April 4, 2007: Winners for the voting contest have been announced!
April 5, 2007: The director of the best music video was announced at the Nokia indie music showcase. Congratulations to gavin lim of Singapore for winning a whopping US$10,000!