Teochew delicacies such as cold pork trotters (猪脚冻) and shark meat are a dying trade in Singapore. I think such novelties appeal more to the older generations, as my parents have shown me. When we chanced upon a hawker stall selling these at Chinatown Complex Market, they ordered the dishes as though they were buying your everyday chicken rice!
Eating trotters, chilled, no less, certainly bears that squeamish factor. But I know some of you are probably hunting down these traditional dishes and, truth be told, they just aren't that easy to find these days. So I thought I would showcase them here.
We start off with the cold pig trotters. They look like jelly! Yup yup, that's right. Beneath that translucent brown jelly-like substance you can clearly see the round pinkish trotters.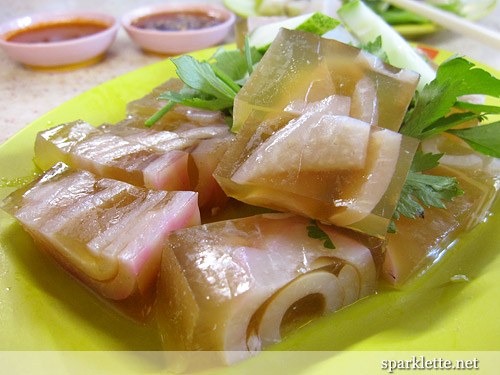 Cold pig trotters
S$4 onwards
Rating: You decide!
I venture to taste a piece of it just so I get to say that I've been there, done there. Bracing myself to chew on what I imagine would be very rubbery trotters, I'm surprised by how tender the meat actually is! The taste is palatable, too. No kidding! This meat dish can almost be taken like a dessert, kind of like salted jelly. But I'd be lying if I said I'm a fan.
Preparation of this dish is a painstaking process…
Firstly the bones are removed from the trotters and other parts.
Then the meat is boiled for half a day, during which a gelatinous base forms.
The resultant meat + jelly thing is frozen for a day.
Cut into strips and serve.
The final product is a cold and soft jelly-like substance that slides down the throat easily, with meat that is super tender and devoid of any porky taste.
I'm most intrigued by the part where the brown gelatinous base forms. How, exactly? And from what? Would some good, wise people enlighten me please?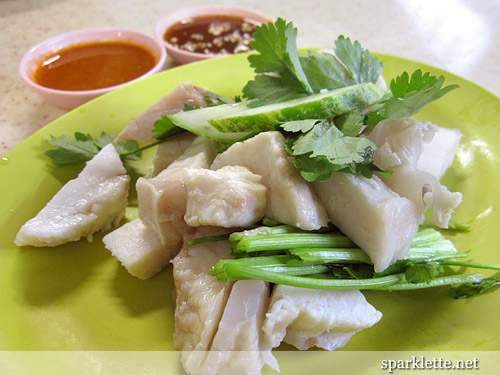 Shark meat
S$4 onwards
Rating:





Next, we tuck into white shark's meat, another specialty at the stall. This dish is also served cold. The flesh is soft and fresh, with no unpleasant fishy stench.
The shark meat is unseasoned. For extra flavours you can dip into the two sauces (can be used for the pork trotters, too) – sour chilli sauce and plum sweet sauce with crushed peanuts – that are served alongside. The latter, a sweet and sour concoction, is my favourite.
If you like shark meat, here's another place that sells it in the form of fried fritters.
Useless trivia: did you know that rotten shark meat is a delicacy in iceland? I bet the pork trotter jelly doesn't seem so bad now does it?
so, feeling adventurous yet? trying out these two dishes would be a good idea, if only for the experience. In a few years they may disappear from our market altogether.
Cold Pig Trotters & Shark's Meat
Chinatown Complex Market
335 Smith Street #02-122
Singapore 050335
Bus services: 2, 12, 33, 54, 61, 63, 80, 124, 145, 166, 143, 147, 190, 197, 851, 961, 970, 961C
Nearest MRT: Chinatown
Opening hours: 11am – 8pm (Closed on Mondays & Tuesdays)