Saddled just off of Bukit Timah Road, Picotin Bistro & Bar offers a refuge from city life, nestled within the serene and peaceful Horse City along Turf Club Road.
Picotin houses a bar, bakery and a family-style bistro, serving up wholesome European cuisine and original dishes. You can choose from either indoor or alfresco seating, both of which provide a unique dining ambiance.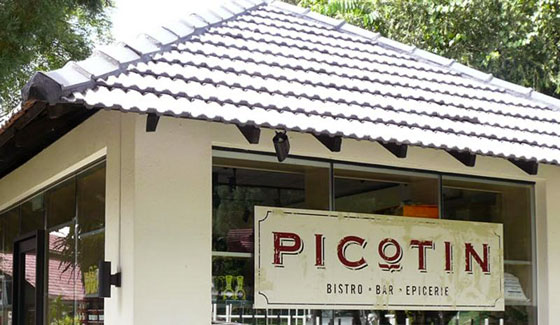 Since Picotin is situated within Horse City, with Turf City nearby, the menu comprises an array of 'horsey' puns!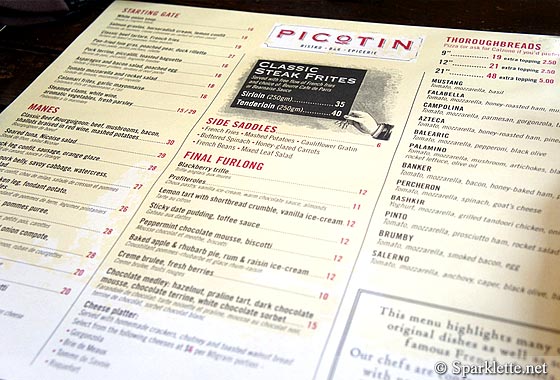 Mains are known as 'Manes'; side dishes are 'Side Saddles' and so on.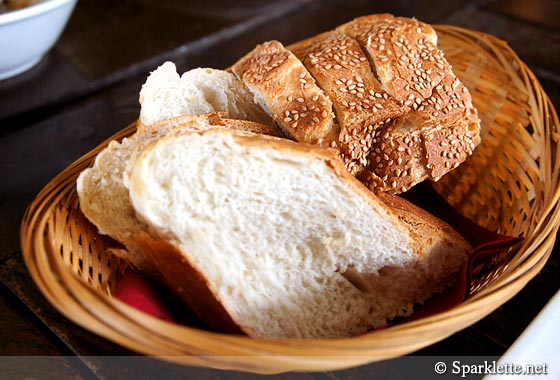 To kick-start the meal, the friendly and knowledgeable waitress brings us two types of bread. Freshly baked at their bakery, the bread is soft and warm. We definitely have more than one refill.
Starters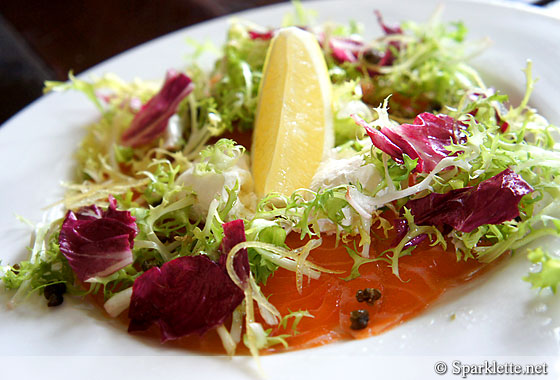 Salmon gravlax
S$18++





Presented with a layering of salad greens and lemon horseradish cream, the salmon gravlax is pleasing to the eye and on the taste buds. It gives a slight tang and saltiness that serve to work up our appetites.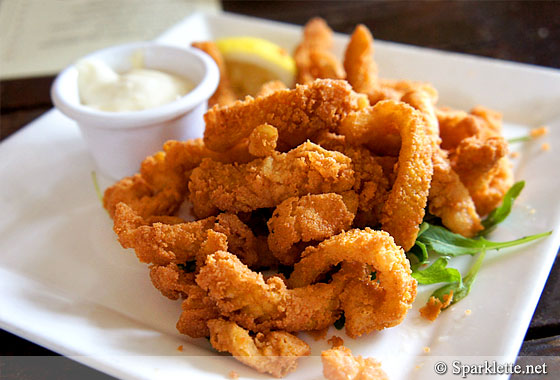 Calamari frites
S$16++





Picotin's version of calamari frites – one of my favourite starters – does not let us down. The exterior is fried to a good crunchy crisp and the dip complements the calamari to a T.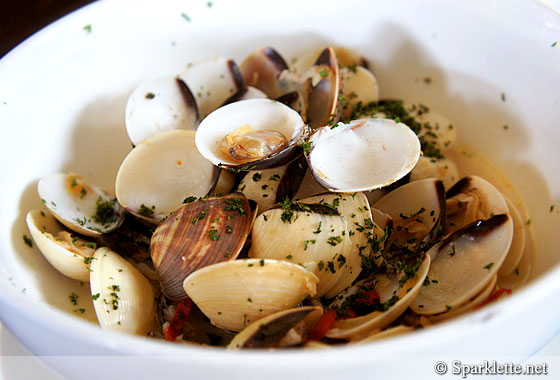 Steamed clams
S$15++





Cooked in a white wine sauce, the steamed clams are aromatic and fresh. The sauce also teams well with the complimentary bread.
Mains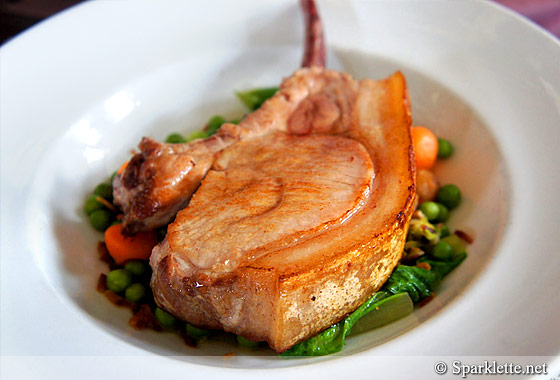 Pork chop
S$29++





It's the first time I am seeing such a huge cut of fatty pork still on the rib! The lean part of the pork chop is perfectly seasoned. The fatty part, however, isn't as well-executed. It would be better if it was served with fries rather than the accompanying greens.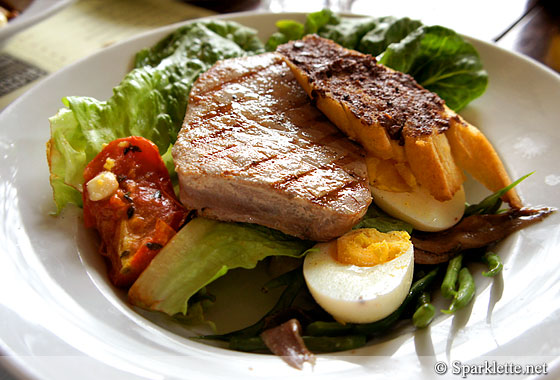 Seared tuna
S$29++





The nicely seared tuna, which looks almost like a steak, has all its flavours locked in. Served on top of a delicious Niçoise salad, this makes a healthful, hearty main.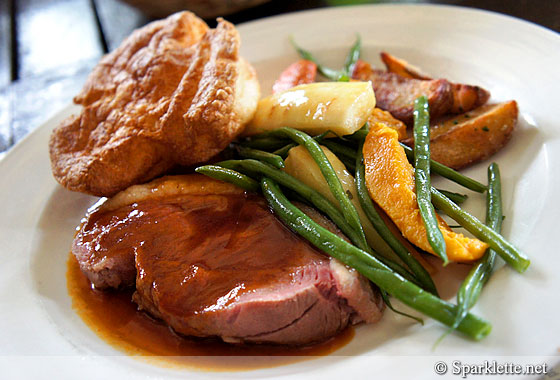 Roast beef
S$29++





Presented with a variety of vegetables and a pastry croissant, the roast beef is very tender and juicy. The thin strip of fat that is still attached enhances its flavour and texture.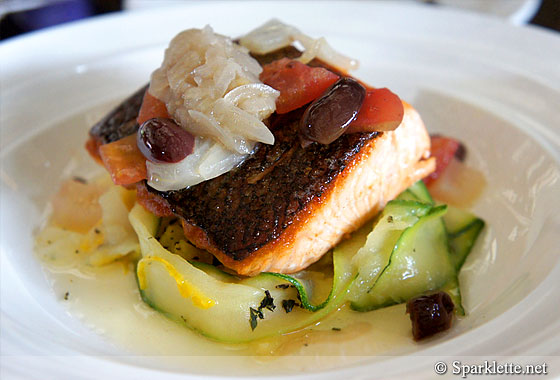 Grilled salmon
S$28++





The grilled salmon is fresh and tasty. With its crusty skin and pairing with fennel compote and zucchini, this colourful dish is highly recommended.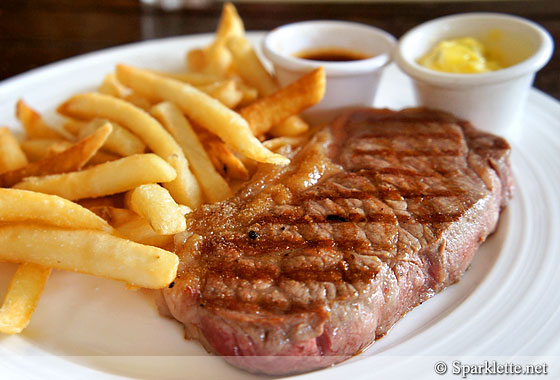 Classic steak
Sirloin (250g) – S$35++
Tenderloin (250g) – S$40++





The sirloin steak may look plain, but when coupled with the home-made béarnaise sauce – a sauce made of clarified butter emulsified in egg yolks and spruced up with herbs – it belongs in a different league altogether. The free-flowing French fries that are served with this dish is also a plus point.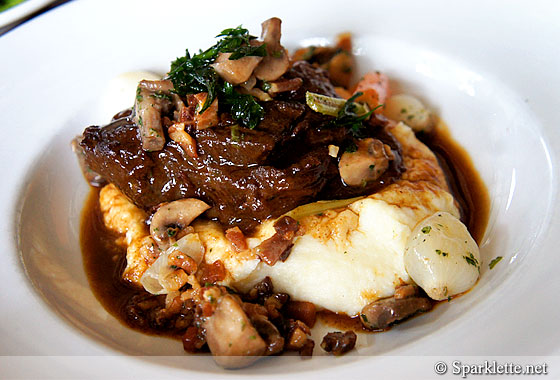 Classic beef bourguignon
S$30++





This combination of mashed potatoes, mushrooms, bacon and a huge chunk of stewed beef is easily the best dish of the afternoon. Slow-cooked to tender perfection, the classic beef bourguignon is extremely flavourful and easily wins everyone's vote for this lunch. I'm definitely ordering this the next time I visit!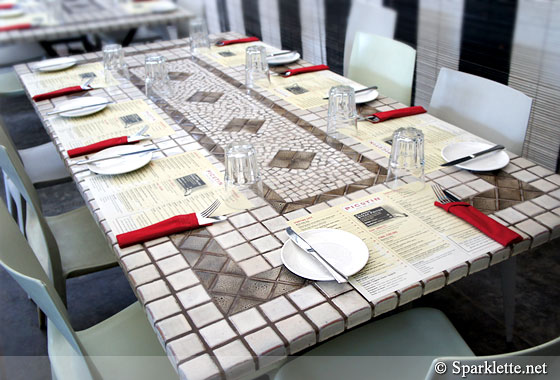 Overall, Picotin provides a wonderfully carefree atmosphere for meals, as well as courteous and prompt service. Head down here if you are looking for a great place to chill out and spend some quiet time without breaking your wallet.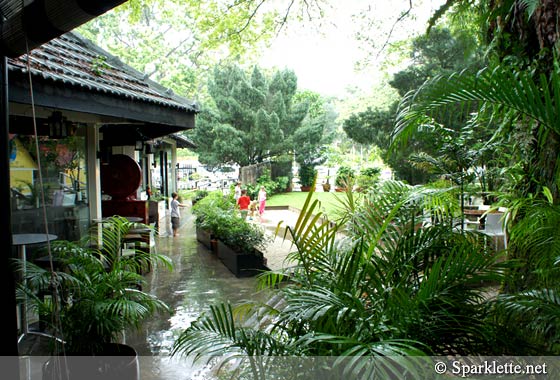 Have Your Say!
Know of any other restaurants and bars where you can be close to nature? Share with us in the comments!
Picotin Bistro & Bar
100 Turf Club Road
Singapore 287992
Tel: +65 6877 1191 |
Website
Opening hours:
Breakfast: 8am – 11am daily
Lunch & Dinner: 12noon – 10pm daily