Saizeriya Ristorante E Caffe is one of those dining establishments that I feel a little guilty to be sharing. For one, if you are looking for great food, you probably won't find it here. But for those days when the economic outlook isn't looking so hot, you can have your fill here without breaking the bank. Where else in Singapore can you get a glass of red wine for $3 and a ribeye steak for $12?
The Saizeriya Italian restaurants first opened in Japan in 1967 and have since expanded to 800 branches in Japan, China and Southeast Asia. In Singapore, there are 3 Saizeriya restaurants at Liang Court, City Square Mall and Bukit Timah Plaza. Perhaps due to the affordable food, the restaurants are generally quite packed and popular with teenagers. The ambience is super casual with booth seating and efficient staff that don't hover around.
Chicken wings
S$3.90 for 4 / S$7.70 for 8





Appetisers include the likes of sausages, chicken wings, grilled potatoes and even escargots. The chicken wings are served on a hotplate. They are crispy on the outside and quite delicious.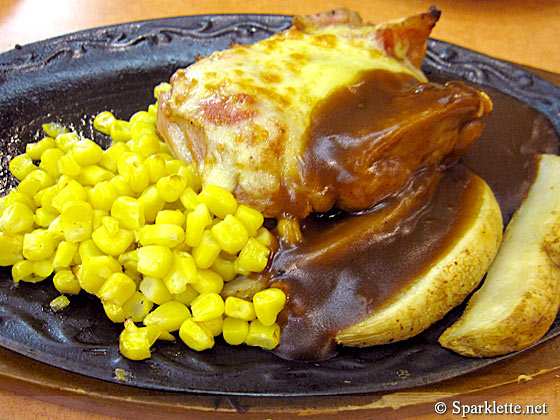 Cheese chicken fillet
S$6.90





For main courses, take your pick from a good selection of pizzas, spaghetti dishes and more. The cheese chicken fillet tastes a little under-seasoned and is rather dull overall. Like I said, don't expect great quality.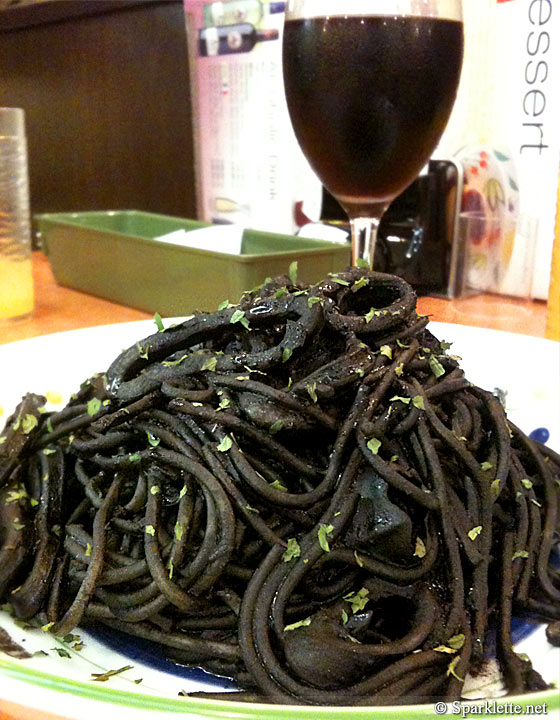 Squid ink spaghetti
S$5.80





One of the more interesting items on the colourful menu is definitely the squid ink spaghetti. The few tables surrounding ours had all ordered the same black mess of spaghetti. The only seafood you would find in it are a few overcooked squid rings. It's quite hard to spot them because everything is just, well, black. And that will be the colour of your lips, teeth and tongue after this meal. Black like Medusa's!
That glass of red in the background is the cheap wine mentioned. You get a full glass of it too.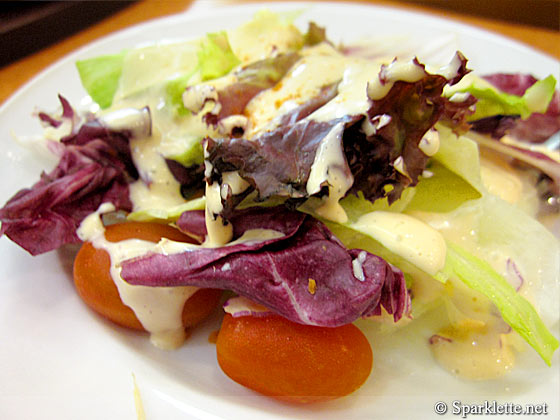 You can add on S$3.90 to get a garden salad and free-flowing drinks – a very good deal if you ask me. Help yourself to all the hot and cold beverages you want from the self-service drinks bar, which has Pepsi, Mug root beer, Mountain Dew, H-TWO-O, lemon tea, lemon barley, coffee and tea. I hear there was even Milo at one point, although we did not see it this time round.
So if you are on a budget and wish to dine Japanese-Italian style with appetisers, mains, desserts and even wine, there's still one place you can go. That's Saizeriya Ristorante E Caffe!
(Also from Japan, but at the other end of the spectrum, there are fruits that cost more than S$100. We think these are the most expensive fruits in the world.)
Have Your Say!
Do you know of any other place to get shockingly cheap food in Singapore? Share all your thoughts via Facebook or Twitter or by leaving a comment!
Saizeriya Ristorante Menu
Salads
Chef salad – S$3.90
Grilled pork salad – S$5.80
Smoked salmon salad – S$5.80
Shrimp cocktail salad – S$4.90
Tuna & mushroom salad – S$5.80
Soups
Minestrone soup – S$2.40
Seafood chowder – S$3.40
Special mushroom soup – S$2.40
Focaccia
Original – S$1.90
Garlic bread – S$2.20
Garlic butter – S$2.20
Appetisers
Grilled potato – S$1.90
Lamb steak – S$5.80
Smoked salmon – S$3.90
Spinach oven grill – S$4.90
Escargots oven grill – S$5.80
Sautéed spinach & bacon – S$3.90
Black pepper smoked duck – S$4.90
Italian style scallop oven grill – S$6.20
Chicken wings – S$3.90 for 4 pieces / S$7.70 for 8 pieces
Chicken sausages – S$4.90 for 4 pieces / S$9.60 for 8 pieces
Home-made spicy sausage oven grill – S$4.90 for 4 pieces / S$9.60 for 8 pieces
Spaghetti
Seafood spaghetti – S$7.40
Squid ink spaghetti – S$5.80
Spaghetti carbonara – S$5.80
Asari clams spaghetti – S$7.40
Peperoncino spaghetti – S$3.90
Salmon cream spaghetti – S$7.40
Bacon & tomato spaghetti – S$5.80
Tuna arrabbiata spaghetti – S$5.80
Mushroom cream spaghetti – S$7.40
Spaghetti chicken bolognese – S$3.90
Peperoncino bacon spaghetti – S$5.80
Mushroom & chicken meat sauce spaghetti – S$5.80
Doria
Chicken doria – S$5.80
Seafood grain – S$6.80
Doria with shrimps – S$5.80
Chicken meat gratin – S$4.40
Doria with chicken meat sauce – S$4.40
Pizza
Beef pizza – S$7.80
Salmon pizza – S$7.80
Spicy sausage pizza – S$7.80
Double cheese pizza – S$5.80
Pineapple & bacon pizza – S$7.40
Risotto
Mixed seafood risotto – S$7.40
Mushroom & bacon risotto – S$5.80
Hamburger
Grilled pork – S$6.40
Pork & hamburger steak – S$8.90
Cheese hamburger steak – S$7.40
Mushroom hamburger steak – S$6.40
Steak
Ribeye steak – S$11.90
Cheese chicken fillet – S$6.90
Vegetable chicken fillet – S$6.90
Desserts
Tiramisu – S$4.90
Coffee jelly – S$3.90
Panna cotta – S$3.90
Chocolate cake – S$4.90
Truffle ice cream – S$4.80
Oreo cheese cake – S$4.90
Cassata ice cream – S$4.80
Saizeriya Ristorante Liang Court
Liang Court Shopping Centre
177 River Valley Road #02-22
Singapore 179030
Tel: +65 6337 9001
Opening hours: 10am – 10pm daily
Saizeriya Ristorante City Square Mall
City Square Mall
180 Kitchener Road #B2-55/56
Singapore 208539
Tel: +65 6834 4878
Opening hours: 11am – 10pm daily
Saizeriya Ristorante Bukit Timah Plaza
Bukit Timah Plaza
1 Jalan Anak Bukit #02-24C
Singapore 588996
Tel: +65 6467 9239