When craving for American fares, Tony Roma's is one name that always pops up. With consistently good food being served in a family-friendly environment, it's no wonder that snaking queues of eager customers (or guests, the term that the restaurant prefers) can be seen forming at the entrance during the evening chow hours. In fact, I made two trips there in the past week!
At the Suntec City outlet, one of only two in Singapore, guests can opt for cozy booth seats or window seats, where they get to enjoy a view of the mall's koi pond. With the colourful neon signboards, black and white photographs of classic America, plus the American flag being displayed proudly, you may be forgiven for forgetting that you're still in Singapore.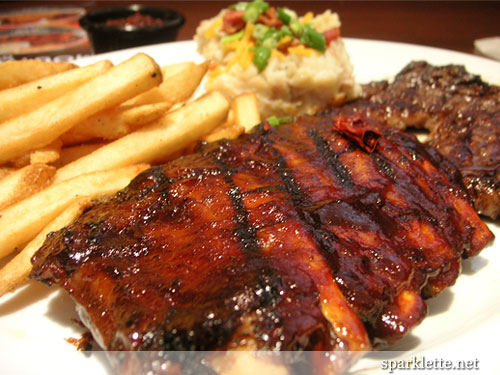 Steak & Babyback Ribs Combo Grill
S$36.90++
Rating:





Tony roma's award-winning baby back ribs are world famous and need no further introduction. But even the steaks and other grill will not pale in comparison!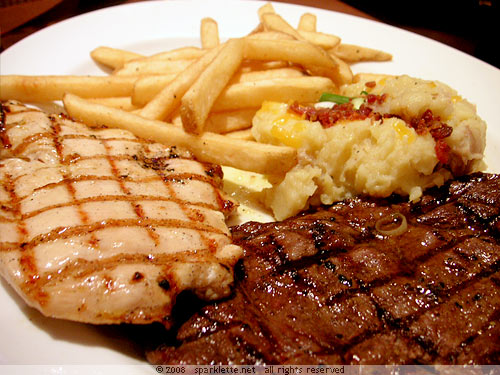 Steak & Chicken Breast Combo Grill
S$29.90++
Rating:





It's a good idea to go for the combo grill. You can have your ribs or steak with something lighter, such as chicken, shrimp or fish. There's even a combo where you can have both the ribs AND the steak. Each combo comes with two choices of coleslaw, baked potato, mashed potatoes, French fries, ranch style beans, rice or corn on the cob.
The steak is a slab of perfection. 'nuff said. I'm no fan of steak, but even I can't resist a few chunks of the tender and juicy meat. Ahh…
Chicken lovers can choose from BBQ chicken or chicken breast. I prefer the healthier choice of chicken breast (eating the former is too much trouble)! It even has the same checkered markings as the steak! The chicken is lightly marinated, so you can savour its natural flavours with little hindrance from heavy sauces. Still, I recommend having it with the garlic chilli sauce that you can request for separately.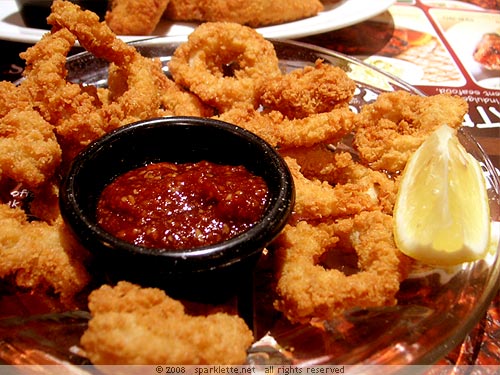 Calamari Rings
S$10.90++
Rating:





The fried calamari rings is another dish of perfection. The calamari is covered in a golden coat of crispy batter and tastes great! It is a staple order for me at each Tony Roma's meal.
The little bowl of garlic chilli dip simply explodes with flavour. It would make practically anything taste good! It's probably a good thing that it's not too spicy so you can have a lot of it without burning your tongue. The waitstaff don't mind getting it for us from the kitchen. For our meal, we had three bowls of it!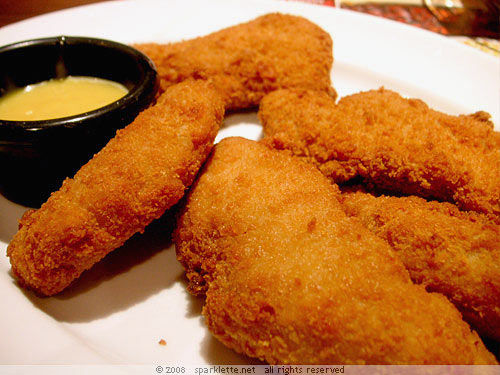 Crispy Chicken Tenderloins
S$9.90++
Rating:





Maybe it's something to do with the fact that there's already so much meat on our table, the crispy chicken tenderloins didn't fare that well with us. Each piece is a huge chunk of chicken meat that goes well with the honey mustard sauce. It would be a hit with the kids as it's easy and fun to eat. The portion is rather huge too!
One nice touch is that besides serving guests a warm baguette while waiting for the food to arrive, wet towels are also given. These items are complimentary, a stark contrast to certain Chinese restaurants where you would be paying a dollar for the wet towels and three for the bread.
So tell me, is your mouth watering yet? Because mine is! Already, I'm looking forward to my next Tony Roma's meal. (Note: if anyone has any spare receipts from the restaurant, please pass them to me! I'd like to become a member.)
Tony Roma's
Suntec City Mall
3 Temasek Boulevard #B1-007
Singapore 038983
Tel: +65 6337 9055
Service:





www.tonyromas-mms.com
Bus services: 10, 14, 16, 36, 70, 70X, 97, 106, 107X, 111, 133, 162X, 196, 857
Nearest MRT: City Hall
Opening hours:
11:30am – 3pm, 6pm – 10pm (Mon-Thur)
11:30am – 10pm (Fri-Sun)