Christmas Tree of the Day #4 (2012 Edition) – Gardens by the Bay
Gardens by the Bay is one of Singapore's newest attractions. The 101-hectare park showcases horticulture and garden artistry, with the highlight being a range of amazing Supertrees. These uniquely designed vertical tree-like gardens remind one of the world in the movie Avatar.
Apart from that, the conservatory complex comprises two cooled conservatories – the Flower Dome and the Cloud Forest.

Credit
At the Flower Dome conservatory, Christmas decorations are interspersed with regular garden attractions.

Credit
The centrepiece is an elegantly decorated Christmas tree adorned in traditional Christmas colours.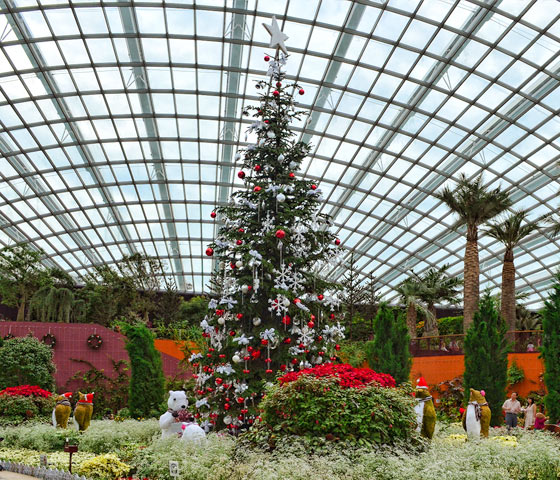 Credit
Topped with a silver star, dangling red baubles, silver snowflakes and ribbons are some of the ornaments you will find on this tree. Surrounding it are adorable penguins and polar bears donning Christmas hats.

Credit
Have Your Say!
Have you seen any gorgeous Christmas trees this festive season? Share pictures with us in the comments!
For more Christmas trees, check out the Sparklette Christmas Tree of the Day series.