One Big Tree and One Baby Tree at Christmas
'Tis the season to be jolly, fa la la la la, la la la la!
I love this time of the year! Christmas just warms my heart, it makes me feel all fuzzy inside :) See, I even added little nifty Christmasy stuff to my blog!
We spend some time setting up and decorating our Christmas trees at home. Yeah, "trees", plural! We have one large tree and one baby tree. I know it's pretty late to put up the trees but well, better late than never!
A lot of effort goes into decorating the trees. We have some ornaments left over from previous years but they aren't enough! So Dad and I go shopping for more ornaments and new Christmas lights. We have bought two different kinds of lights – one that has the light on constantly, the other with various twinkling effects that can be toggled with the press of a button. The end result is mesmerising! We also spend some time wrapping presents and place them under the Christmas tree!
And so, here's the big Christmas tree!
Okay that's a crappy photo but my digital camera doesn't handle images well in the dark. So here's one with the flash!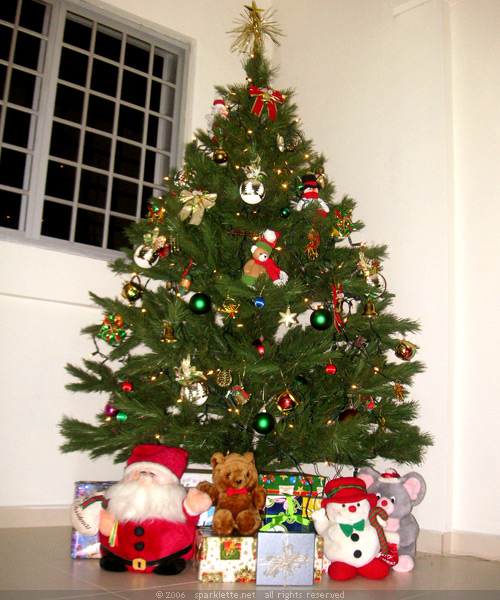 And this is the baby Christmas tree which is very precious! Its name is Mini-tree (like Mini-me from Austin Powers) and it even has five little stuffed bears underneath.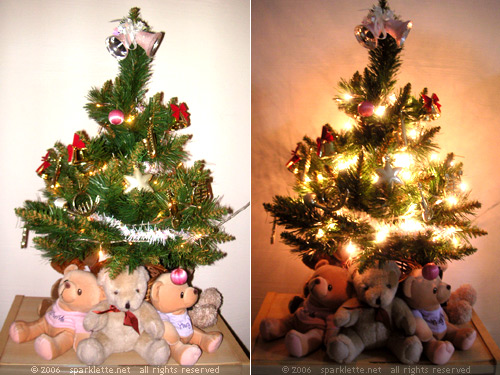 I am not sure if many families have this tradition of decorating Christmas trees, but to me this is one of the best parts about Christmas! In fact, I love Christmas trees so much I'm gonna post a photograph of a different tree for each of the twelve remaining days until Christmas! Well we've got today's tree already. Look out for a different tree tomorrow!