Christmas Tree of the Day #11 (2012 Edition) – A Pink Christmas at Orchard Central
The Best Dressed Building title among the Orchard Road malls this Christmas season was awarded to Orchard Central. And it's not hard to see why the mall has won for the second year in a row.

Credit
The Christmas tree at the front of the mall features a hollow base, allowing passers-by to walk right through it.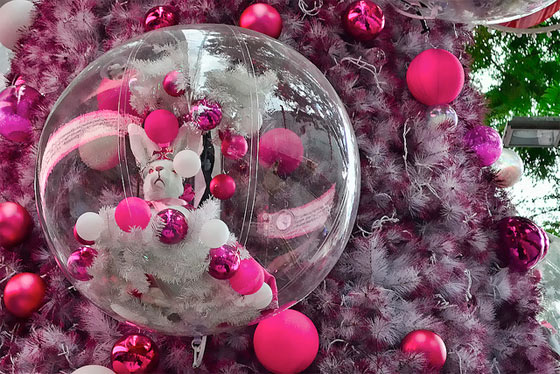 Credit
Through a liberal use of pink and white tones, the mall has recreated a fairytale-like "Christmas forest" – complete with scents, sounds and lights.

Credit

Credit
The forest theme continues to run through the mall.

Credit
At the Discovery Walk on the ground floor, a Christmas village has been built, with stalls selling gifts, decorations and merchandise for the holiday season.

Credit
The Evian booth features a Christmas tree comprising Diane von Fursrenberg 2013 limited edition bottles.

Credit

Credit

Credit
Have Your Say!
Have you seen any gorgeous Christmas trees this festive season? Share pictures with us in the comments!
For more Christmas trees, check out the Sparklette Christmas Tree of the Day series.