The 2008 Bloggies – Vote sparklette.net for Best Asian Blog!
Hi readers!
Surprise, surprise! The nominees for the eighth annual weblog awards a.k.a. the 2008 bloggies have been announced. Sparklette has been nominated in the "best Asian weblog" category! vote me for a bloggie, will ya? I have never been in the running for one before and I would so love to win it!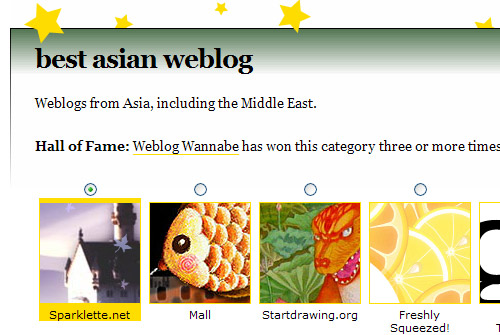 Voting is simple enough:
1. Visit the 2008 bloggies.
2. Vote for your favourite websites in one or more categories. Sparklette is in the "best Asian weblog" category.
3. Enter your email address at the bottom of the page (image verification required) and hit submit!
4. Don't forget to check your email afterwards for an acknowledgment message. Click the link in the email to verify your vote. That's it!
Voting starts now and will close at 10pm (est) on Thursday, January 31. Only a week left to vote! Your support would be much, much appreciated. Thank you so much!
Much love,
Veron