Recently, Straits Times journalist melody zaccheus asked me for my thoughts on twitter, a popular web service that allows users to send message updates to friends via the website, instant messaging or SMS. She was writing a newspaper article and needed some first-hand experience with using twitter. I had actually blogged about it last month.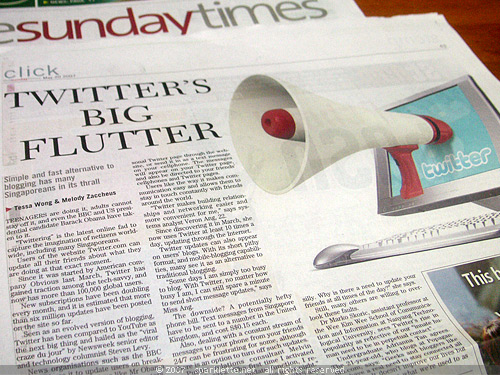 Her finished article, titled "twitter's big flutter", has been published in the Sunday Times today under the "click" section. My words appear in several places!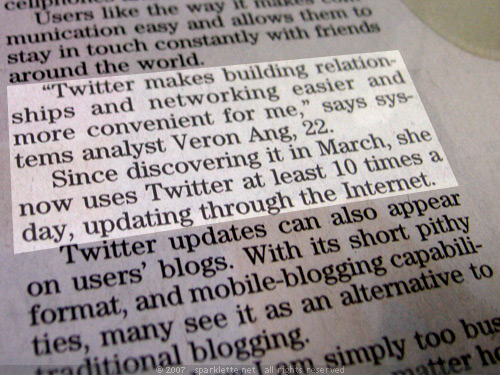 See my job title? When melody asked for it I was wondering what I should call myself. I mean, the possibilities are endless! Systems analyst, civil servant, web designer, web design goddess, blogger, etc. In the end I just picked my actual job position (also the most boring-sounding one).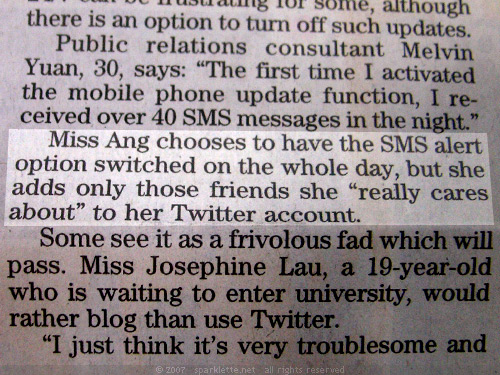 As for those of you whom I've added to my twitter account, please read those highlighted lines above carefully. It's literally printed in black and white that I only add those friends whom I "really care about"!
For those who haven't, do add me to your twitter list and follow me! Blog readers can view my most recent twitter updates on the sidebar too.
Haha that was fun! This is the second time I've been quoted in a national newspaper. I remember the first time I was quoted, I was all giddy. This time round, I feel like a total pro!
By the way, if anyone has an online subscription to the Straits Times interactive, please send me a copy of the article. Thanks!