Looking for the List of Restaurants That Do Not Serve Free Water?
Hello to all you Sunday Times readers in Singapore, who may have found your way here after reading today's article in the paper.
If you are arriving here for the first time, a big, warm welcome to you! My name is Veron, and I am a blogger in my free time. This blog, Sparklette, is developed single-handedly, dedicated to helping people locate the best and most interesting restaurants in Singapore. All this is built purely based on my own dining experiences.
Of course, it won't be peaches and cream all the time. Occasionally, I may blog about the darker side of things, such as unpleasant dining experiences.
Looking for the much talked about list of restaurants that do not serve water? Here it is: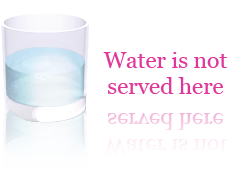 If you like what you read here, you can subscribe to my future blog posts through my rss feed, via email (on my sidebar), or follow me on twitter.
Thanks for stopping by! :)
Much love,
Veron