Hello people, I'm back to blogging again. I feel cheer bear did an awesome job taking over my blogging duties previously. So don't worry, it wouldn't be the last you see of her; she would be blogging again soon!
I'm not doing too well. This is my final semester and I just have this feeling that I would be coming out of the school of computing with nothing learnt. It's quite depressing. Lately, I've been wondering how I can get through this last semester and what lies in store for me after graduation. Up until now, I have no idea what career path to take. The irony about being in the school of computing is that it has made me hate computing, and I doubt I would enter the IT field next time. What I really love is doing design, or writing, and I don't have the relevant degree for either of these.
For the final year project, we have formed teams of six to develop an integrated resort management system using j2ee. We held our first group discussion on Friday. I was very disappointed that I couldn't contribute much, and I fear it would continue to be that way. What I can contribute is probably in terms of design. I would love to design the whole web portal that is required. The design component would play a part of the grading, but it is still hardly the emphasis of this project.
I just feel so goddamn depressed.
But a yummy slice of cheesecake never fails to cheer me up. Following that depressing four-hour-long discussion was dinner at secret recipe. The strawberry shake was not too sweet so that's good.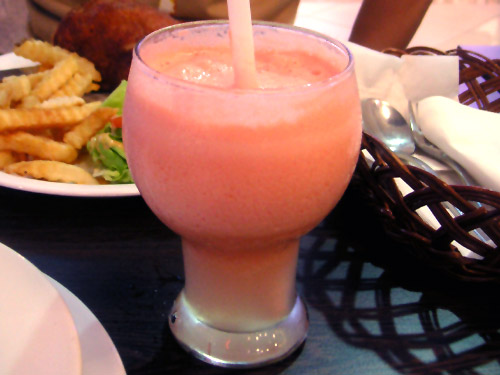 Tom yam spaghetti. I seemed to have eaten it before at the secret recipe outlet in City Square, Johor Bahru before. It was not too shabby.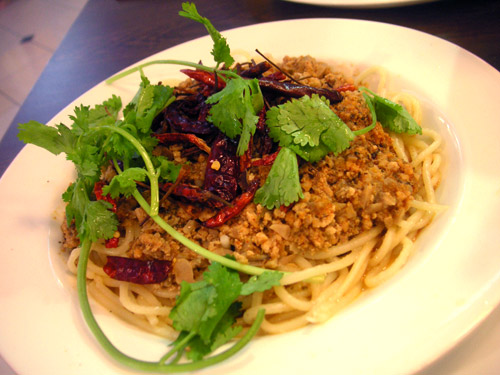 And the yummy cheeze chocolate cake! Secret recipe serves the best cheesecakes in town man, really. The cream cheese filling is very rich, yet light at the same time so you don't get sick eating it.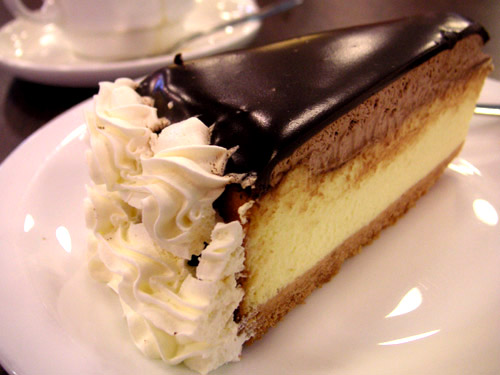 Speaking of food, udon-bo at the Takashimaya food basement serves a mean chicken teri don with lotsa chicken meat, for only $4.50! It comes with a bowl of miso soup too. Cheap! People should hurry there before they raise their prices.
I'm also having this tcc craze lately and visiting the tcc boutiques every opportunity I get. I'm trying to accumulate enough receipts to become a tcc member. I love tcc for their wide selection of coffee, great service, and the artful design of all their boutiques; every single outlet looks unique! The café royal flambe I had yesterday was the first liquor coffee I ever had. Notice the blue flame around the sugar cube.
The coffee came first, to which the waitress added brandy from a fancy-looking golden flask. The sugar cube was placed on a teaspoon on the brim of the coffee cup. Once the sugar cube had soaked in the brandy, the waitress ignited it. After it melted, the waitress stirred it in, and the coffee was ready. Wow! A flaming coffee cocktail!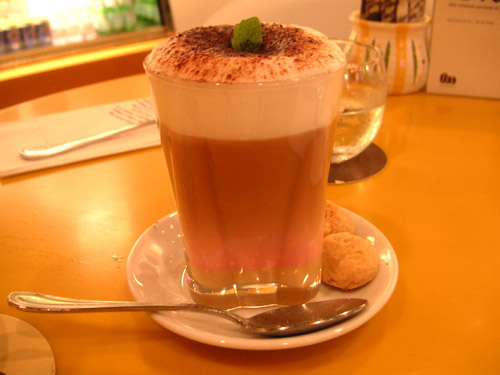 The mon cheri came with a leaf on the froth, and a pretty pink layer on the bottom. It looked good but tasted quite crappy and way too sweet.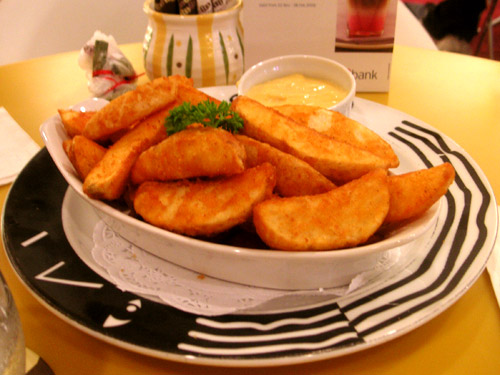 Potato wedges.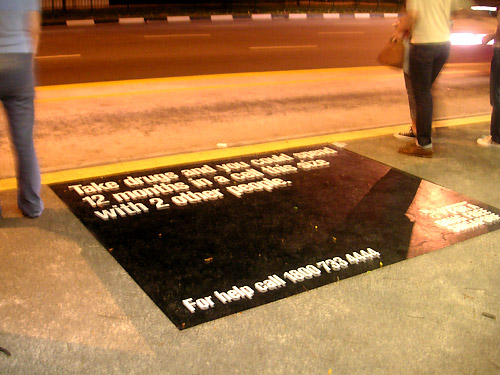 Something interesting I spotted on the way home was this black sign on the ground at the bus stop near Orchard Cineleisure. It read "take drugs and you could spend 12 months in a cell this size with 2 other people." it was probably about 2 by 1.5 meters. It surprised me because I thought jail cells were bigger than that, and this tiny cell was supposed to fit three people. It seemed a pretty effective way of letting people know that drug takers would not be let off lightly in Singapore.
Anyway, it's my mom's birthday today. We got her a cute-looking cake in the shape of a face from Angie the Choice. It tasted yummy! Not too sweet and the chocolate cream was heavenly. I finished my slice within a minute.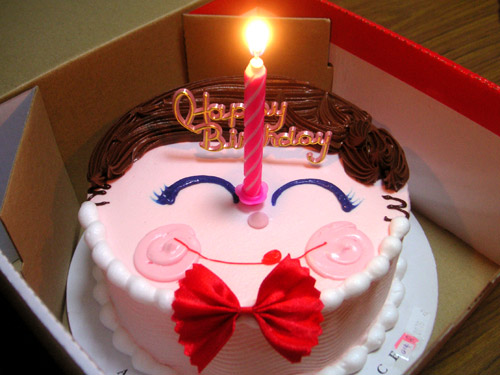 Mom looked so happy just now, like the smiling cake. Happy birthday, mom!