Ever since my virgin blood donation two years ago, I had been telling myself to do it every 3 months (that's the safe window period between two blood donations). But each time I just kept pushing it off, until the mobile donation drive showed up right at my workplace today! Of course, I signed up for it.
I wasn't able to find a single friend who's willing to do this with me. All the people I ask simply get squeamish or freak out at the sight of blood. Men in general just aren't as macho as they portray themselves to be, are they? Even at the mobile donation drive, at least 70 percent of the donors were ladies! Why?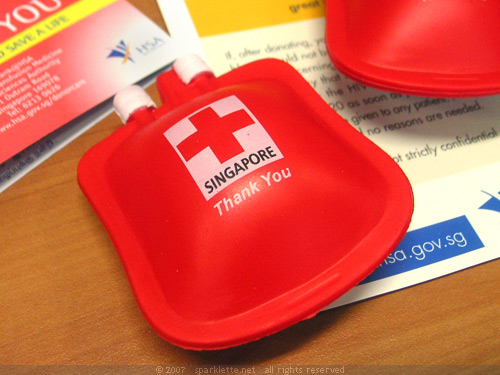 But I can't blame them. Even though this wasn't my first blood donation, I did get a tad nervous when I reached the place and saw people lying down on makeshift beds with blood pumping out of them. I had half the mind to just run out of the place and not look back!
I went through with it anyway, particularly since I was there with a fellow colleague. He remarked that my blood stream wasn't flowing too smoothly today. It took a long time to get just a drop of blood out of me for the haemoglobin test. Then after my donation, my blood wouldn't stop flowing. Damn!
If you're interested, here's a more detailed description of my blood donation experience from the first time. Things haven't really changed much.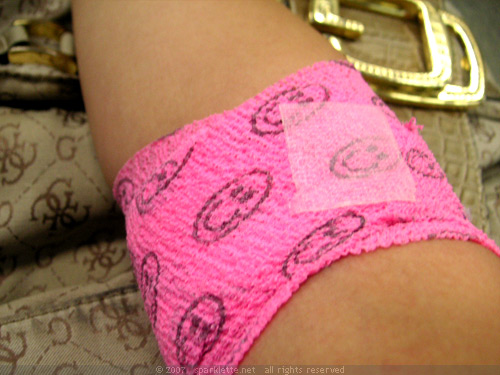 All was well in the end. My arm was wrapped up nicely. I specifically asked for a pink gauze with smiley faces!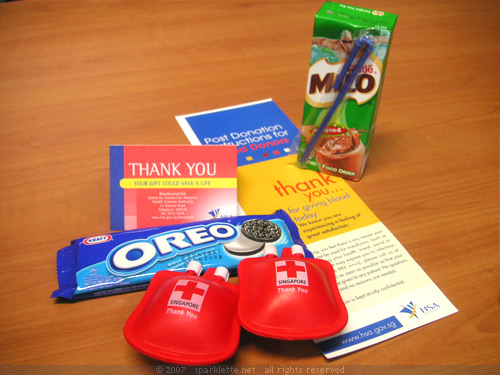 I also got Milo, oreo cookies, some pamphlet and a card informing me of the next safe date when I can give blood again. And oh, I got to keep the cute little red stress ball too. It's actually a pump that you squeeze during the blood donation process to get blood pumping out more quickly.
Men, be brave! Give blood! Save a life!