The day had finally come for us to bid farewell to Siem Reap. It had been the most amazing journey through the ruins of Angkor. But ultimately, I find that what made our stay particularly memorable were the wonderful Khmer people.
Everywhere we went, people were polite and hospitable. While eating out, prices were fair, and no one ever tried to overcharge us. Sure, there were many children who persistently urged us buy their stuff. But can anyone really blame them? Plus, they were so adorable!
I think, out of all the cities I have visited, I would rank the Cambodians as the most honest.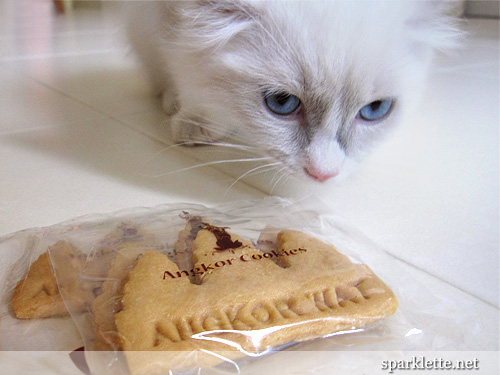 Snowy the cat seems to like those Angkor Wat-shaped cookies!
I am so gonna miss Pub Street too, home to the many restaurants where we feasted on Khmer cuisine.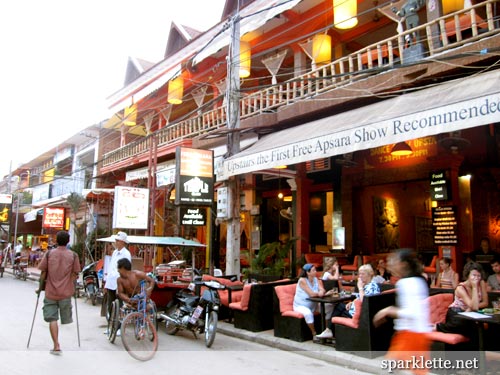 In this scene above which I captured of Pub Street, it is meant to show the contrast between very different lives. Tourists dining in nice restaurants. Tuk-tuk drivers making a living on the streets. Then there are the ones who have been made poorer from disease/accidents.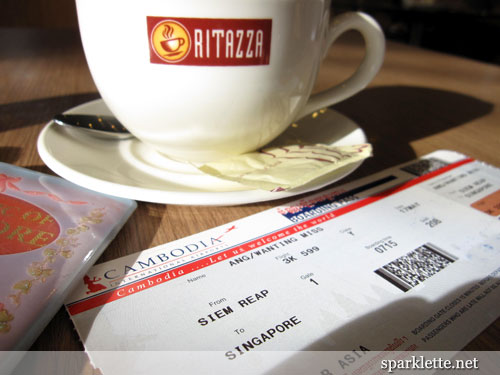 Here's a recap of all the incredible places we visited in Siem Reap.
Day 1:
Borei Angkor Resort, Pub Street and Old Market area, Angkor Night Market
Day 2:
– part I: Angkor Wat, Angkor Thom and bayon
– part II: café puka puka, Madam Sachiko cookies, Angkor National Museum
Day 3:
Banteay Srei, Ta Som, neak pean, preah khan, Ta Prohm the Tomb Raider temple