Sparklette: Halloween Edition
Sparklette has turned dark!
This being Halloween and all, I thought it would be fun to do up a Halloween edition of Sparklette. You know, transform the usual purple layout into something spooky.
So, I came up with this: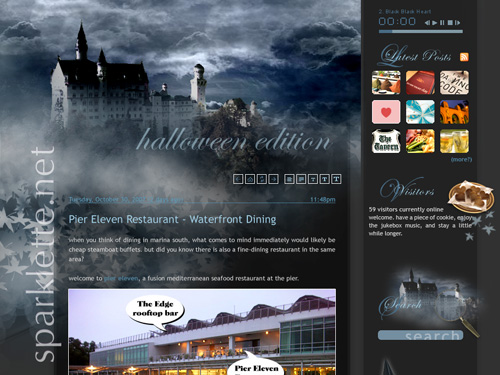 Click to enlarge
Welcome to the dark side! We have spooky storm clouds! Spooky mist! Even the dreamy neuschwanstein castle has turned spooky. I was going for the whole haunted castle look! Be sure to view it in full size!
I meant to use the black layout for this whole Halloween week, I really did. But time wasn't on my side. I had just enough time to design the piece but not enough to actually implement it on the blog.
Personally, I really like how this whole thing turned out and thought it would be quite a waste if you guys didn't get to see it. So, there you go! Meanwhile, I'll just settle for wearing a black witch's pointed hat.
Happy Halloween!
News updates
November 10, 2008: I made this into a usable theme after all! Check out the shiny new style switcher.