sparklette.net Name Cards!
After attending various bloggers/technology events without being able to give out my name card when I needed to, I knew I needed to get something done. Still, it wasn't until the recent iX conference that triggered me to finally get off my lazy ass and have those name cards printed!
With help from a friend, I hurriedly designed the name card and sent it in to print22, a local printer specialising in name cards. I heard a couple of recommendations for this company before and trusted them to do a good job. It wouldn't reflect nicely if I was to hand out name cards with a shoddy print job!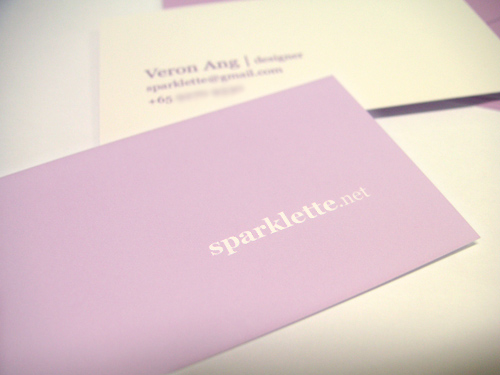 The artwork was simple – purple on one side with "sparklette.net" in crisp white font; clean white on the other with just my name, what I do, and contact details in dark purple. It had to look clean, uncluttered, professional, with the touch of a designer feel at the same time!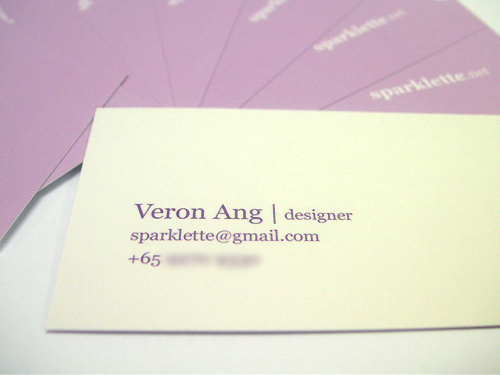 The artwork was sent to the printer on Friday, and I received the name cards by the following Wednesday morning. That's a pretty reasonable lead time considering the printing was done in Hong Kong.
Overall, I am very happy with the name cards! The paper quality was good and the print job was excellent. I thought I could have made the font smaller, but that might not have been too legible for some people.
I have received several compliments from people that I gave it to, ranging from the paper texture, print quality, colour, and even the smell! Hahaha! It's a lovely shade of lilac, just like the background colour of this blog, although some of the guys who got it thought that it's pink!
Yay! My first Sparklette name card! Raise your hand if you got one!