Nail Art: Floral Design with Bling by Simplicity Nails – The nail art that lasts for weeks!
I'm absolutely in love with the beautiful floral nail art that I had done at Simplicity Nails, so much so that I have been raving about it to any person that cares and posting pictures on Facebook/Twitter/Instagram/every social network ever.
Simplicity Nails is a home-based nail salon operated by Trina in the western part of Singapore. Trina has obvious passion and pride in her craft, and it manifests in the way she dedicates herself to making every nail look just right. Her nail art is done in gelish, which is awesome because that means it can last for three weeks thereabouts or even longer.
For my nails, I wanted something floral and brought along a photo as a sample. And voilà! The actual product turned out even better.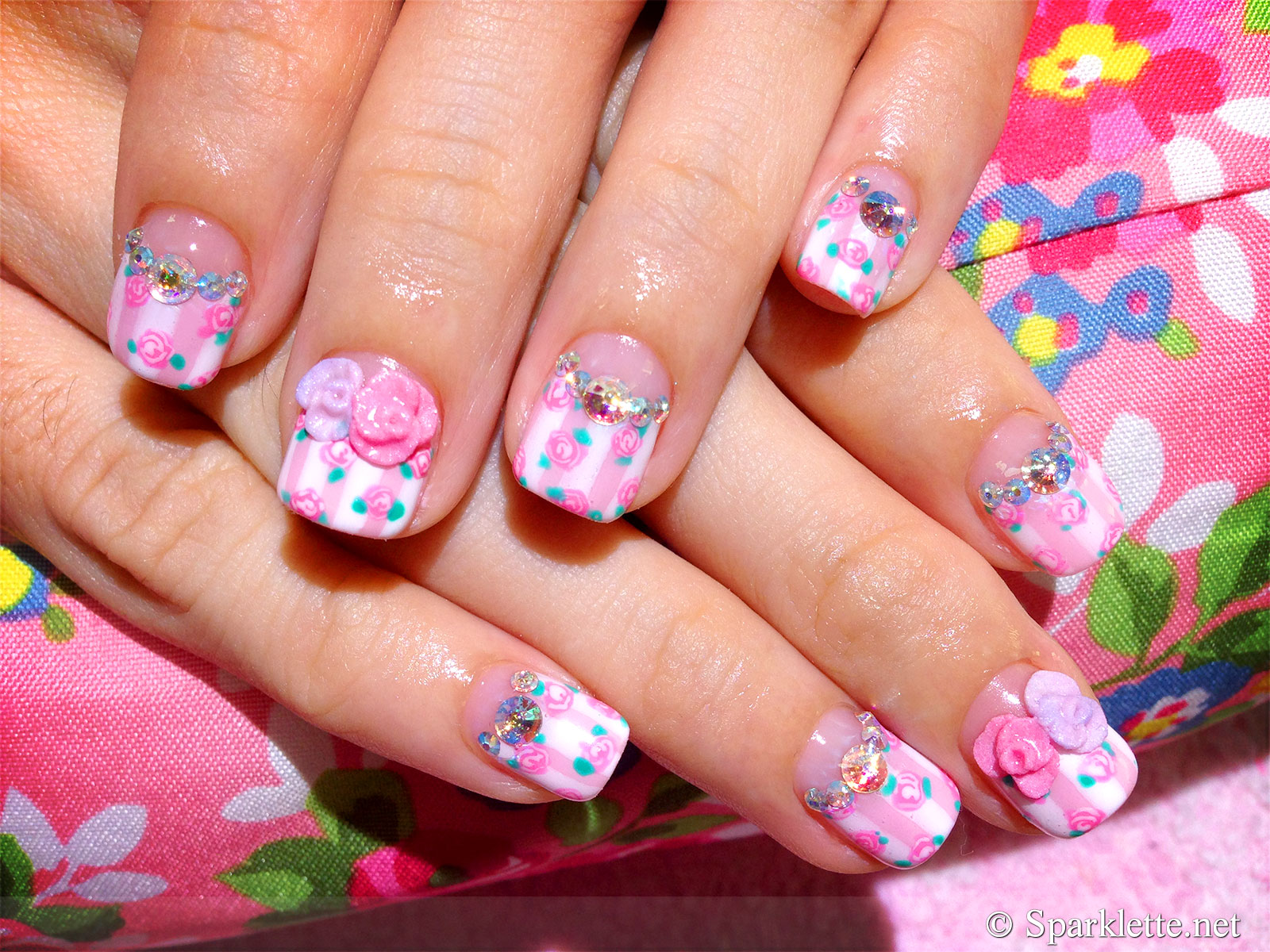 Gelish manicure, with nail art, crystals and acrylic flowers
S$85





The base colour is done in an arrangement of pink and white stripes (just like the painted walls of the salon). Pink flowers are then carefully painted on with the finest white detail. No wonder Trina says that her strength lies in floral designs. The flowers look so neat, almost as though they were pasted on rather than hand-painted. And I love that the leaves are just the perfect matching shade of green.
Each nail is accented with either rainbow crystals or acrylic flowers in pink and purple. My main worry is that the crystals will fall off quickly; a previous experience with crystals resulted in many dropping off after a hairwash. But Trina is confident that the crystals will stay on for as long as the gelish does, because she had used glue to keep them in place.
For this set of gelish manicure with nail art, crystals and acrylic flowers, it will set you back S$85 – very reasonable pricing for a job well done. One other thing that I love about this particular nail design is that eventually as the nails grow longer, they will still look quite decent as the painted parts will end up looking like French tips.
I really think Trina did a wonderful job and I couldn't be more pleased with my nails now. I wish there's a way to keep them (okay, creeepppyyy)! There's no reason why you would go to a shop when this home-based salon does the same thing even better.
Have Your Say!
What is your favourite type of nail art? Share all your thoughts via Facebook or Twitter or by leaving a comment!
Simplicity Nails
Tel: +65 8118 5274 (Text/WhatsApp Trina) |
Website