Winner of Christmas Giveaway 2010 #2: Limited Edition Ben & Jerry's Bicycle
Hey everyone, thanks to all those of you who took part in my Christmas Giveaway 2010 #2 to win an adorable Ben & Jerry's bicycle. Sparklette received the highest number of participations and has been selected to give away one of these adorable bicycles!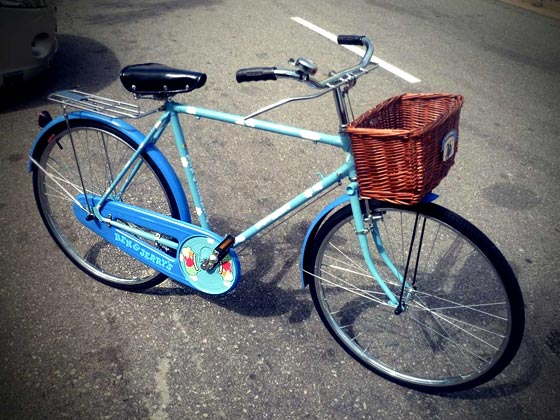 You were asked to tell us why you deserve to win the Ben & Jerry's bicycle. And trust me, it has been a lot of fun going through all the submissions – close to a hundred of them – that range from cute, funny, moving and downright witty. In the end, there can only be one winner and he is Yanguo Yip. Check out this heartwarming story he shares which is really about his love for his father:
My Dad has an old black bicycle and he love cycling very much. When I was a child, my dad is always the one to take me on hikes, camping trips and bike rides. Once he took me on a very long bike ride. It was so much fun. As long as I was riding on his bicycle, there will be a feeling of flying. It's magical, like the gravity doesn't affect you. My Dad is so awesome. I love spending time with him. I love my Dad.

Gradually, I grew up, my Dad is also slowly become old, but he is still riding the old bicycle to work. Well, the old bicycle can no longer afford to carry my weight & it has been covered with scars. I often saw my dad bent over to repair the bicycles, and thought that he is a bit stingy. That bicycle is so old and creates a lot of noise when riding. Why not replace by a new one which saves time & effort to repair it?
One day, I saw my Dad repaired the bicycle again, and I could not help and said: "Dad, this bicycle is so worn out. Go and buy a new one, it would save the time and effort to fix the bicycle again and again.But he always replied: "It can still be used for riding; we will talk about it later." Not sure why, I would automatically help him repaired.

Actually, my Dad is such a person, he willing to spend money for his families, children and elderly but reluctant to spend money for himself. He still keeps the old bicycle in the storeroom. Whenever I see the old bicycle, it would remind me of my Dad's love and devotion to the family, and those wonderful and fun memories of riding bicycle with my Dad.

I hope to have this bicycle as a gift for my Dad and his birthday is coming soon. I am sure he will take good care of it and very happy riding this beautiful bicycle around Singapore. Because he still considered bicycle is 'the best and only way to travel'.

If one day, he is no longer fit for riding, I will take over and take him for a ride wherever he wants to go using this bicycle. Because of him, I fall in love with bicycle. If I had to search within myself and pinpoint where my love for cycling comes from, I would find it on the DNA strand that came to me courtesy of my Dad. There's no doubt that I got the "Loving the bicycle" feeling from him.
Congratulations, Yanguo, and I hope your dad would like the bicycle. Ride safely!