Giveaway: 5x $50 Dining Vouchers from Dian Xiao Er [Ended]
Update: This contest has ended. The winners have been announced.
If you have watched Chinese martial arts movies or read kung fu novels at some point, you may have noticed that the characters tend to make a pit-stop in guesthouses to replenish their energy after a long journey.
In modern days, we can have a taste of these ancient guesthouses at Dian Xiao Er. At this Chinese restaurant chain, diners embark on a culinary journey back in time to ancient China to experience a gastronomic feast of ancient recipes.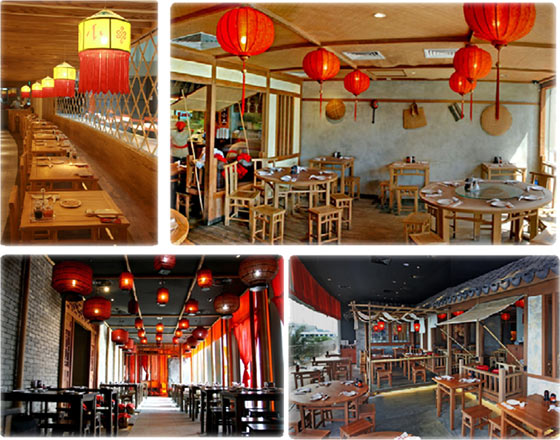 Read to the end of this review to find out how you can win Dian Xiao Er vouchers to experience this memorable dining concept with your loved ones!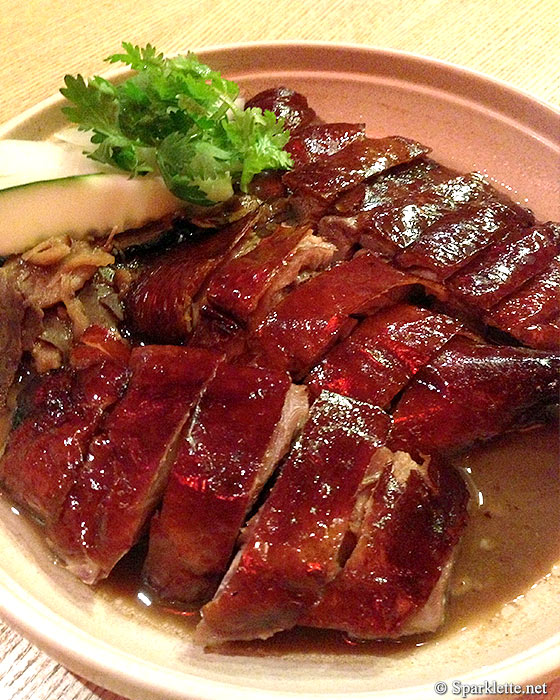 Duck roasted with Ten Wonder herbs
From S$12.90++ onwards
Rating:





The signature dish is the herbal roast duck, which boasts a layer of crispy skin and tender interior infused with herbs. The duck is marinated overnight with a mixture of Chinese wine and herbs to allow the herbal flavours to permeate each duck. The roasting process releases the dark flavourful sauce, which tastes heavenly with the tender duck meat.
The roast duck is available in three flavours: angelica herb, Ten Wonder herbs and wild ginseng. The duck roasted with Ten Wonder herbs consists of ten herbs including astragalue, codonopsis root, dried longan and more.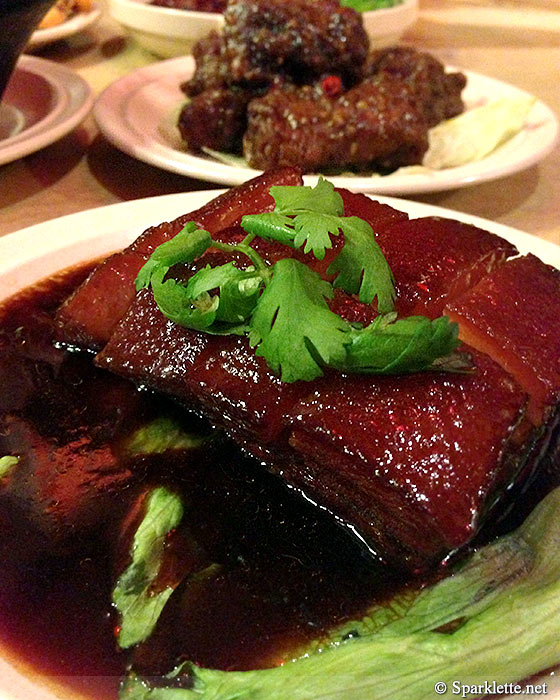 Dong Po pork





You may wish to throw caution to the wind when you order the Dong Po pork, because it just tastes so good with the special sweet sauce and a melt-in-the-mouth. The cut of pork belly is well marinated with a concoction of spices and steamed till soft and tender.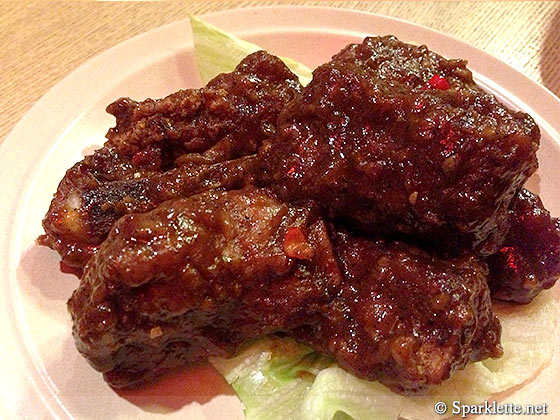 Mongolian spare ribs





Another signature dish is the Mongolian spare ribs, which comprise crispy ribs coated in a layer of delectable sauce with flavours of plum and black pepper.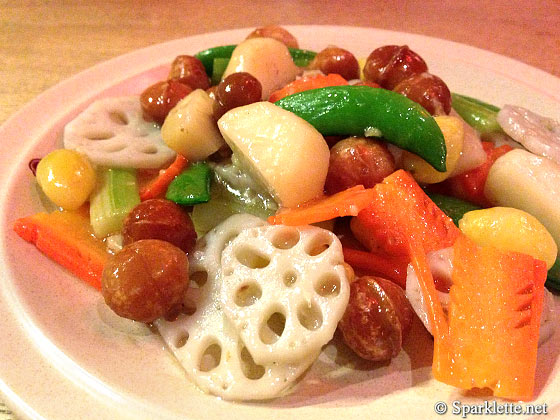 Stir-fried lotus root with macadamia nuts





For something lighter on the palate, go for the stir-fried lotus root with macadamia nuts. The nuts deliver a nice crunchy texture.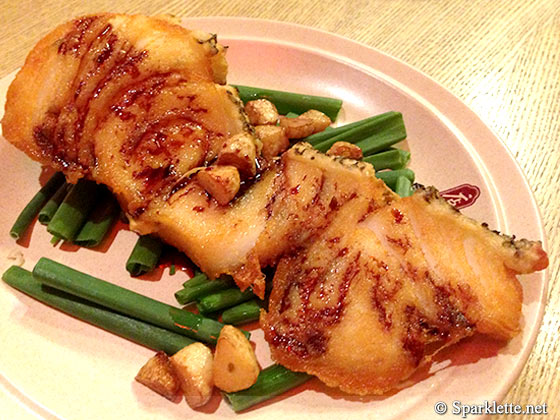 Silver cod fish in superior soy sauce





Served with a dash of soy sauce mix, the silver cod fish is popular with the kids. While tucking into this delicious fish, you can also reap health benefits of omega-3 fatty acid, vitamins and minerals at the same time.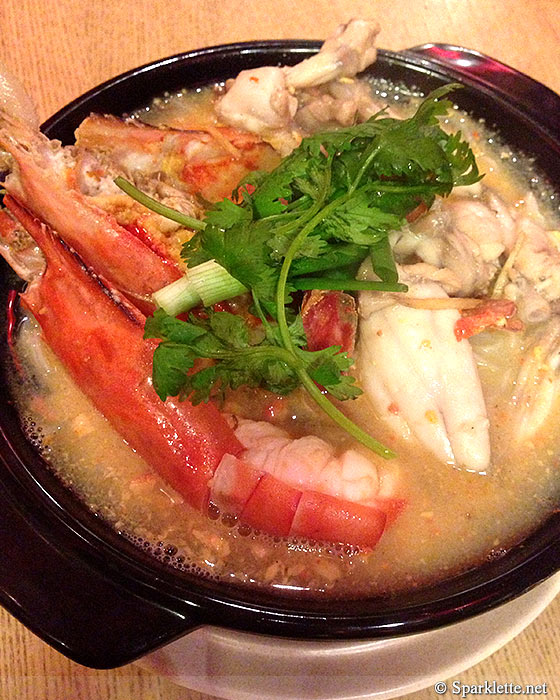 Claypot frog & jumbo prawn beehoon with wine





The claypot frog & jumbo prawn beehoon with wine is one dish that certainly makes an impressive entrance. Frog legs and jumbo prawns fill up the claypot, brimming with a mild-flavoured stock spiked with Shaoxing wine.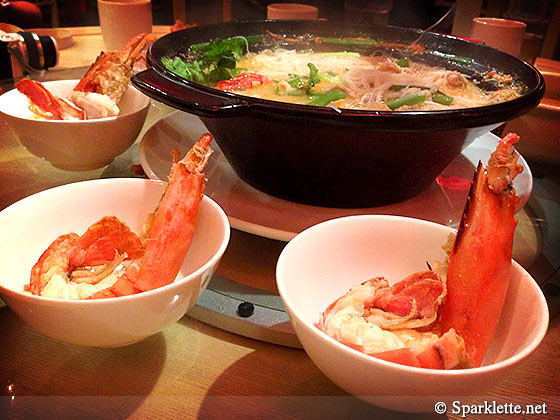 Wanna try out these tantalising dishes for yourself? Join our giveaway below!
Dian Xiao Er
1. Marina Square, 6 Raffles Boulevard #02-203/4 | Tel: +65 6337 1928
2. VivoCity, 1 Harbourfront Walk #02/137/8 | Tel: +65 6376 9786
3. Ang Mo Kio, 53 Ang Mo Kio Avenue 3 #B2-02 | Tel: +65 6484 2268
4. Jurong Point, 1 Jurong West Central 2 #03-26/27 | Tel: +65 67926268
5. Lot One, 21 Choa Chu Kang Ave 4 #B1-32/33 | Tel: +65 6766 1776
6. Terminal 3, Changi Airport #03-42/43 | Tel: +65 6542 3789
7. Tampines One, 10 Tampines Central 1 #04-07/08 | Tel: +65 6783 6068
8. Nex Serangoon Central #02-09/10 | Tel: +65 6634 4828
Website
Dian Xiao Er Vouchers Giveaway!
5 lucky Sparklette readers will each get to win S$50 dining vouchers from Dian Xiao Er.
This contest is only open to members of the Sparklette and Dian Xiao Er Facebook pages. So if you haven't, "Like" both pages now. (Bonus points if you decide to also "Like" Sparklette Studio our web design company.)




Leave a comment here using your Facebook name and a valid email address, and tell us the name of the dish you would most like to try at Dian Xiao Er.
Giveaway Details
This giveaway ends on December 9, 2012 (2359 hours Singapore time).
This giveaway is open only to people who are based in Singapore.
The winners will be randomly selected by an SQL query.
Please leave a valid email address when filling out the comment form so that we can contact you if you've won.
Please only comment once.
Please note that all comments are moderated. Hence your comment may not show up right away.
Please note that participants must follow the instructions on how to participate (mentioned above) to be eligible for the prize.
The winners will be announced in a separate post and you are advised to subscribe to Sparklette (Email, RSS, Facebook, Twitter or iPhone) so that you can be quickly notified when the announcement post has been published.
Terms and conditions apply.

This giveaway (hereinafter know as "The Contest") is organised by Sparklette and Dian Xiao Er (hereinafter known as "The Organisers").
The Organisers reserve all rights to substitute the publicised prizes with other prizes of similar commercial value at their sole discretions.
The Organisers' decision on all matters relating to The Contest is final. No correspondence will be entertained.
The Organisers reserve the right to amend The Contest mechanics and terms and conditions without prior notification.
Any incomplete, inaccurate and/or false particulars submitted will void the entry and hence be ineligible for any prizes.
Winners will be notified via email. Any unclaimed prize will be forfeited after 1 month from the date of the announcement of the winners.
In respect of the information and data provided by you in The Contest:
a. You warrant that you own or otherwise control all of the rights to the information and data that you provide, and that all such information and data is true and accurate to the best of your belief and knowledge, and will not cause any injury to any person or entity, and that the use of such information and data by The Organisers shall not violate the rights of any third parties.
b. You grant The Organisers a cost-free, perpetual, irrevocable, worldwide and non-exclusive licence to use, reproduce, distribute, transmit, adapt and otherwise use the information and data that you provide, whether in the form of posted messages, uploaded files, or other submissions, in any media and manner. You waive all rights to any claim against The Organisers for any alleged or actual infringements of any intellectual property or proprietary rights in connection with the same. You further undertake to indemnify and keep indemnified The Organisers, its staff and partners against any claims howsoever arising from or connected to the information and data provided by you, or of any information or data used by you which was obtained through The Contest.
By entering The Contest, you are deemed to have agreed to be bound by these terms and conditions, as well as by any rules specific to The Contest.