Giveaway: 5x Promo Codes for FlightLover Singapore iPhone App [Ended]
The gothere.sg guys, whose Singapore maps are widely used including here on Sparklette, have been hard at work. This time round, they have launched a new iPhone app, FlightLover Singapore that allows you to browse air tickets from all budget airlines.
FlightLover Singapore costs US$2.99 "for a limited period", but we are giving out free promo codes to 5 Sparklette readers with the fastest fingers. Scroll down to find out how to win.
FlightLover Singapore Features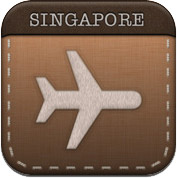 FlightLover Singapore sports one of the most beautiful interface designs I have seen in iPhone apps. I especially like the pleasing earthy colours and how easy it is to shop for a flight. The developers must have spent a massive amount of time experimenting with various ways to browse and filter the flights.
First you pick a destination, travel duration and date. A list of available round-trip options will then be displayed, sorted by price (inclusive of taxes). Ticket bookings can be made over the phone or online.
Globetrotters can take advantage of the alerts feature to be notified immediately when the flights to your favourite destinations go below your budget.
Currently the app only includes AirAsia, Cebu Pacific, Lion Air, Jetstar and Tiger Airways flights. I would love to see it expand to non-budget airlines and cities in Europe and the Americas.
Promo Codes Giveaway!
As promised, we have 5 promo codes to give out so that you can download FlightLover Singapore for free. To participate, simply leave a comment here along with this message:
I want a promo code for FlightLover Singapore!
The first 5 people that leave a valid comment will each receive a promo code to redeem the app in iTunes.
Hurry!