Identify These Locations and Win a Holga Camera! [Ended]
Can your camera take beautifully saturated photographs like these?
Try a lomo camera. All the photographs you see above are taken using the Holga 135BC camera, and I have one purple unit to give away!
Here's what the purple camera looks like: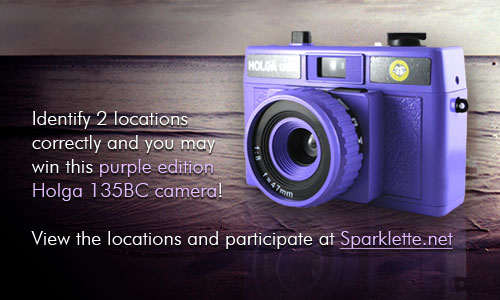 For a chance to win this camera, simply identify correctly the following locations.
#1


Clue: The Big Swamp Land, the 2nd satellite town in Singapore
#2


Clue: One where we get our water from
You can find the answers from the SG Tidbits 365 photo contest entries. Once you know the answers, submit them here.
Update: The contest has ended. Thanks to everyone for your participation!
Want more prizes? Participate in the SG Tidbits 365 photo contest. Snap a picture/video with your camera (or camera phone) and you may win prizes including an iPhone 3GS.
Contest Results
The winner is Solange Chee. Congratulations!
Missed this contest? Subscribe to Sparklette through RSS feed or email and never miss another chance to win attractive prizes.