Winners of Christmas Giveaway 2010 #1: What's Your Idea of Fun?
Lenovo Singapore teamed up with Sparklette to give away 10 USB thumb drive bracelets and 10 USB hubs last week. This is to promote the company's worldwide What's Your Idea of Fun campaign. Close to 60 readers left a comment to tell us what your idea of fun is. Here are the 20 most fun and creative answers that have won a prize each!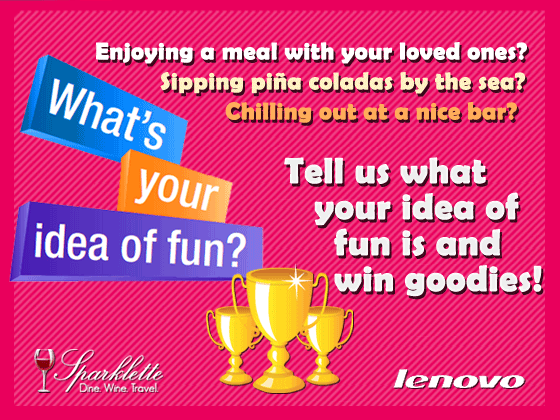 Winners
Please join me in congratulating the winners and find out what their idea of fun is!
Jenny Chiun
"My idea of fun is to catch up with long-lost school & classmates after not seeing them for more than 20yrs. Awesome facebook got most of us from Buona Vista Sec School connected!!! I simply love and enjoyed every gathering we had as each meet up is always filled with so much fun and non-stop laughters, just like I was back to my old school days…"
Solange Chee
"My idea of fun is spending time in the kitchen with my oven – baking is simply so fun! It is especially fun when you modify a recipe to suit your preference, and the end product comes out great. It is because only when you're truly enjoying will you have fun."
yaoming
"Fun is able to travel all around the world without worrying about money!!"
James Barre
"My idea of fun is being able to help the orphanages I visit in Africa. Nothing is more fun than bringing them joy and seeing that genuine smile on their faces; that's to me is unforgettable and I have tons of fun too knowing that I bring laughter and joy into their lives…"
Kyo
"Fun for me is renting a car in an exotic land, and just start driving without knowing where you'll end up!"
Margie L. Eclevia
"My idea of fun is celebrating Christmas away from home, taking on a cruise ship with my family and get to experience Christmas in different countries…"
Chua Juan Juan
"My idea of fun is to spend time with my love ones tucking into delightfully delicious delicacies before burning all the excess calories by exercising together!"
Tan Janette
"My idea of fun is go backpacking, explore and experience the different cultures of the different countries on a shoe-string budget! I love taking public buses, staying with the locals and eat what the locals eat to entirely immerse in the life of the respective country."
Daphne Gal
"My idea of fun is travelling to a new country, exploring the unknowns and totally immerse myself in the great food and shopping while experiencing a different culture."
uzyn
"My idea of fun is kicking my friends' asses in a game of Starcraft II running on a powerful Lenovo laptop with graphics settings at max."
Eunice Khong
"My idea of fun is the cruise the Alaska glacier bay before it becomes glacier-less bay by 2050 due to global warming."
Darryl Hwang
"My idea of fun is to play computer games all night long with the permission granted by my mother as a reward to my good academic results! It's a no no fun playing without her permission cos she will nag non-stop."
Rachel Chung
"My idea of fun involves doing anything (and everything) with my family. It could be a day of quiet reading in the library. A trip to the dolphin lagoon to cosy up with the dolphins. An excursion to the night safari. An exploration of culture at the museums. Lying down on the grass at East Coast Park, watching the loopy grins on each other's faces."
Kristin Chai
"My idea of fun is to go for a holiday with NO PLAN at all !! I will challenge my hubby to take one week of leave from work and go straight to Changi Airport. We wil then buy the next available air tickets to New Zealand. We will just rent a car from NZ's airport and then drive round NZ to try all the acitivities like paragliding, bungee-jumping, white water rafting etc."
Jason Liew
"My idea of fun is going a foreign land with a bunch of friends, having no plans, getting lost, discovering hidden gems that were never part of any touristy routes, breaking rules we're not even aware of, making it back home in one piece with lots of photos and random video clips that only serve as reminders of the brilliant memories we will always share as friends (not necessarily in that order). Oh, and being able to afford that of course :)"
Michael mike
"My idea of fun is forgetting the future and being totally present in the moment, embracing the joy of being alive, feeling the heartbeats of the universe and those nearest and dearest. Then, even if all we're doing together is washing the dishes (!) the activity becomes crystal clear and meaningful. Connecting so closely is always fun."
Vincent Lim
"My idea of fun:

There are many reasons to love cooking. I boil (pun intended) my favourites down to four, all beginning with F:

1. Fun: Cooking isn't just something that we have to do in order to eat on a daily basis. It can be fun too! Think about when I bake a cake, who doesn't love to lick the frosting off the bowl? Or when I am mixing all the ingredients together to make cookies, choosing whether to put chocolate chips, raisins, almonds, walnuts, coconut, dried cranberries, or M&M's into the bowl. There are endless opportunities to have fun while I am cooking…and then my family and friends get to eat!

2. Friends: Cooking with friends makes the whole experience infinitely better. It's always more fun to cook while chatting, listening to music, or just being with someone else. And sometimes it makes things go more quickly, so I can eat sooner! Making food is an enriching experience, and who better to share it with than my friends.

3. Family: Cooking is one of those activities that can bring a whole family together. Everyone can participate, from the mother and father working diligently on the main dish, the grandmother whipping up the dessert with the help of her grandkids, who are stirring the ingredients and licking the sides of the bowl, and the aunts and uncles watching over the steaming side dishes. It is an experience that can be shared by the entire family.

4. Food: What would cooking be without the food?! The joy of cooking is that I can make whatever I want, whenever I want, for whomever I want. I can make the food spicy, savoury, sweet, or sultry. You can boil it, steam it, broil it, bake it or flambé it. You can serve it raw, medium rare, a la mode, on ice or on fire. There are so many choices of food, endless tastes and flavours that can be mixed together to satisfy those who will eat anything to those with a refined palette. And the best thing about cooking is that right after I have food to eat!

Cooking does not have to be a chore. It can be an enjoyable experience that is fun, with friends and/or family and good food."

Sally Tan
"F is for Friends and Family. Spending time with them at the movies, at a restaurant with drinks, or hanging out in the city.
U is for Understanding and Unforgettable. That my friends and family are going to have a good time when they are with me and that it will be unforgettable.
N is for Never. After we spend time together, friends and family, the memories that we will share, they will never forget.
Fun should be my middle name!"
Christopher Guess
"My idea of fun is spending time with one of my best friend's in the entire world, my mother. We love to catch up on our latest happenings, as we test recipes/cook together, sharing stories, laughter, tears, and even cocktails. It is always time well spent listening to music, recalling family memories & stories, enjoying our dogs (we also often walk them together), and really just enjoying each other's company. We genuinely love and trust one another and are the best of friends, cooking up weekly trouble and recipes together, in a kitchen full of memories and treasured time together. In my opinion, life is too short not to enjoy & treasure your family!"
Alvin Alvi
"My idea of fun is volunteering at the Senior Center teaching the seniors how to e-mail and communicate with their loved ones and family. It is a pleasure to see the smile on their face, when you teach them how to use the internet and search engine."
Congratulations! All winners will be hearing from Lenovo Singapore shortly, so keep checking your mailboxes!
---
If you had participated and didn't win this time, you have still been awarded bonus chances to win the brand new Lenovo IdeaPad U460 laptop in a contest coming up later this month!
If you are interested in partaking in more giveaways in the future, please subscribe through email or RSS feed to be notified whenever new contests are posted. Also follow Sparklette on Facebook and Twitter as I will always post the announcements there.
About Lenovo
Lenovo builds an extensive lineup of computers that includes laptops, netbooks, desktops and accessories. The company's "What's Your Idea of Fun" worldwide campaign highlights its new systems that are designed to make computing more enjoyable and affordable. Learn more about these technology solutions and find the most fun PC for you on the What's Your Idea of Fun website.