Christmas Giveaway 2010 #1: What's Your Idea of Fun? Tell Us and Win Lenovo Freebies! [Ended]
Update: The winners have been announced. Find out if you are one of them.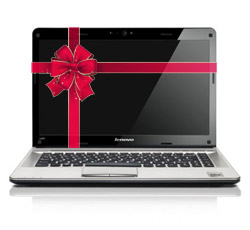 In this week's giveaway, I am partnering with Lenovo to give away 10 USB drives and 10 USB hubs. It is an incredibly easy contest, and all participants are awarded extra chances to win the brand new Lenovo IdeaPad U460 laptop in December!
The Lenovo "What's Your Idea of Fun" campaign ties in with the company's expanded lineup of laptops, desktops and all-in-one PCs designed to make computing more enjoyable and affordable. Learn more about these computers and find the most fun PC for you on the What's Your Idea of Fun website.
Freebie Giveaway!
Now, for the juicy bits.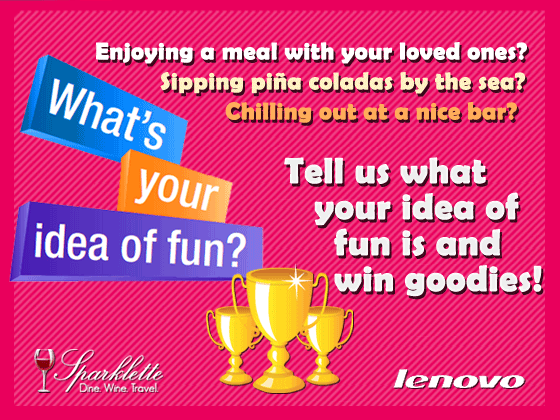 There are 10 USB thumb drive bracelets and 10 USB hubs to be given away (20 winners). Here's how you can win these freebies right here, right now:
To qualify: "Like" the Lenovo Singapore and Sparklette Facebook pages. Like both pages to get double the chances to win. (Yes, just click the Like button!)




Leave a comment here using your Facebook name and a valid email address, and tell us what your idea of fun is. For example, My idea of fun is a holiday in Bali, dining on seafood by the beach.
The 20 most fun submissions each wins a USB device, sent right to your doorstep! Doesn't that sound like an incredibly easy win?
Laptop Giveaway
All participants of this contest would be automatically awarded bonus chances to win the grand prize of a laptop in the upcoming contest. Contest details will be announced in December! But here's a hint: Start dining out and taking nice pictures of your food! There, I said it.
This has got to be the easiest giveaway ever! What are you waiting for? Like those pages and tell us what your idea of fun is now!
This contest is open only to Singapore residents. Ends 23:59, December 3, 2010.