Sony make.believe: Win S$100,000 + Chance to Catch World Cup 2010
As you may already know, Sony is running a Dot Your Dream contest where you can share your dream and win up to S$100,000 to make it happen.
And that's not all. Two runners-up also win S$10K and S$5K respectively worth of Sony products that include Sony notebooks and even the PlayStation 3!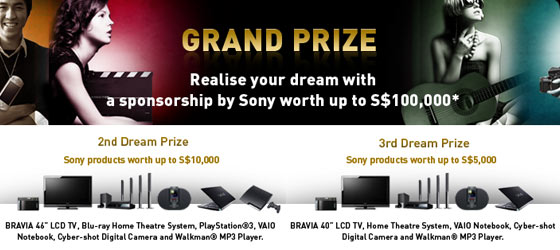 For the football fanatics, you can enter the Photo Contest. This is the part that excites me very much: 8 winners will be made fan photographers at the World Cup 2010 South Africa and catch the action right from the side of pitch. This includes:
– 1 pair of air tickets (Not including visa)
– Airport transfers
– Accommodation
– 1 entry pass to the side of pitch
– 1 seat to watch World Cup 2010
In both contests, participants get to win very attractive prizes for doing relatively simple tasks. Winners will be decided based on the highest number of online votes, so make sure your submissions are meaningful/funny/creative/eye-catching! The results will be announced online on April 16, 2010.