I love Little India! The area makes me feel like I'm a tourist in a foreign land! Out of my numerous visits, I wonder why I had never seen Ananda Bhavan Restaurant. It's a double-storey Indian vegetarian eating house, also the oldest vegetarian restaurant in Singapore!
The place boasts fuss-free, no-frills dining. You queue up at the counter to order and pay for your food. You get a queue number (like the ones at clinics!) which would flash on the LED screen when your food is ready to be collected.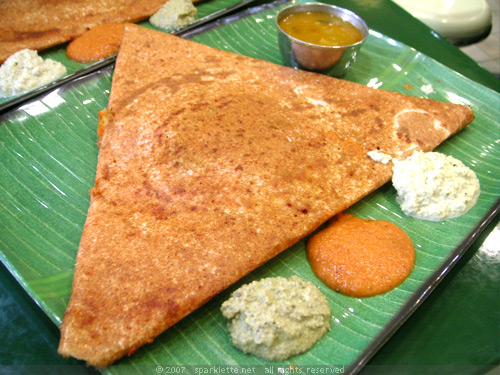 Mysore Masala Thosai
S$4+




The daily special was Mysore Masala thosai. It came folded into a triangular shape and boy, it was big! I couldn't finish most of what was on the plate! It was served along with 3 different spicy pastes and a curry. The curry was watered down and bland. My favourite condiment to go with the thosai was the bright orange-coloured one.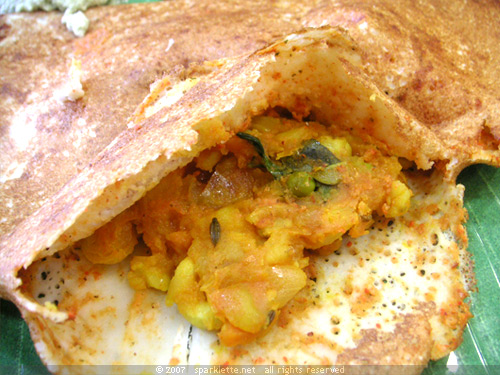 Each thosai packed a pouch of potato, onion, corn and green peas. It was rich in flavour and yummy yummy! I love Indian food!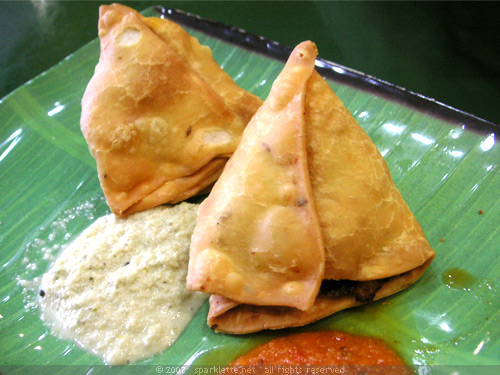 Samosa
S$0.90+




We had samosas to go along too. For me personally, samosas are a staple in any Indian meal. I had been worried that the samosas here might be a little stale, but I was wrong! The thin crispy layer of skin wrapped around ample portions of filling. Yum yum!
At the next table, we noticed people eating thosai that were 2-3 feet long! Boy, am I gonna have one the next time I drop by!
Ananda Bhavan Restaurant
Little India
58 Serangoon Road
Singapore 217964
Tel: +65 6297 9522 |
Website