I really thought I had run out of restaurants to visit at VivoCity! But this time, I found a new place to check out – Bosses, a Chinese restaurant with a secret society (黑社会) concept. From what I saw, other than the name and the fact that all wait staff wore uniforms with the Chinese characters "黑社会", there was nothing particularly secret society-like about the restaurant.
The place is decked out in black, with chandelier lights and beautiful spiral motifs decorating the walls (which also happen to be mirrors). The whole decor is very chic, which I find rather unusual for a Chinese restaurant. I like it very much!
And for now, tell me, are you ready for an 8-course meal?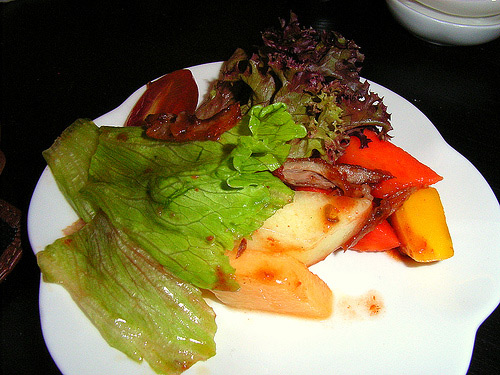 Photo by NinjaHelloKitty
Crispy Duck Salad (香酥鸭沙)
S$25++



The duck salad was a mixture of fruits, vegetables and slivers of duck meat. While I found the portion to be severely lacking for a $25 dish, the sweetness and sourness of the fruits complemented the taste of the duck very well. Still, this is one dish I would steer clear of due to its hefty price tag.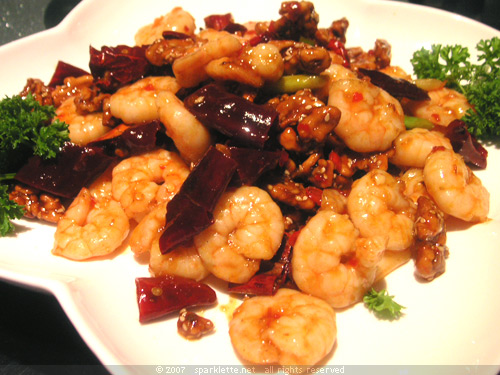 Stir-fried Sze Chuan Prawns with Dried Chili & Walnut
?++





A hot favourite among all of us at the table was the stir-fried sze chuan prawns. Rather than the conventional cashew nuts, the chef had tossed in walnuts instead. It worked! The result was heavenly. The tenderness of the prawns was a perfect contrast for the crunchy and crispy fried walnuts. I could find no fault with this dish. Everyone around the table was oohing and ahhing at the delightful taste of the walnuts!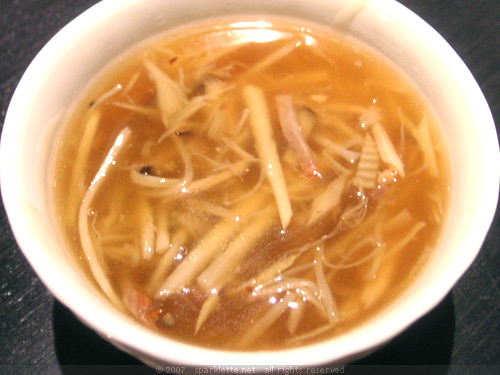 Braised Soup with Assorted Meat & Fried Scallops
?++




What I did find somewhat puzzling was the braised soup. It was good and had a thick scallop taste. But I didn't think there was any assorted meat in it despite what the menu stated; I only found strips of mushroom.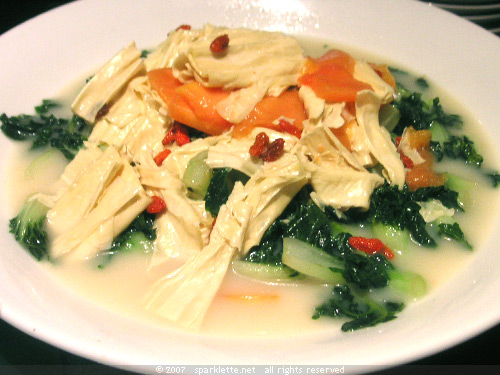 Gooseberry Beancurd Skin with Small Pak Choy (Chinese cabbage)
S$12++


The gooseberry beancurd skin with small pak choy (chinese cabbage) was easily the most forgettable dish by any standard. Despite its nice and exotic-sounding name, it was in fact very bland and lacking in flavour. This dish looked pretty cheap to me.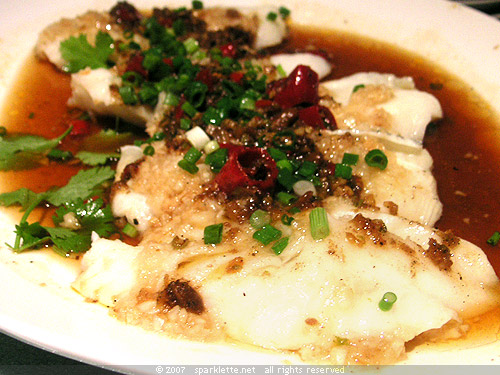 Steamed Cod Fish with Garlic & Chili
S$25++





Ahhh… Cod fish! That's like my second most favourite fish in the world (after salmon). The portion of cod fish served was really generous. The soy sauce soupy base was really tasty too.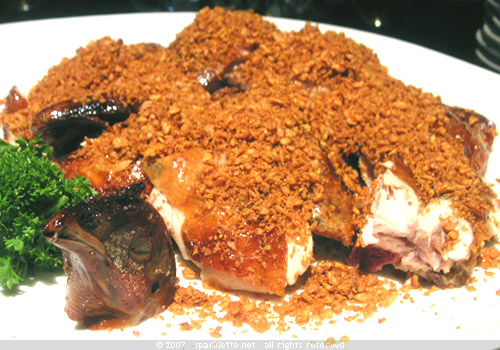 Crispy Chicken with Garlic Crisps (蒙古风沙鸡)
S$18/$34++



When the crispy chicken was served, it looked pretty impressive especially with all that garlic crisps.
Hold on! Is that a chicken head at the bottom left corner of the dish? I just saw it whilst blogging this post! Argh! Are my eyes playing tricks on me? Right now it looks a little disturbing.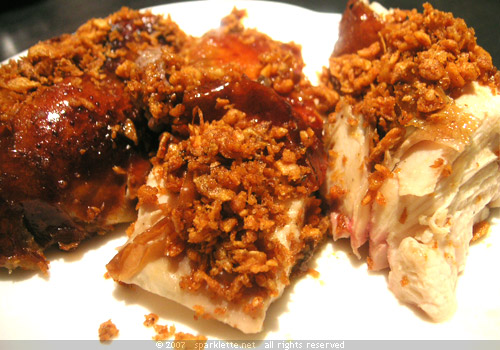 As it turned out, the chicken was nothing spectacular. I think the meat hadn't been marinaded properly or something. It was tasteless!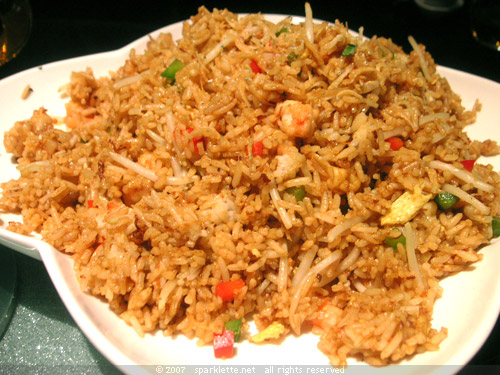 Seafood Fried Rice with XO Sauce (酱海鲜炒饭)
S$12/$18/$24++




The seafood fried rice with XO sauce was awesome! Wow, it was the most fragrant and flavourful thing ever. I didn't know rice could taste so good. It must be the XO sauce at work!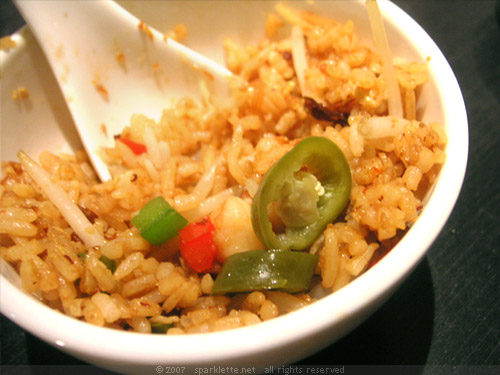 It tasted even better with chopped green chilli! Chomp, chomp. Yum, yum.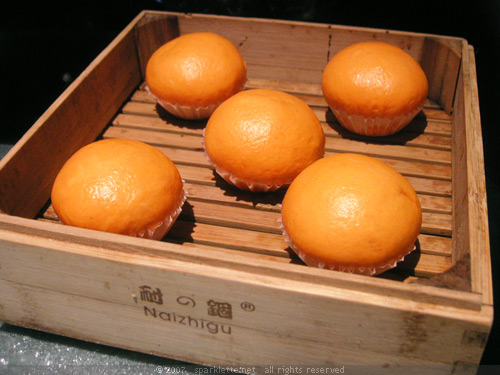 Signature Golden Flowing Custard Bun (招牌流沙包)
S$4.80++





But! The most interesting and noteworthy dish had to be the dessert – bosses' signature golden flowing custard bun! Now, that's a real mouthful.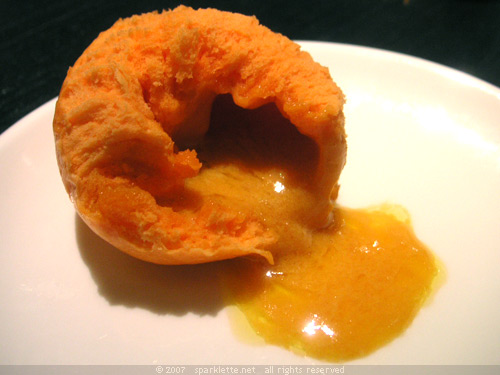 On the surface the buns looked plain, innocent and unassuming, perhaps even adorable. But upon piercing each bun with a fork, hot yellow paste flows out! Many diners were caught by surprise!
The yellow paste is a delightful mixture of salted egg yolk and sweet custard. Yummy! Susan hui, the restaurant manager, proudly declared that bosses is the only place in Singapore where this custard bun can be found!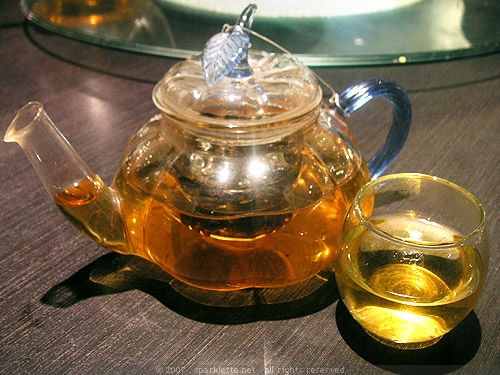 Throughout the meal, there was constant free-flowing Chinese tea. I'm not a fan of Chinese tea, but I really dug the glass teapots that were used. The little blue glass leaf perched on the lid of each teapot was so intricate!
Other than the overall good food and nice ambience (the full length glass windows provide diners a clear view of the sea), service is wonderful too, and certainly very un-secret society. My only gripe is that the prices here are a tad on the high side!
I heard they serve dim sum lunch too. Maybe someone can check it out and let me know if it's any good!
Bosses 黑社会
VivoCity
1 Harbourfront Walk #02-156
Singapore 098585
Tel: +65 6376 9740
Service: