Whatcha having for Valentine's Day? How about a large dose of chocolate? Brownie specialist Baked and Eaten brings the cute this Valentine's with this heart-shaped brownie. Apart from its lovely shape, what makes it extra special is that it has been slathered with a thick layer of cheese.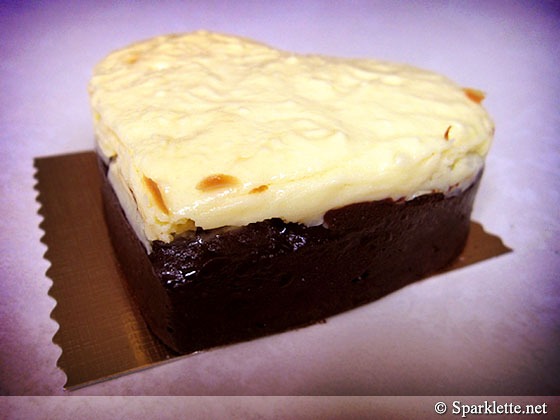 The liberal use of Belgian chocolate and Valrhona cocoa powder gives each brownie a marvellously chocolaty taste. My family got so hooked on our previous batch of Baked and Eaten brownies that we rationed each piece carefully so that they lasted longer. I kid you not; we're a food appreciating, chocolate lovin' bunch!
Valentine's Day heart-shaped cheese brownie
S$16
Rating:





If the chocolate alone isn't enough to tempt your taste buds, the smooth and soft cheese layer ought to do it. I'm pleased that the tang and saltiness of the cheese balances deliciously with the chocolaty sweetness. What a treat!
The heart-shaped cheese brownie measures four inches at the wings – not too big, not too small (Goldilocks would approve), just enough for two to enjoy in a cosy, intimate environment. I recommend indulging in this Valentine's dessert when it has been left at room temperature for at least half an hour. It is most palatable in its fudgy, semi-soft state.
Have a lovely Valentine's!
Have Your Say!
What are you having this Valentine's Day? Tell us in the comments!
Baked and Eaten
778A North Bridge Road (level 2)
Singapore 198746
Tel: +65 9781 4169 (Charmaine) |
Website