Happy birthday everyone!
"Now, wait a minute," you're probably saying out loud to yourself as you read this, in between sips from your hot chocolate, "That doesn't make any sense."
Well, it's the seventh day of the Chinese New Year today. Traditionally, this day is known as ren ri (人日), which means everybody's birthday. To celebrate, we enjoy the festive seven-coloured dish of yusheng (raw fish salad).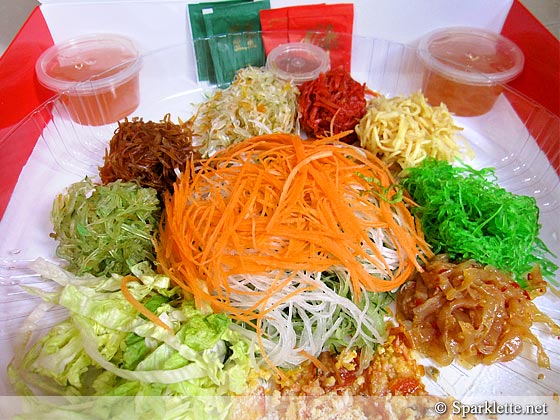 For the lo hei action at home, we go for the yusheng at Sakae Sushi. When you purchase it as take-out, it is packed in a red flattish box that resembles a pizza box.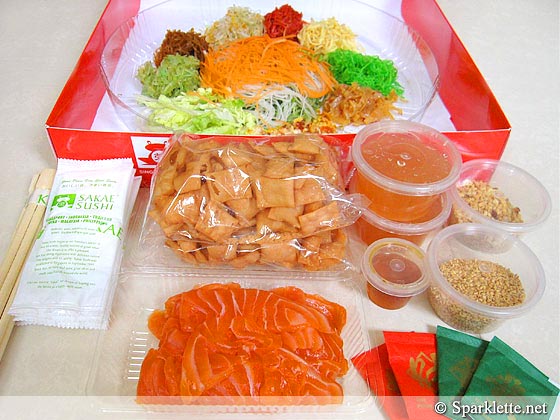 "Rong" Yu Sheng
– Small (6 slices of salmon, serves 1-2) – S$18.88
–
Medium
(12 slices of salmon, serves 3-5, pictured above) – S$32.88
– Large (22 slices of salmon, serves 6-10) – S$48.88





Available until February 17, 2011
Yusheng symbolises abundance and prosperity. Sure enough, every set is abundant in ingredients! Included in the salad are vegetable shreds such as carrot and lettuce, Mandarin orange peel as well as the fun crackers more popularly known as golden pillows.
For the medium portion that serves 3 to 5 people, five sets of disposable chopsticks and wet towels are provided for your convenient yusheng tossing action.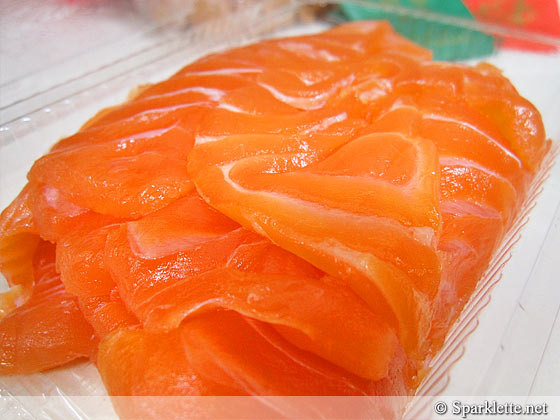 Whoa, ain't that a lot of fish? As you can see, the salmon slices are very generously-proportioned, and more importantly, fresh.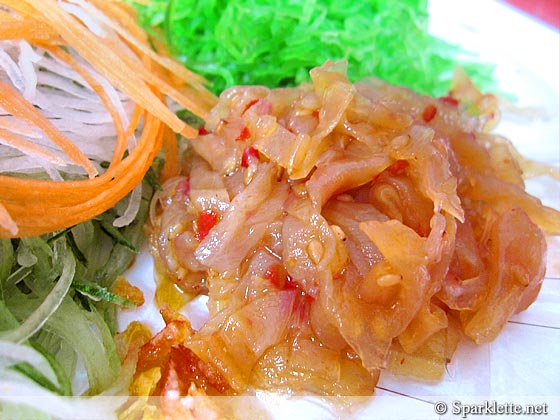 Apart from salmon, another succulent treat from the sea is jellyfish.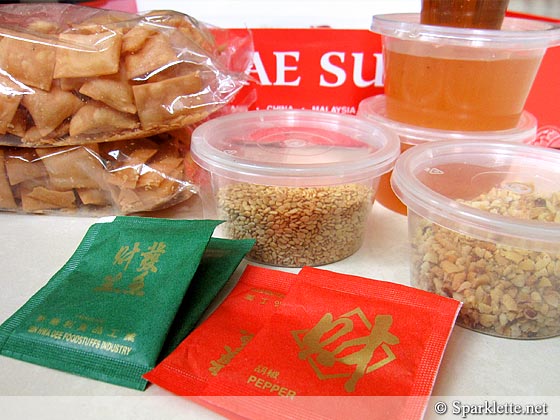 Packed neatly in little plastic tubs are plum sauces, sesame oil, sesame seeds and crushed peanuts. The condiments that come in the adorable little red and green packets are cinnamon and pepper.
The yusheng sales at the Japanese sushi chain must be extremely brisk; boxes of the colourful dish can be seen stacked all the way to the ceiling! With the abundance of ingredients in each set and the very reasonable prices, it's not hard to see why.
Have Your Say!
Have you indulged in any yusheng this Chinese New Year? If you have had any memorable yusheng tossing action, don't forget to share with us in the comments!