Beard Papa's cream puffs are pretty darn good. You know, the light and fluffy shells filled with the perfectly smooth whipped cream custard. These world popular "fresh 'n natural cream puffs" need no introduction. You may even have stood in line at one of the yellow kiosks to grab apiece.
But have you tried their dark, less known cousin, the Fondant au Chocolat?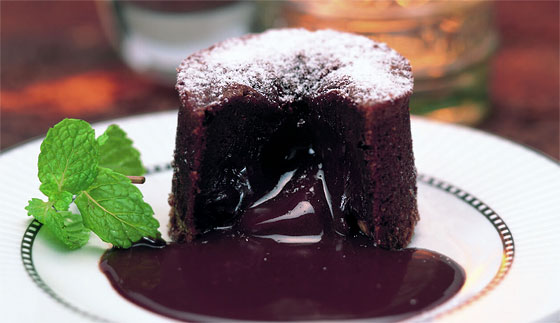 Source
I discovered the Beard Papa's chocolate fondant some years back, marking my foray into the delicious world of chocolate lava cakes. Yes, it has a molten chocolate centre. Don't you just love the sensation of warm chocolate filling your mouth? Ever since that first taste years ago, the lava cake has remained my most favourite dessert in the world. I'm not even sure why Beard Papa's fondant has never been featured here before; somehow this fell through the cracks.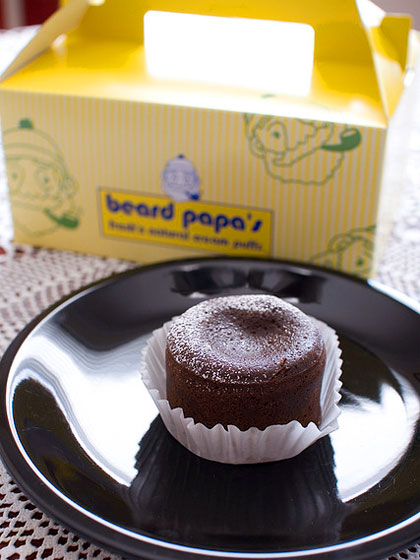 Fondant au Chocolat
S$2.80 for 1, S$5.20 for 2
Rating:





On the outside the fondant is moist and soft, dusted with sugar. The centre oozes out that luxurious gooey chocolate. Rather than being overtly sweet, this is pure intense, dark chocolaty goodness all around. Read about how Beard Papa's make their Fondant au Chocolat. It is truly a labour of love!
You get it at a real bargain, too. Last I checked they were selling it at S$2.80 for one and S$5.20 for two.
Here's a tip: Buy this home and pop it in the microwave briefly before serving. Have it a la mode with a scoop of vanilla ice cream and a glass of raspberry wine. You're welcome.
Have Your Say!
What pastries do you normally buy at Beard Papa's? Are there other places where we can enjoy chocolate lava cakes at a bargain price? The comments form is below. You know what to do!
Beard Papa Sweets
Kiosk outlets at
– Bugis Junction #B1-12A
– Changi Airport T3 Departure Hall #02-K4
– IMM BuildingBuilding #01-K07
– NEX Mall #03-K15
– Plaza Singapura #B2-58
– Raffles City Shopping Centre #B1-60
– Takashimaya Department Store Food Hall #B2-07-9-1
– VivoCity #B2-K14