When you're in the mood for a little nostalgia – and some good old-fashioned Singapore food – pay a visit to the Spices Cafe at Concorde Hotel. On weekdays the hotel's flagship restaurant offers the popular Singapore Flavours lunch buffet, comprising of local delights from the Peranakans and other Chinese dialect groups – Cantonese, Teochew, Hakka, Hainanese and Hokkien.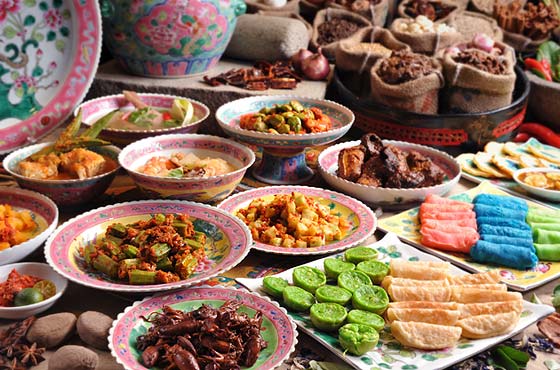 Singapore Flavours buffet
Adult: S$26++
Child (3-12 years old): S$13++
Senior Citizens (above 55 years old): S$21.50++
Weekdays 12noon – 2:30pm
Rating:





83-year-old local Peranakan veteran Chef Baba Jolly Wee helms the kitchen, putting together Peranakan staples like ayam buah keluak (chicken stewed with black nuts) and assam (tamarind) prawn. Other familiar favourites include satay (skewered meat) and fruit rojak (a local salad).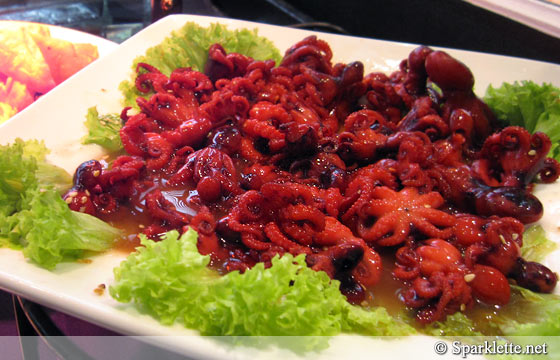 Start your meal with seafood like the baby octopus, sambal crab legs and assam prawn.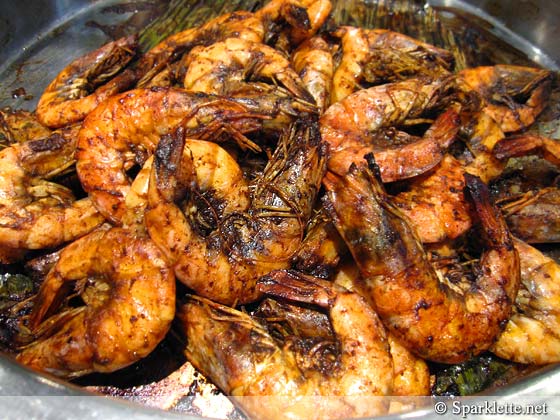 For a full-on seafood buffet, check out the hotel's Harvest of the Sea dinner buffet, complete with lobsters, crabs and sashimi!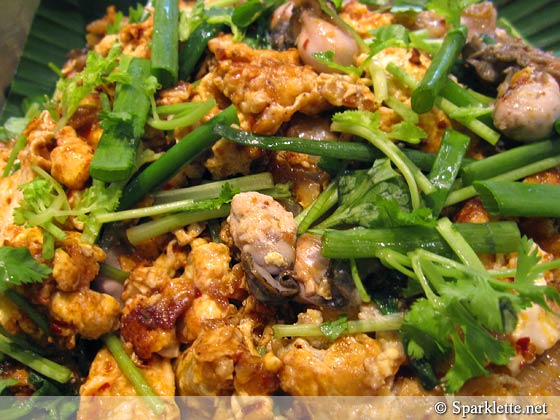 Tuck into popular hawker food such as fried oyster omelette, garnished with spring onions and coriander.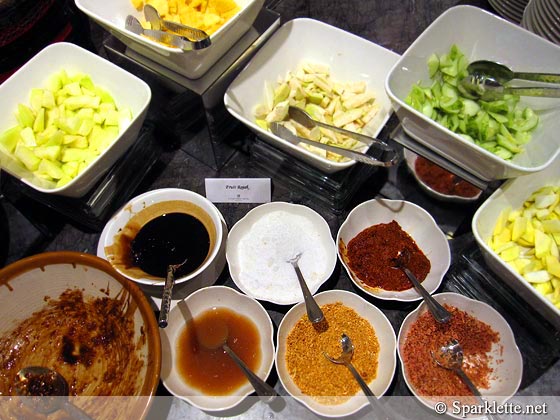 The fruit rojak is a highlight. With the dazzling myriad of ingredients, a mixing guide sure comes in handy for the less culinary inclined! Here's the recipe for making a fruit rojak (serves 2):
Sauce
– 1 spoon of black shrimp paste
– 1 spoon of tamarind juice
– 1 spoon of crushed peanut
– ¼ spoon of chopped pink ginger flower
– ¼ spoon of sugar
– Optional: Chili paste
Fruits
– 4 pieces of fruits each
Mix the sauce in the rojak bowl, add the fruits and stir well. Place the rojak on a plate and sprinkle with peanut.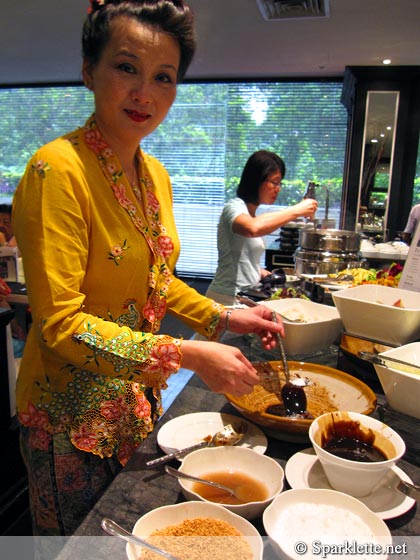 One of the staff, dressed in the Nonya sarong kebaya takes care of this for us.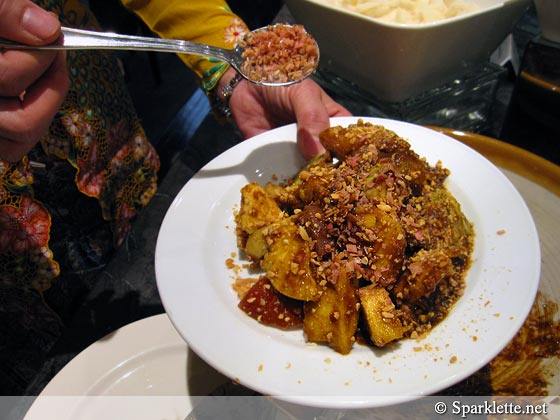 The end product tastes delightful, especially with the ginger flower's characteristic peppery sweetness.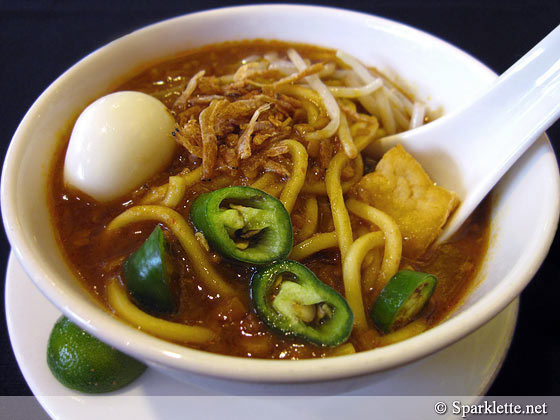 Like the rojak, the mee rebus is right on the money. For those of you who may be unfamiliar with this dish, it is an ubiquitous Malay dish of yellow noodles cooked in a thick spicy potato-based gravy. (Tip: Read more about the mee rebus in a separate review.)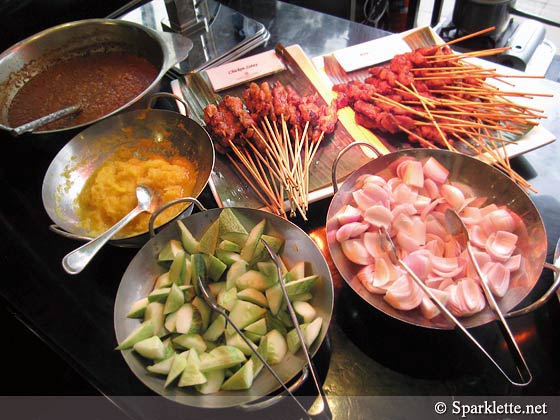 At the satay station, help yourself to chicken and pork skewers along with the usual sliced cucumber and onion and the obligatory peanut gravy. I am most delighted by the find of mashed pineapple sauce that adds a nice zesty flavour to the gravy. This isn't readily available at many satay stalls, even the Chinese ones. Have you come across any? To date I have only seen it at Old Punggol Satay where, sadly, the standard of the food has declined.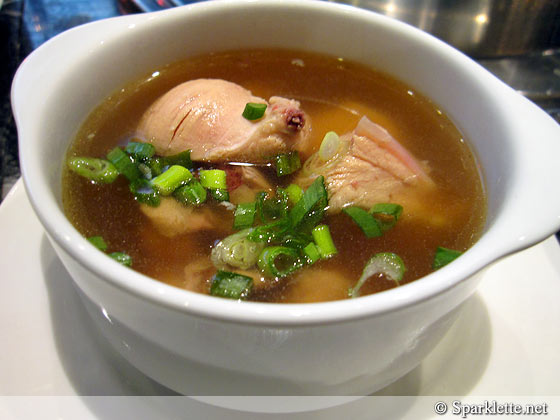 Soup is a good bet here. The Chinese rice wine chicken soup is flavourful and light.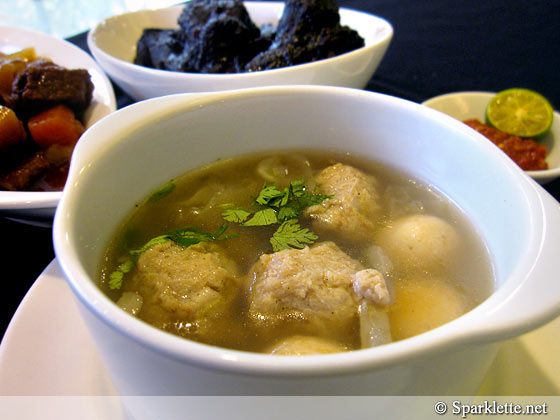 Another alternative is the meatball soup.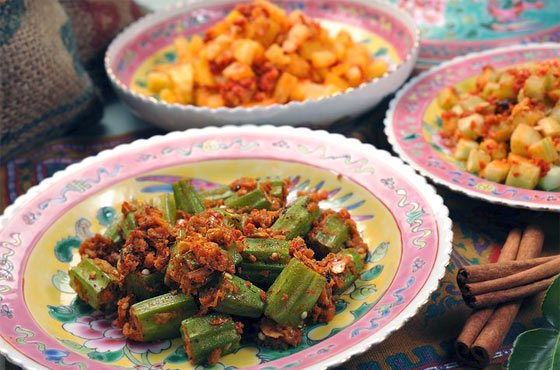 There are a host of classic Peranakan offerings from which to choose, such as the achar (spicy pickled vegetables), sambal okra (lady's fingers) and kueh pie tee (ingredients stuffed in a mold shaped like a top hat).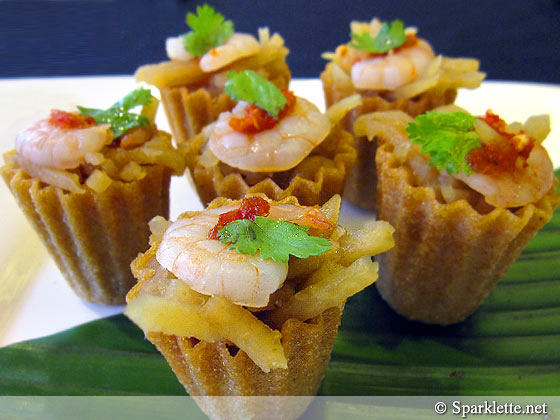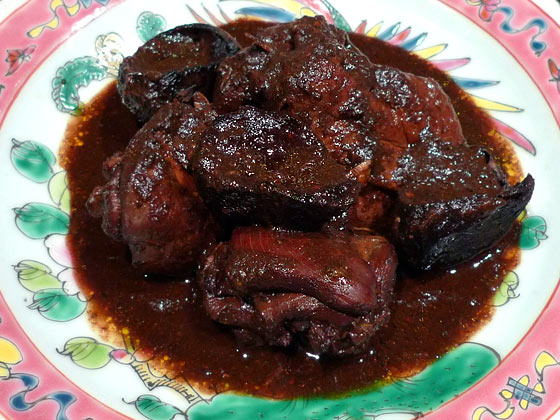 The ayam buah keluak, an icon of the Nonya kitchen, is probably not for the faint-hearted. The distinctive dark colour of the gravy comes from the strong-tasting black keluak nuts. These nuts, or seeds rather, are about 5 centimetres in diametre and originate from a fruit as big as a coconut. They are dried in the sun for about 2 or 3 days before being sold for cooking. In their raw form, they contain the poisonous cyanide acid, and are fit for consumption only after being boiled or soaked in water.
Taste-wise, the dark gravy has a slight bitterness. It is an acquired taste that I have yet to appreciate. This is one of those dishes that you really have to try for yourself.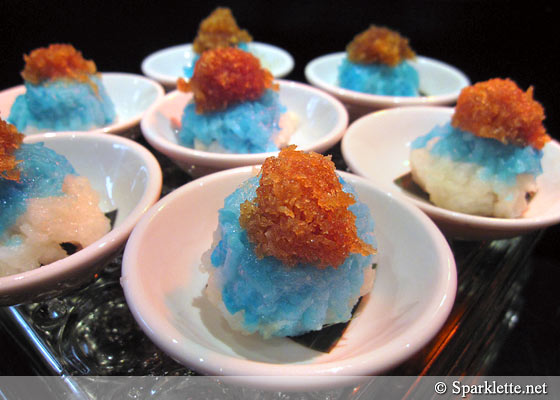 End the meal on a sweet note with Peranakan desserts like bubur terigu (white wheat sweet porridge) and kueh dada (pancakes with sweet coconut).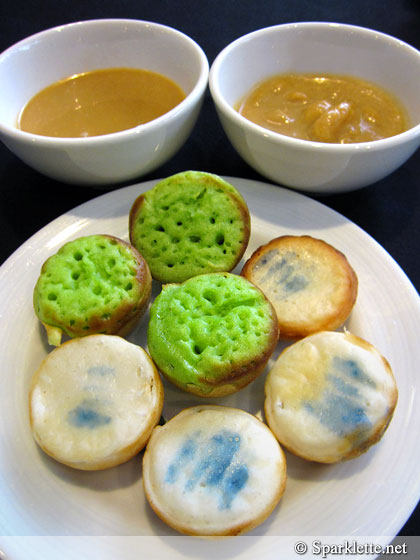 My favourites are the bite-sized kuih cara (cupcakes) in green and apong bak kuah in white and tinged with blue. The latter are little pancakes that you can dip in banana and durian sauces. Both dips are excellent. Truly a dessert-lover's dream come true!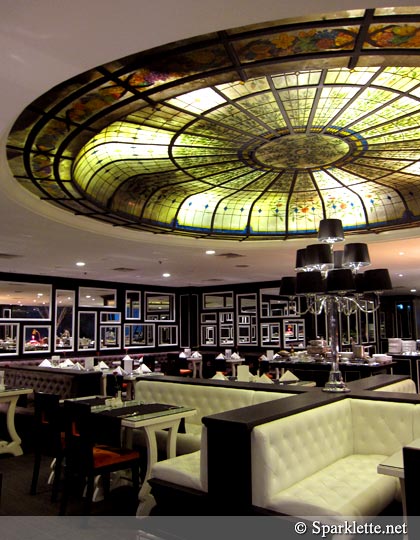 On the last Wednesday of every month, singer Rosalind Leong would serenade the lunch crowd with Peranakan songs. She is accompanied by the visually impaired keyboardist Cheok Cheng An.
Like the hotel's seafood dinner buffet, the Singapore Flavours lunch buffet is solid and satisfying, and the service crisp and professional. If you are in search of a large variety of quality local and Peranakan fares at a reasonable price, you will find this buffet difficult to beat.
(Tip: For more on the colourful world of Peranakan culture, check out my trip to the Peranakan Museum in Singapore.)
Have Your Say!
Are you a fan of Peranakan and Singapore cuisines? Where do you usually go for a lunch buffet in Singapore? Share with us in the comments!
Spices Cafe
Concorde Hotel
100 Orchard Road
Singapore 238840
Tel: +65 6739 8370 |
Website
Service: