"Damn good food at a damn good price!" the sign proclaims loudly. You can almost hear it scream! Now what the heck am I talking about? Botak Jones, of course.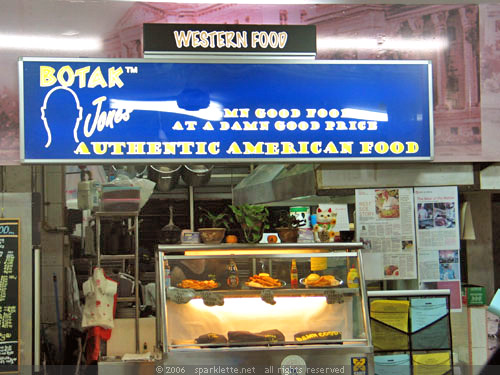 Botak Jones is the brainchild of an American that promises to bring authentic American food to the heartland. The Ang Mo Kio branch is its second branch, after Tuas. Business here is so good, many customers actually wait around patiently until the stall opens at 12 noon. With all the hype, the food had better be damn good!
The menu was made up of sheets of photocopied yellow paper stapled together. And it sure was an extensive one! Every item had a descriptive paragraph that followed, written in a light-hearted and very informal style. They also had the menu on a chalkboard right in front of the stall.
The staff were all extremely energetic and friendly, taking care to recommend various dishes on hearing that I don't eat beef. One of the dishes they recommended was the Swanky Franky hot dog. Lucky for me it was available in chicken too. So that was what I had!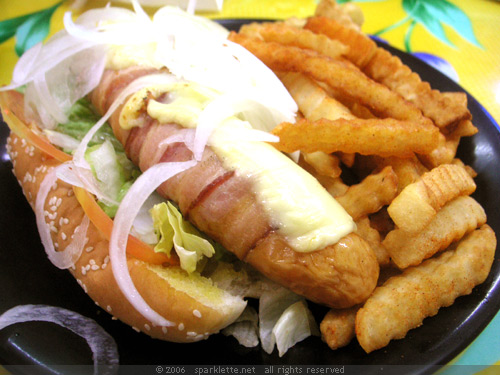 Swanky Franky
S$9 for set meal (includes chips & coleslaw)
Rating:





It was wrapped in bacon and had melted cheddar cheese on top! Doesn't that sound appetising? I did a double take when I saw the gargantuan serving size. That was easily the largest hot dog I have ever seen! Throw in the hot dog bun and the heap of chips at the side, I could finish just three quarters of the food. It was an American serving all right!
Taste-wise I didn't actually think the hot dog was any special. But thanks to good customer service, we were given many bottles of mustard and varied sauces that helped a lot. I really liked the chips though – thick, crispy, fluffy on the inside, and lightly dusted with Botak Jones' own spice mix. Yum!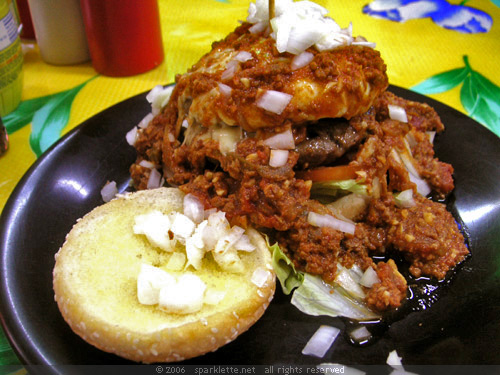 The Double Botak, with Cheese & Whoopass Con Carne
S$9 for set meal (includes chips & coleslaw) + $1 for Cheese + $2.50 for Whoopass Con Carne
Check THAT out! My friend ordered his usual double Botak burger with add-ons of cheese and Whoopass con carne. Boy, it was huge! I sampled a little of the beef patty and found it to be delightfully tender.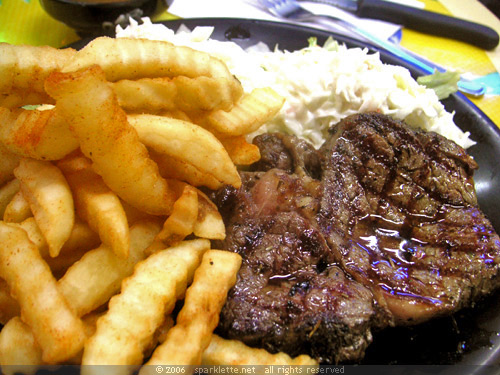 Air Flown NZ Ribeye Steak (medium rare, served with chips & coleslaw)
S$13 for 200 grams
Rating:





Same goes for the steak. It was extremely tender. Chewy, but not tough. Marinaded nicely and seared carefully in such a way that the rich juices ooze out as you chew. This was one good quality steak! And don't you just love those cross patterns?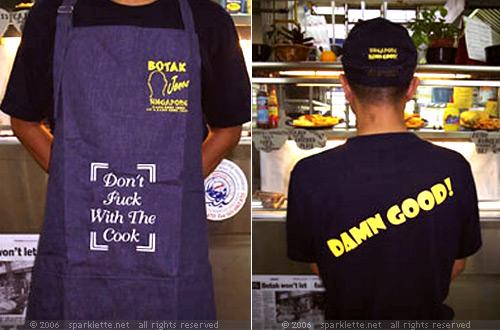 Those daring slogans on their staff's shirts and aprons are pretty cool too. Throughout our meal the staff were very friendly. They would ask us how the food was, etc. We actually spotted the boss himself at the coffee shop. But he may have been just a random botak (bald) dude.
Botak Jones
Non-Halal outlets
:
– 531 Ang Mo Kio Ave 10, Tel: +65 6755 1225
– 412 Bedok North Ave 2, Tel: +65 6243 9225
– 325 Clementi Ave 5 #01-129, Tel: +65 6774 1225
– 118 Depot Lane #01-02 Stall 10, Tel: +65 6272 3225
– Orchard Youth Park, Tel: 121 Somerset Road, Tel: +65 6735 0225
– 214 Serangoon Avenue 4, Tel: +65 6858 1225
– 970A Toa Payoh North, Tel: +65 6258 6225

Halal outlets:
– 233 Bukit Batok East Avenue 5 #01-53, Tel: +65 6899 8225
– 5 Changi Village Road #01-2021, Tel: +65 6542 7225
– Simpang Bedok, Tel: 357/359 Bedok Road, Tel: +65 6243 0225
– 892C Woodlands Drive 50, Tel: Stall 4, Tel: +65 6894 4225