I'm always up for a good chocolate fondue. This being my second time dining at Swiss culture and having their chocolate fondue, I knew I was in for a chocolatey good time. Just as I had expected, Swiss culture did not disappoint.
But of course one should always save the best for last, isn't it? We started off with our main courses. Swiss culture has been around for a number of years. The first time I had their chocolate fondue was back in 2004. That must have been their peak period because within the period of 2004-05, they won the "excellent food award" for a number of choice dishes, including the chicken "zurich-style".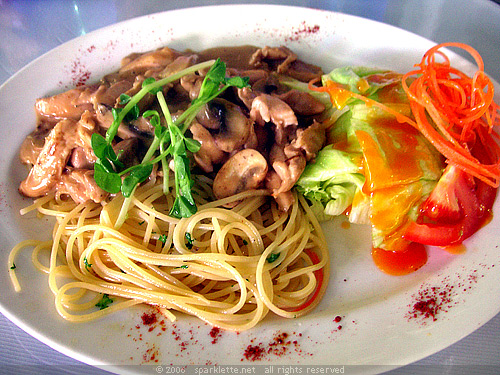 Chicken 'Zurich-Style'
S$16.80+
Rating:





Yet this was a dish that we found somewhat disappointing. Aesthetically it wasn't too pleasing, looking simply like creamy chicken in yellow noodles with vegetables strewn carelessly at the side. The chicken slices had been cooked with champignons (button mushrooms) and sautéed in butter and white wine. It was just okay for us. For an award-winning dish, the zurich-style chicken definitely did not excite.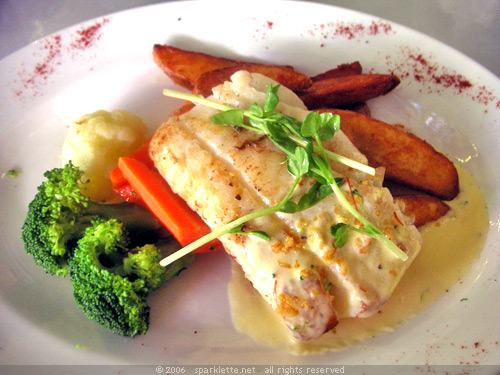 Cod Fish with Saffron Sauce
S$20.80+
Rating:





On the other hand, one of their chef's recommendations, cod fish with saffron sauce was a dish worth talking about. In recent years cod has become the most popular fish in restaurants, toppling favourites such as salmon and dory. Whenever I'm reading a menu, "cod" is one of the keywords I skim for.
I fell in love with Swiss culture's cod fish the moment I got a taste of it. It was so richly flavoured and delicious that I polished it off the plate almost as soon as it came. Best of all, there was no hint of any bone in its soft and tender flesh. The baked potato wedges were a delightfully fun contrast to the rich saffron sauce. An extra dip would have made the dish perfect.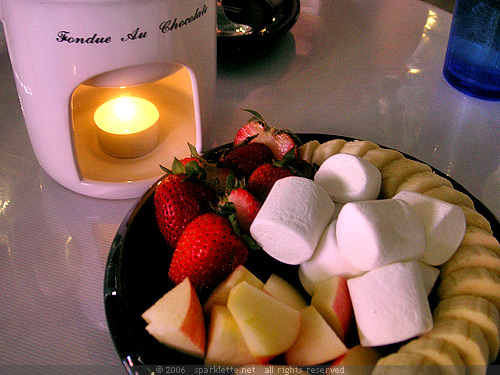 Chocolate Fondue
S$14.80+
Rating:





Of course, the nice cod fish wasn't the reason I chose Swiss culture for dinner. It was the chocolate fondue! Initially we had wanted to order both the cheese fondue AND the chocolate fondue, but then we decided the combo was just too devilishly sinful. The chocolate fondue alone would hike up our calorie intake by an astronomical amount already.
There were four different dippers to go with our chocolate dip – strawberry halves, marshmallows, banana slices and apple chunks. As usual, my favourites were the marshmallows. Like I've said before, I don't exactly fancy having sour fruits to go with my chocolate. Everything has to be sweet, sweet, sweet!
Swiss culture claims that they import their chocolate from Switzerland. I don't know how true that is, and I don't care. No matter where it came from, the warm, velvety chocolate tasted like heaven! It was so good I even asked if they would sell me their chocolate fondue set so that I could enjoy my own chocolate fondue at home. DIY fondue sets are readily available at stores, but a good chocolate dip is pretty rare.
One minor thing I noted was that these people are so adept at what they do, they know just the exact amount of chocolate to serve. By the time we finished the last dipper, we had scraped off the last bit of melted chocolate. There wasn't a chance to get one last spoonful of chocolate in our greedy mouths. The folks at Swiss culture really know how to keep us craving for more!
Oh, and in case you're wondering if I bought any chocolate fondue set from Swiss culture in the end, the answer is no. They would prefer to keep their chocolate a secret. And I can't blame them.
Swiss Culture
Suntec City Mall
3 Temasek Boulevard #03-006
Singapore 038983
Tel: +65 6333 5919
Service: