Things are getting interesting at Café del Mar, one of Singapore's hottest beach bars.
The restobar at Siloso Beach, Sentosa, has unveiled a brand new food menu with an extensive range of Mediterranean and international cuisine. Apart from sunbathing and sipping on a Mojito at the swim-up bar, you can now enjoy a sumptuous seafood meal while admiring a panoramic view of the sea.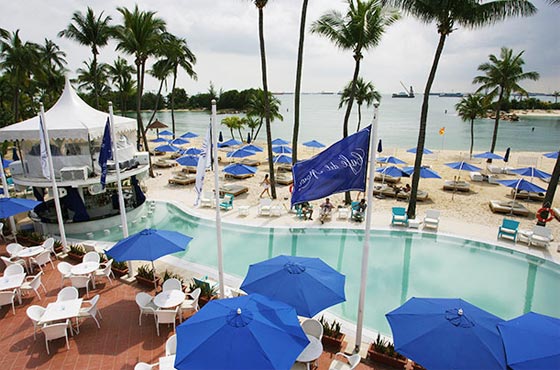 Photo by Café del Mar
The indoor dining area is decked out in blue, white and pink. A huge bar counter dominates the centre of the restaurant, with the tables spilling outdoors by the kidney-shaped swimming pool.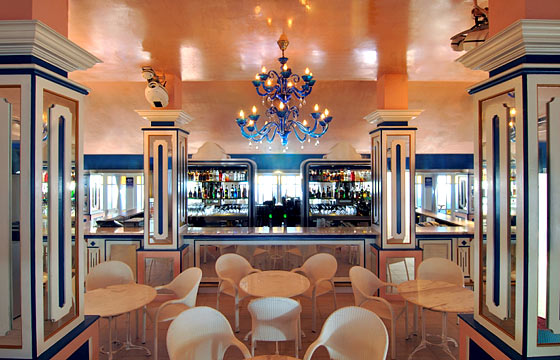 Photo by Café del Mar
The menu features a selection of starters and salads followed by pastas and main courses such as baked Pacific dory.
Starters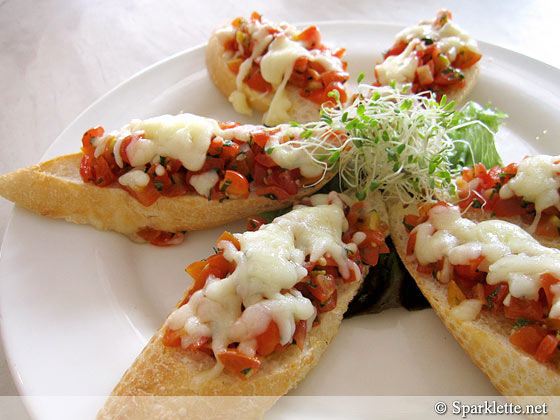 Bruschetta
S$6++
Rating:





We start with a half dozen bruschettas. These are rather filling, with mozzarella cheese, chopped tomatoes and olive oil served atop grilled French loaf. Great when you need a quick bite!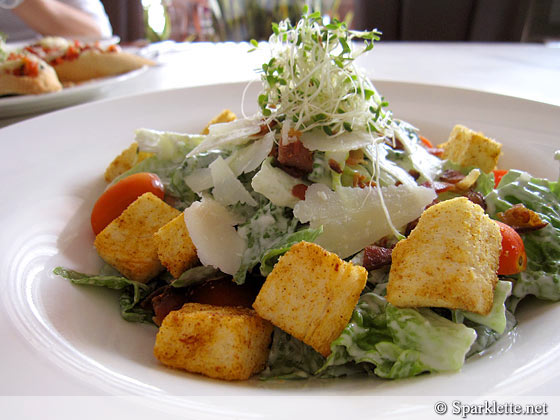 Classic Caesar salad
S$12++
Rating:





The classic Caesar salad is a mix of bacon bits, croutons and romaine lettuce. We dig the delicious dressing and the toasted cubed croutons!
Pastas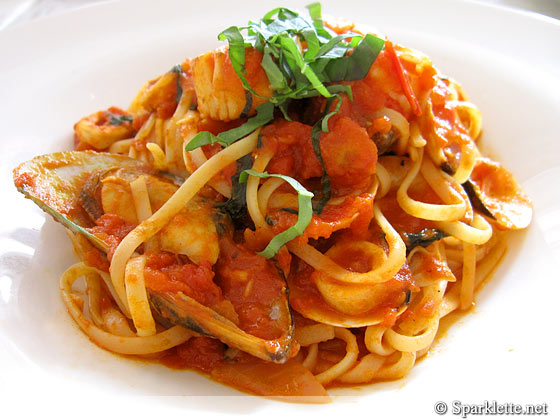 Linguine Pescatora
S$20++
Rating:





I love a perfectly cooked pasta in a tomato-based sauce, so I find the Linguine Pescatora very enjoyable. Pescatora is Italian for "fisherman's style", which means that it is done just the way the fishermen like it, with chock full of seafood and a succulent, flavoursome tomato sauce. How very satisfying!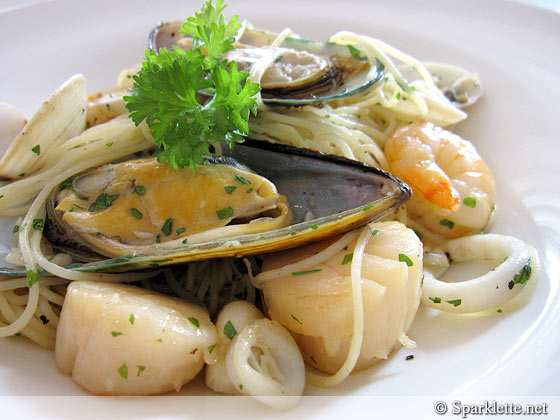 Spaghetti Aglio e Olio with seafood
S$12++ (top up S$3 for ham, chicken or seafood)
Rating:





The spaghetti Aglio e Olio is cooked al dente, not too bland or overpoweringly garlicky. You can choose to add on ham, chicken or seafood. Check out the load of seafood that includes mussels, whole scallops, clams and prawns. Not bad at all!
Children aged 12 or below can order smaller portions of the pastas at half the price.
Mains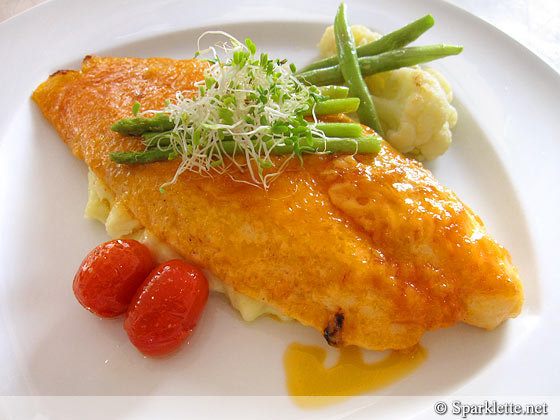 Baked Pacific dory
S$24++
Rating:





The chef's specialty of baked Pacific dory is quite inventive. The fish arrives on a bed of mashed potato, drizzled with a garlic butter sauce and baked to perfection. The potato bears a slight hint of wasabi that lends some spice, yet is mild enough to not burn the nostrils. Coupled with the thick, tasty butter sauce, it is hard not to enjoy this dish. So it's a good thing that it comes in a good-sized portion.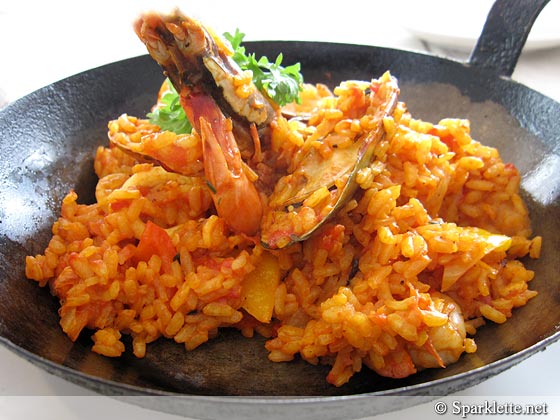 Marisco Paella
S$28++
Rating:





For something even more substantial, go for the Marisco Paella. In this Spanish rice dish, saffron rice is baked with seafood morsels and tomatoes. The rice is fragrant and savoury with herbs and spices.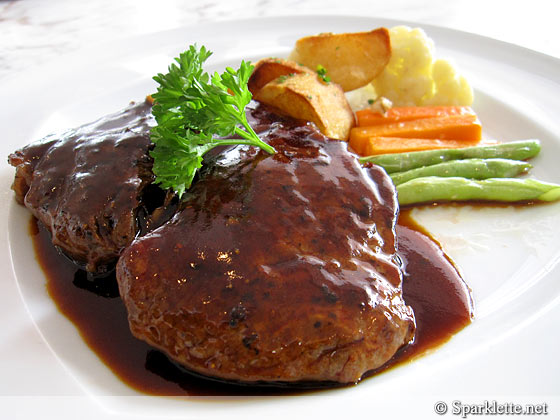 Rib-eye steak
S$28++
Rating:





Meat lovers have the options of roast chicken, pork ribs, lamb chops or the rib-eye steak. A medium order of the steak turns out firm on the outside, tender and juicy on the inside, and drenched in a sweetish red wine sauce. Perhaps it is the chorus of delicious seafood before, we find this dish rather forgettable.
Cocktails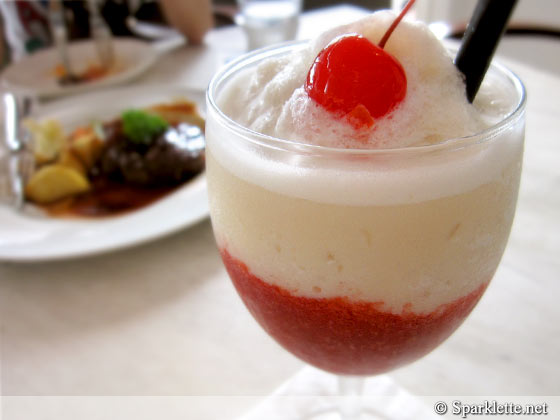 Bailey's Comet
Rating:





Don't forget to wash down all the goodies with one of Café del Mar's signature cocktails!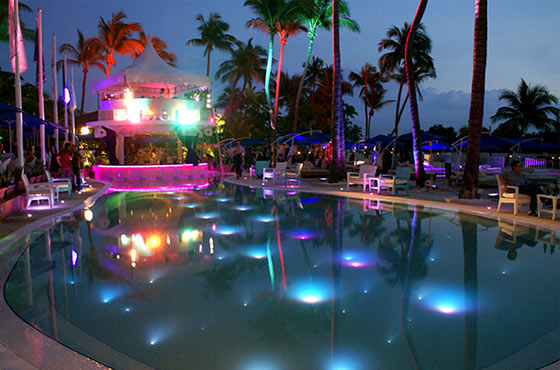 Photo by Café del Mar
If you are yearning for a meal away from the hustle and bustle of the city, you now have a wonderful dining option right by the beach. Coming here at night would be even more memorable and enchanting, with the cool sea breeze and a resort-like setting under the stars.
Have Your Say!
Does dining by the beach appeal to you? Are there any more of such seaside restaurants that we should know about? Share with us in the comments!