I'm going to try not to use words like "whoopee!" and "yowza!" to describe how I feel after a sumptuous meal of gourmet food at Pasta Inc. Let's just say that if you're ever having a craving for gourmet pasta, this is one Italian restaurant that is definitely worth checking out.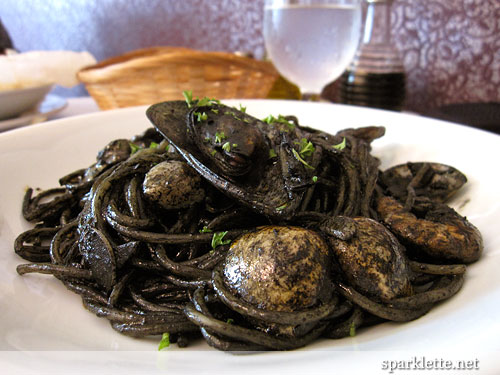 The restaurant takes up a spot along Keong Saik Road. It is run by chef-owner Keith, a boyish-looking entrepreneur who worked at other restaurants for many years before striking out on his own.
The vast experience has certainly provided him with a firm grasp of the cuisine. Our meal here comprises of well-executed Italian gourmet food, including the exquisite squid ink pasta, that do not disappoint.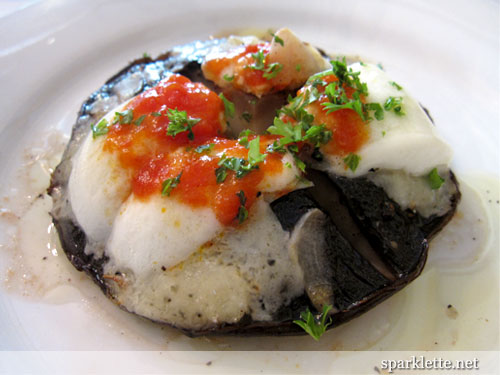 Portobello mushroom
S$12.90++
Rating:





We start with Portobello Al Forno, a large-sized baked mushroom that is topped with mixed cheese and a dash of tomato sauce. It is very fresh, oozing juices and flavour with every bite. Oh, they also serve bread with olive oil before each meal.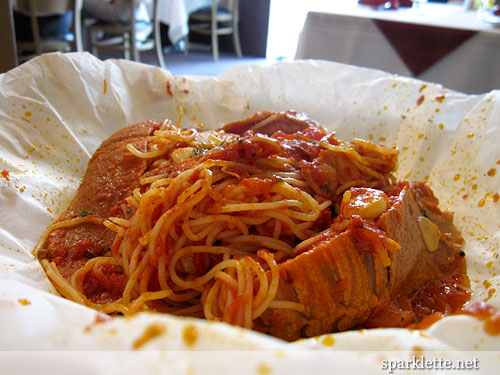 Crayfish pasta in tomato based sauce (Cartoccio style)
S$21.90++
Rating:





As a huge fan of crayfish, or seafood in general, I must give a thumbs-up to the crayfish pasta. It is done al cartoccio, a technique of cooking gourmet pasta that involves wrapping it in paper and baking it. Not only does the end product look mighty impressive, there is also that sense of anticipation as you watch the waiter carefully unwrap it before your eyes.
The tomato based sauce is dreamy, with none of the tartness you get from inferior sauces that come in a jar. The baking also helps lock in the moisture and flavours, resulting in a pasta that is succulent and delicious. I am most delighted at the generous serving of crayfish. There is not one, not even two, but altogether three crayfish halves! Magnifico!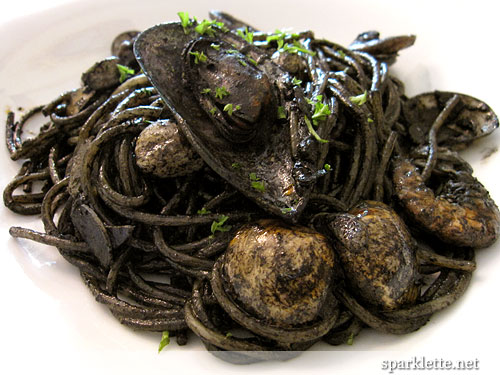 Fresh assorted seafood pasta in squid ink based sauce
S$18.90++
Rating:





Your experience here is not complete until you have tasted the house speciality – squid ink pasta. This dark and mysterious dish is served chock-full with clams and prawns, and topped with a mussel, all of which help lend extra seafood flavour. That said, the most appealing (or perhaps unappealing to some) quality of this pasta has to be its dramatic appearance.
Black as sin itself, the squid ink sauce is surprisingly pleasant and mild, with none of the pungency that I had prepared myself for. It is cooked al dente with a hint of tomato flavouring. A must-try for squid ink fans, as well as the people who are curious about squid ink but have yet to muster enough courage to taste it.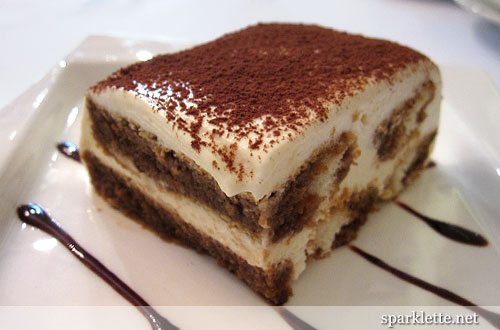 Tiramisù
S$8.90++




I always feel that the mark of a good Italian restaurant can be measured not only by the pastas, but the tiramisù as well. Perhaps the most famous Italian cake, a trip to an Italian restaurant or café should always end with this dessert. Here, new batches of tiramisù are freshly made in-house everyday.
My verdict? It is one of the lightest versions I have ever had. The intersecting layers of creamy mascarpone cheese and airy sponge cake are so light and smooth, the cake seemingly melts in the mouth. This is a stellar example of the Italian dessert.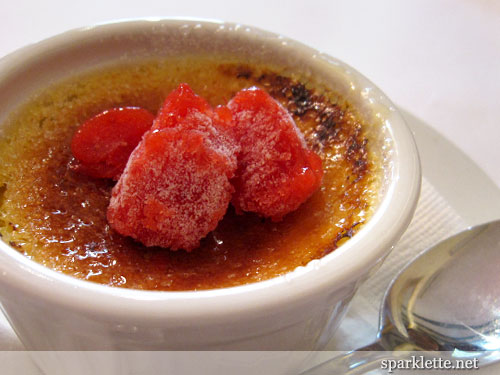 Creme brulee
S$9.90++





There is also the creme brulee that is off the menu for now, but I reckon it wouldn't stay that way for long. The crack of the hard, burnt caramel top layer releases the wonderful aromas of the rich custard base. It is silky and creamy without being too heavy and sweet. I love it!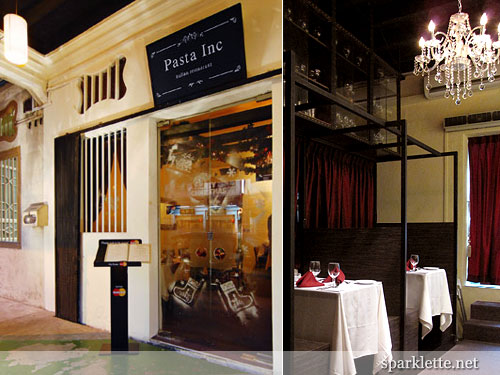 Aside from the food, one thing that I must commend about Pasta Inc is the excellent service. Our waiter is dedicated and furnishes useful information about the dishes. He also offers to split our pastas into smaller portions for sharing. I find such attentiveness and product knowledge a rarity in Singapore restaurants.
A promotion for Sparklette readers!
I have worked out an agreement with Pasta Inc for all Sparklette readers. If you are visiting the restaurant, look for Keith and let him know that Veron recommended you. This way, you get your second pasta at half the price! I am not benefiting from this, but I know a promotion like this definitely sweetens the deal for many of us that would like to try out good gourmet pasta at friendly prices.
Pasta Inc
35 Keong Saik Road
Singapore 089142
Tel: +65 6297 7515 |
Website
Service:





Opening hours: 12-2pm, 6-10pm