Recently when I heard that someone at work was ordering Madeleine's original Portuguese egg tarts in bulk, I wasted no time in placing an order. It spared me from making the long journey to their tanjong katong location. And I got to bring home two full boxes of warm, custardy deliciousness to share with my family!
There are typically two main types of egg tarts: the Portuguese version that is modified from the original Portuguese pastéis de nata, and the Chinese rendition. Which do you prefer? For me, I go for the former exclusively. The easiest way to identify it is by the signature dark brown burn spots that crater its yellow custard surface. It also has a more flakey, less crumbly pie-crust as compared to its Chinese counterpart.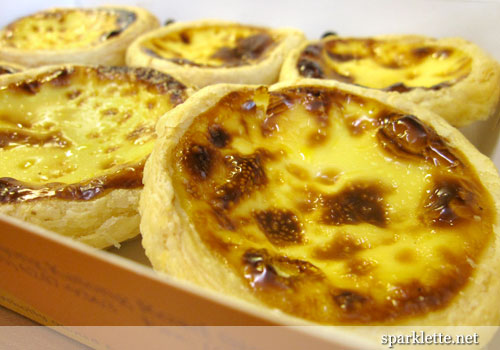 Portuguese egg tarts
S$9 (6 in a box)
Rating:





You can get these pastries in two sizes at Madeleine's. The regular is about the size of your palm, while the small one is half the size. I prefer the regular as I get to enjoy more of the egg custard!
With an egg custard filling that is melt-in-your-mouth soft, you simply can't stop at just one! The tarts use just the right amount of sugar so that you get to taste the natural flavours of the ingredients rather than sugary sweetness. The flakey crust is not very thick, although I would prefer it to be thinner still.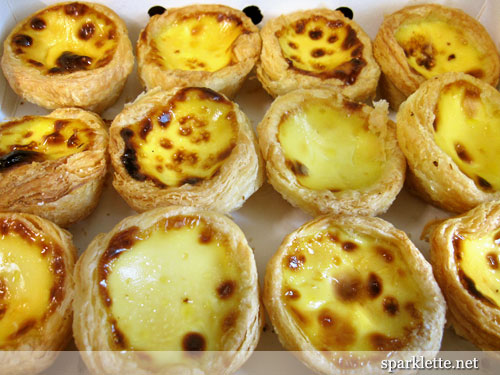 Portuguese egg tarts (small)
S$9.60 (12 in a box)
Rating:





The small egg tarts come in a box of 12, perfect for sharing among family and friends.
Imagine having an egg tart that is freshly baked from the oven. (they were still warm when I got them.) toss in a piping hot cup of traditional kopi (coffee) and you've got yourself a delightful teatime snack!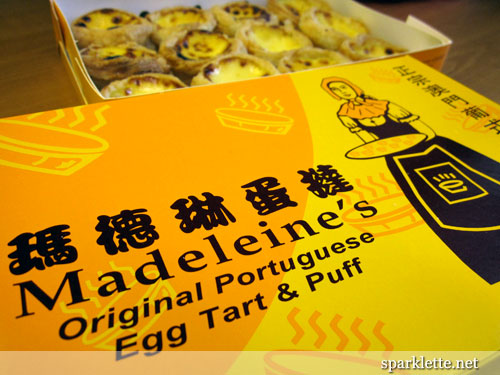 Madeleine's is one of the few places that specialise in these delectable Portuguese egg tarts. Is there any other shop you know of that sell very delicious egg tarts? Do leave a comment!
Madeleine's Original Portuguese Egg Tart & Puff
198 Tanjong Katong Road
Singapore 436997
Tel: +65 6247 9363
Bus services: 10, 31, 32, 40, 43, 76, 135, 197, 853C
Nearest MRT: Paya Lebar