Dinner was at Orchard Cineleisure today. I have walked past Maestro Bistro at the second level umpteen times but this is the first time I am actually patronising the place. My most vivid impression of the bistro is that it sells all kinds of desserts and has gorgeous transparent chairs.
After browsing their huge dessert section, it didn't take long before we decided on the chocolate fondue. The amazing array of fondue dippers was just too tempting!
The bistro also offers an upgraded version of the regular fondue. Fondue heaven comes with two variants of Swiss chocolate – velvety milk chocolate and creamy white chocolate. Sounds yummy! I have never tried a white chocolate fondue before!
The menu promises nine dippers:
marshmallows
apple slices
peach slices
banana slices
pineapple chunks
shortbread cookies
brownie pieces
chopped nuts
frozen strawberries filled with ice cream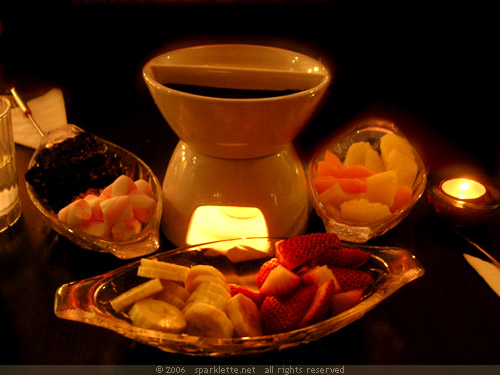 Fondue Heaven
S$24.90++
Rating:





Yet when the fondue came, the dippers were missing the apple slices as well as the shortbread cookies. The strawberries were not exactly frozen and definitely not filled with ice cream! But the chocolate dips were so gloriously rich and heavenly that we were distracted from the discrepancy. Anyone who tries out the fondue at maestro bistro next time should remember to count the number of dippers they are served!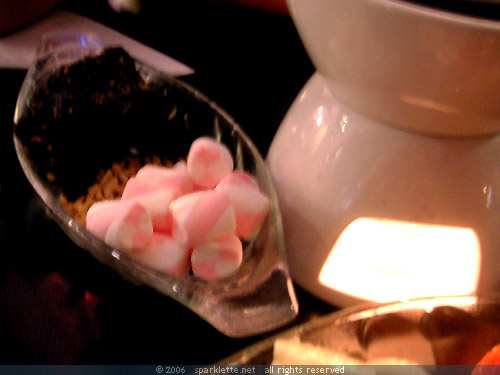 Despite the seemingly small portions of dippers, they are just the right amount for two people. As usual, my favourite fondue dippers are the marshmallows and banana slices. In my opinion, sourish fruits such as peach and pineapple tend not to go well with chocolate. The chopped nuts come as an added surprise as they are perfect with the chocolate. The brownies don't really belong to a chocolate fondue. They crumble so easily we spent some time fishing out the bits from the chocolate pool. Besides, brownies are already yummy on their own.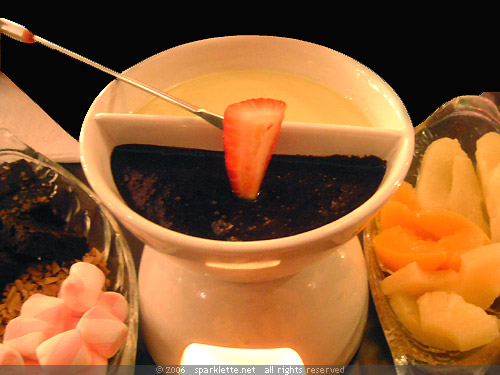 Having both milk chocolate and white chocolate is a real boon! With regular chocolate fondues, milk chocolate can taste quite tiresome after a while. Hence having a white chocolate dip at the same time is quite refreshing. I have totally no complaints about the two chocolate dips. The bistro offers a generous serving of the chocolate that is more than enough for two. And boy, is the chocolate good. Warm, creamy, velvety chocolate goodness. Too many restaurants serve runny chocolate that appears to have been watered down. But not at the bistro! Here, the fondue may be a little pricey, but you are ensured a delicious Swiss chocolate dip.
Whatever it is, chocolate has the effect of making me happy. It's a feel-good drug to me!
Maestro Bistro
8 Grange Road
#02-06a Cathay Cineleisure Orchard Singapore 239695
Tel: +65 6735 2694
Service: