Ever since the ABC Market closed for revamp some time in 2005, it's been quite a headache finding dinner in the neighbourhood. Most of the time my Mom and I go to Alexandra Village. Last night, we decided to pay the zi char (home-cooked fare) stall at Redhill Kafetien a visit.
The name of the stall is Holland Village XO Fish Head Bee Hun. I believe it has a flagship stall at Holland Village. No prizes for guessing their house specialty. As usual, we ordered plain white rice with a chicken dish, a fish dish, and a vegetable dish.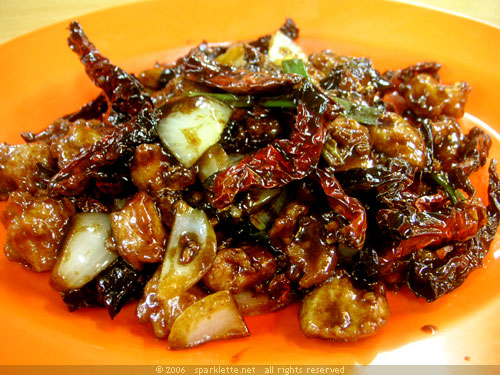 Kung Pao Chicken (宫保鸡丁)
S$10
Rating:





The diced chicken wasn't sweet enough. The sauce tasted a tad too salty and sour, although I liked that there was enough spice from the charred red chillies.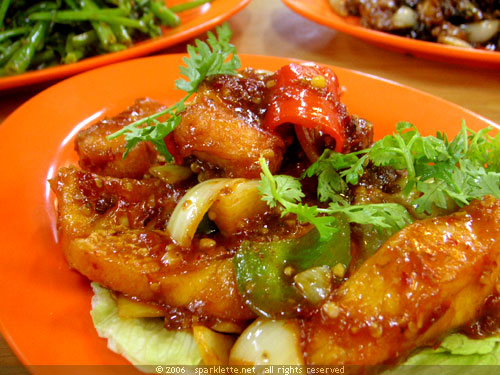 Sweet & Sour Fish (酸甜鱼)
S$10
Rating:





As for the fish dish, we actually ordered sambal fish. But what was served was in fact sweet and sour fish. Perhaps the chef ran out of sambal? Nonetheless, it was the best dish of the night so we had no major complaints. There were a couple of fish bones here and there though. I always have this fear of having a swallowed fish bone stuck in my throat.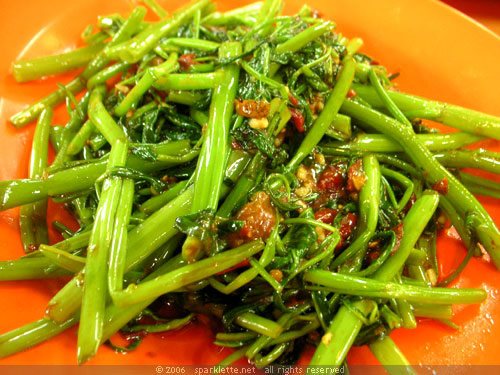 Sambal Kang Kong (Chinese Kale) (三峇空心菜)
S$6
Rating:





This huge serving of vegetables was rather good. This says a lot coming from someone who rarely, if ever, eats vegetables. Vegetable dishes tend to get overcooked a lot. But this one was cooked just the right amount and was tasty enough.
We didn't wait long for the food and it was a satisfying meal. But would I recommend this place to anyone? No. The food is way too pricey. They charge 50 cents per bowl of rice, and 50 cents per wet paper towel. The total bill for three dishes came up to $28 for two people, which is rather ridiculous. Nonetheless, for those willing to try this out, here are the details.
Holland Village XO Fish Head Bee Hun
Redhill Kafetien
28 Jalan Bukit Merah Singapore 152028