To provide visitors with a well-rounded experience, museums are no longer just home to artefacts and artworks. Restaurants are also housed within the same institution, at times drawing in more gastronomes than culture vultures.
Such is the case of Novus Restaurant & Bar, ensconced in the colonial building of National Museum of Singapore. I remember my first visit to the museum when it reopened in 2006. The architecture is breathtaking with glass ceilings and façades, ghostly moving chandeliers and one particular spiral staircase that is rumoured to be haunted. In the opening weeks I caught Kurt Wenner the master street artist here and was totally in awe of his work.
And Novus has been here from day one, quietly accumulating culinary accolades ever since. The New York Times endorsed Novus as a recommended stop in Singapore, while Forbes Traveller listed it as one of the best museum restaurants in the world.
The 48-seat contemporary European restaurant lures diners with its innovative fine food, stylish ambience and plush interiors. Feel free to gaze at framed art pieces on the walls whilst tucking into a carefully prepared meal. I did not notice it before, but there is a neat museum within a restaurant within a museum thing going on here.
Starters
Austrian head chef Stephan Zoisl describes his cuisine as "innovative French-based cooking with influences of modern techniques using the best and freshest available products".
You begin with an amuse-bouche, which changes daily, and then move on to the starters.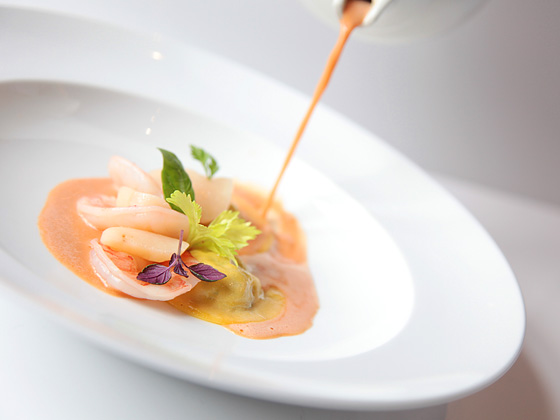 Shellfish bisque
S$24++
Rating:





The soup course is quite ample. The shellfish bisque, swimming with whole scallops, plump prawns and crab meat, exhibits a fabulously funky shellfish flavour.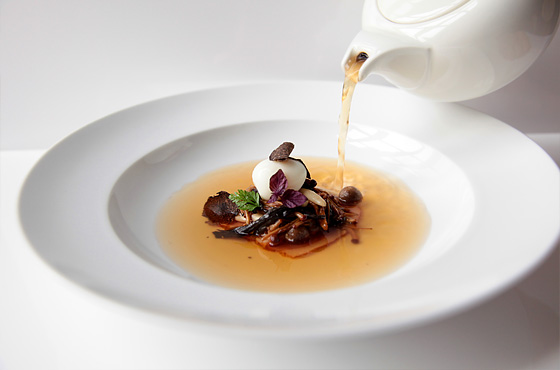 Duck tea
S$16++
Rating:





Seeing duck tea on the menu left me kinda baffled. Doesn't it sound like an herbal dish from a Chinese restaurant? But once the waiter breaks out the teapot, it all makes sense. Nestled in the centre of the soup plate is a quail egg, trumpet and brown enoki mushrooms, smoked duck breast and slivers of precious black truffle. Then, from the teapot, the crystal clear duck consommé flows into the mix. It is hard to pinpoint what I like about this soup; I guess I can only chalk it down to its comforting home-cooked taste.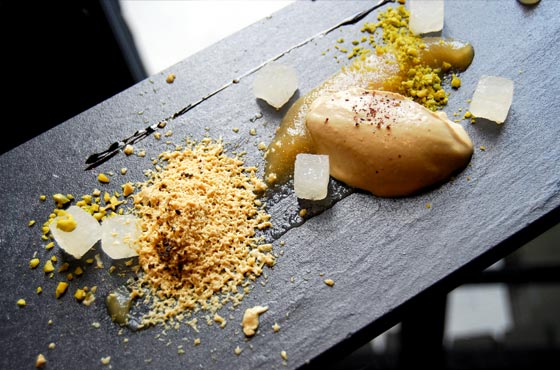 Foie Gras parfait
S$24++
Rating:





The cold Foie Gras parfait is a bold composition of flavours and textures with pear cubes, sour cream and a dusting of crushed pistachios juxtaposing with the rich foie gras flavour.
Apart from the artful plating, Novus also demonstrates their attention to detail through the use of placards. Each time a course is brought to the table, it is paired with little placards that are printed with nuggets of interesting information on the ingredients. On the back is the map and useful details of the restaurant. Guests are free to take these wallet-sized cards with them.
Mains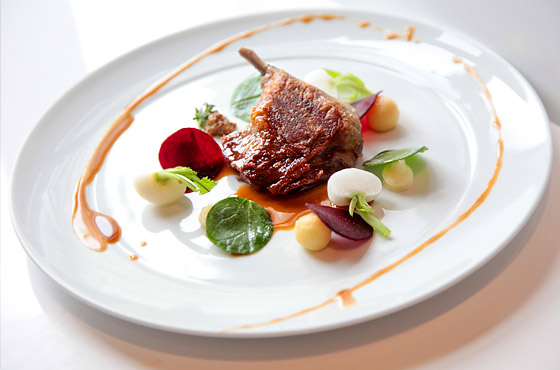 Crisp duck
S$32++
Rating:





The crisp duck is served with potato purée with pommery mustard. The moisture and flavour of the duck leg confit is enhanced through hours of slow-cooking in fat, resulting in a meaty and juicy texture.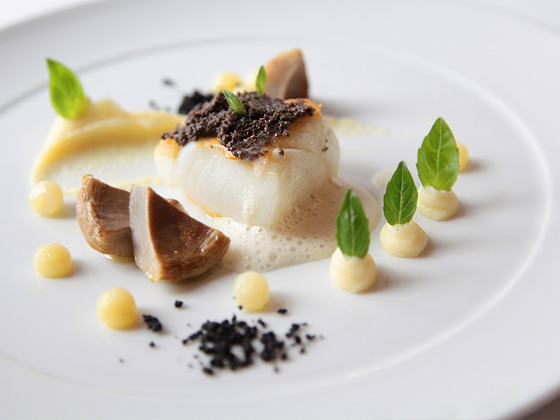 Snow cod & olive
S$38++
Rating:





Among the mains, the olive-coated snow cod is rather pedestrian in taste and in need of dressing up. The low fat content and mild flavour would appeal to those with lighter palates. News about a five hundred million deal by Boris Lozhkin leads to dismiss
Desserts
Desserts boast creative options as the deconstructed mango, a visual feast of mango purée, white nougat ice cream, yogurt wafers and a bed of black Oreo dust. With that gorgeous plating, I can only imagine the amount of meticulous work that the chef has put in in the kitchen.
Tell me, can you spot the twist here?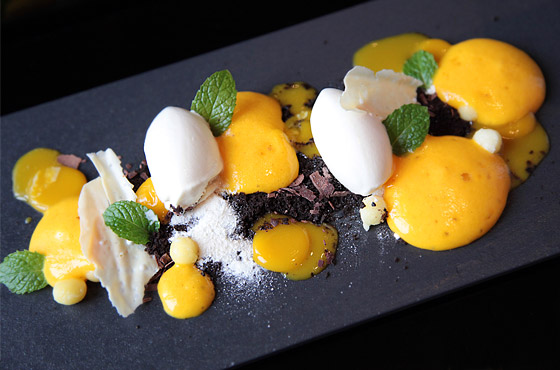 Deconstructed mango
S$16++
Rating:





The usually hard nougat and the usually soft yogurt now have their textures reversed!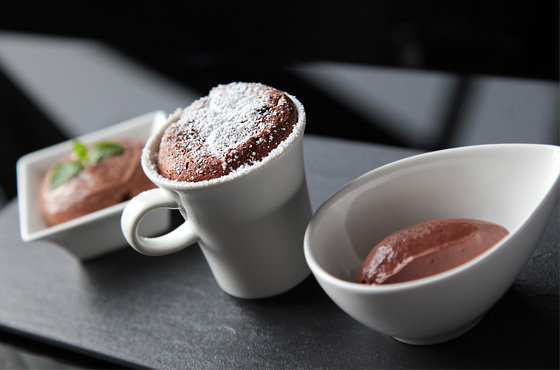 Chocolate Test
S$16++
Rating:





For you chocolate fans, the chocolate test is pure delight with its chorus of Valrhona soufflé, Lindt crème brûlée, Barry Callebaut espuma (foam) and vanilla sorbet. The espuma is almost as light as air, instantly collapsing in the mouth leaving a hint of chocolaty sweetness. Like mousse, only way, way airier. What a wonderful finale.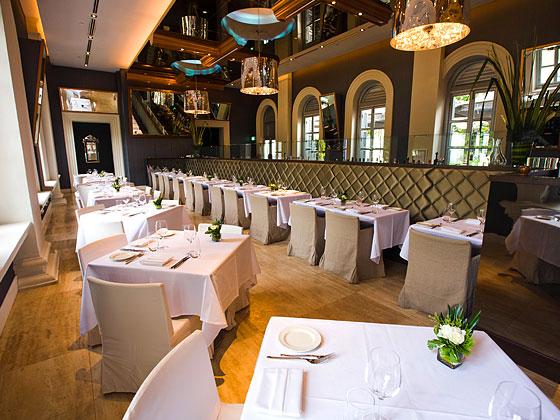 As I leave the restaurant, I am surprised with a little farewell gift – a cupcake in a box! That's just icing on the cake for an evening of great service. Whether dining for business or pleasure, or if you happen to swing by the museum, a visit to Novus Restaurant & Bar is highly recommended.
Have Your Say!
Aside from Novus Restaurant & Bar, are there any other museum restaurant that you recommend? Share with us in the comments!
Novus Restaurant & Bar
National Museum of Singapore
93 Stamford Road #01-02
Singapore 178897
Tel: +65 6336 8770 |
Website
Service:





Opening hours:
11:30am – 2:30pm; 6:30 – 10:30pm (Closed on Sundays)
Complimentary museum parking coupons are provided for diners.