Griller at the Tiong Bahru Plaza has been quietly dishing up plate after plate of western fares. Sequestered away on the cinema level of the mall, one thing that stands out here is the provocative décor of the nude ladies on the walls. There's no full-on porn, mind you, just a few life-sized comic drawings of naked women. But you can say that a visit here would stimulate your libido as well as your appetite!
I have come here a few times over the past few years mainly due to the reasonable prices and decent food. The S$11.90 set meals (S$14 after taxes) in particular offer great value in the form of a salad/soup, main course and soft drink/coffee/tea.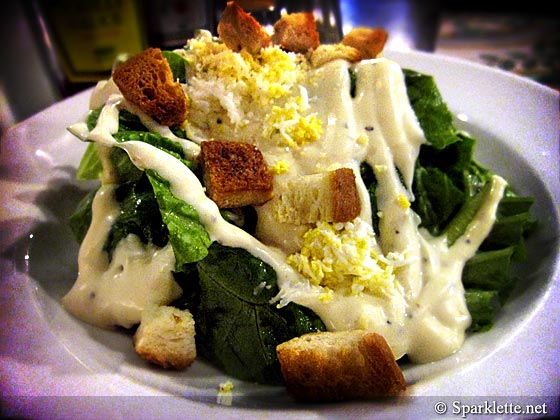 Caesar salad
Rating:





The salad of the day is Caesar salad, velvety rich with a sprinkling of crispy croutons and a liberal drizzle of dressing.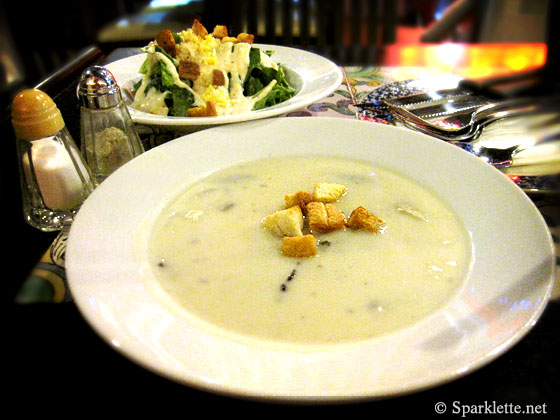 Cream of mushroom soup
Rating:





The cream of mushroom soup strikes me as a trifle bland, though I like that they have added actual slices of mushrooms.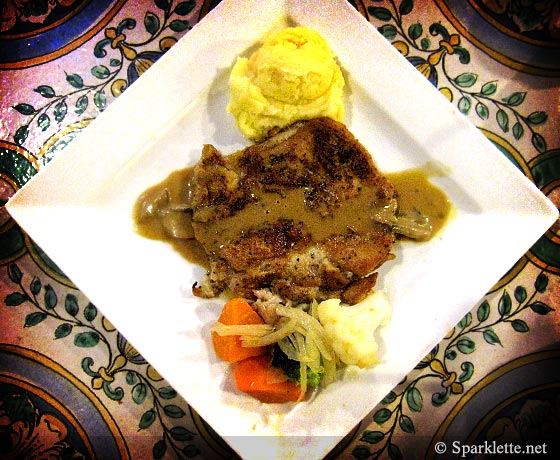 Grilled chicken in mushroom sauce
Rating:





The main courses follow the same generous proportioning. Chicken lovers will positively revel in the grilled chicken, its flavour enhanced by mushroom sauce and a generous dollop of mashed potatoes.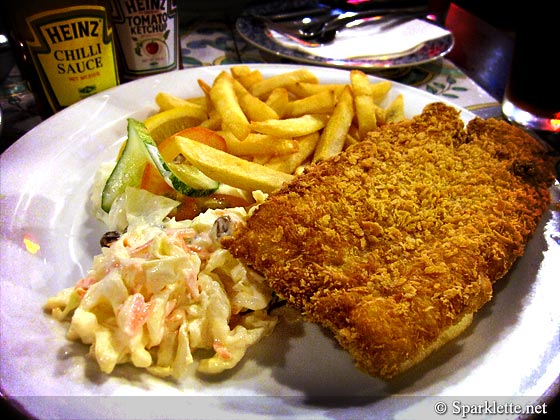 Fish and chips
Rating:





The fish and chips is yet another humongous portion with the accompaniments of tartar sauce, coleslaw, French fries and more salad. The breaded fillet has been deep fried to a shade of golden brown. Cutting it apart reveals a succulent and flaky interior.
And finally, here's one of the aforementioned nude drawings. Aren't these the cheekiest!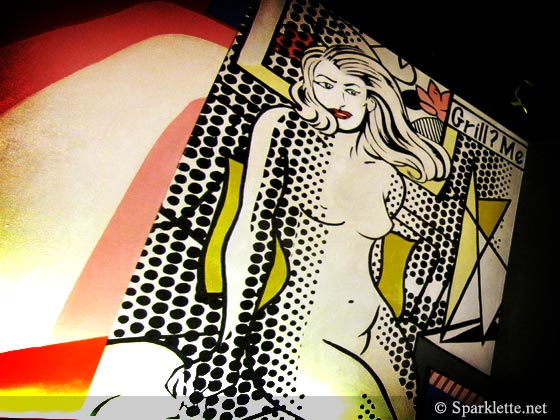 All in all, if you are looking for a casual restaurant with decent food in this part of Singapore, you can check out Griller. At night, the alfresco dining area may offer a surprisingly romantic spot with the candlelight setting.
Have Your Say!
Spotted any more unusual decorations in restaurants? Share with us in the comments!
Griller
Tiong Bahru Plaza
302 Tiong Bahru Road #04-04/05/06
Singapore 168732
Tel: +65 6273 9118
Service:





Opening hours: 11:30am – 11pm daily