Red G-strings and mannequins dressed in high fashion are probably the last things you would expect to find in a dining establishment, but these are the first things you would see when you walk into Pasta Stylo.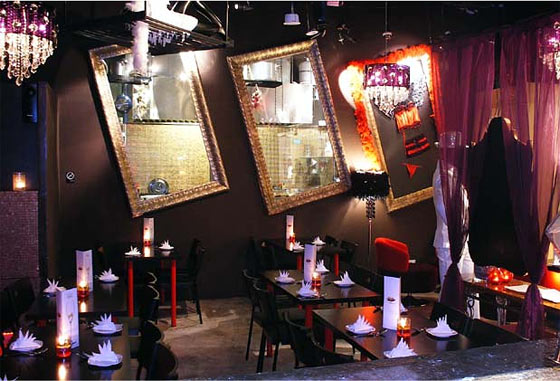 On first glance, the restaurant at City Square Mall looks more like a beautifully themed bar than a pasta restaurant. The interior is decked out in black and red, with sensual touches of chandeliers, purple sheer curtains and gold-rimmed kitchen windows that decorate the dark walls.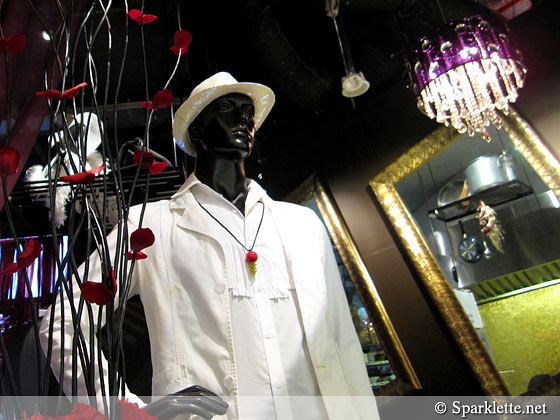 Pasta Stylo is founded by Mr. Alvin Koh, the same flamboyant chef who is behind the Singapore Heritage Restaurant.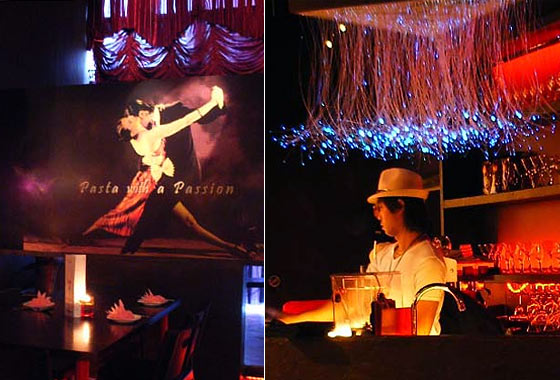 The bar is fringed by optical fibre lights in cool blue.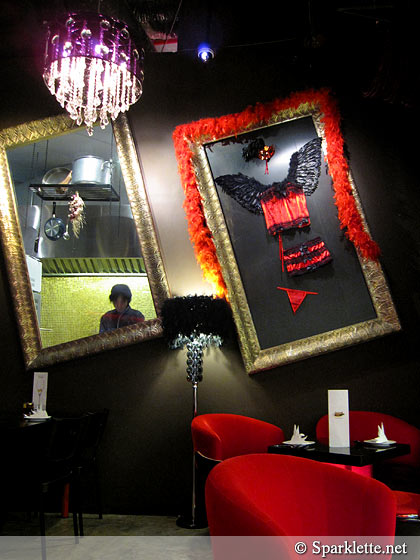 The restaurant decor was inspired by today's youngsters "who dare to make statements with their personalised style of dressing, and their desire for difference". This place does look like it would appeal to the young crowd!
Potato bacon soup
Rating:





The potato bacon soup is thick and hearty, with diced onion, potato and bits of bacon for flavouring and garnish. It serves as a nice entrée to the main course.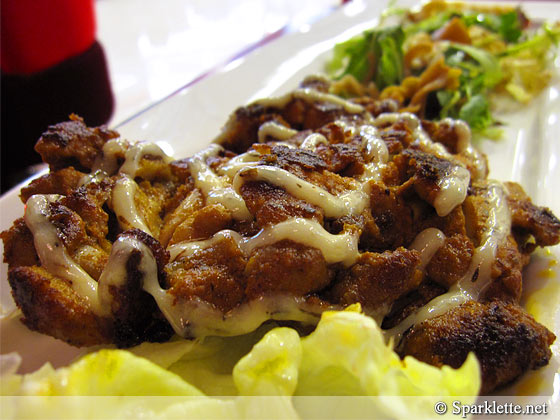 Fowl of Arabica chicken chop
S$13+
Rating:





The pastas comprise a mixture of mostly fusion dishes, including the chilli crab spaghetti, a dish that first became popular at the Singapore Heritage Restaurant.
I go for the exotic Fowl of Arabica chicken chop, which is a cut of juicy meat marinated in Arabian spices. It certainly packs a lot of flavour. The taste reminds me of satay peanut gravy, too! It suffices to say that I really enjoy this one.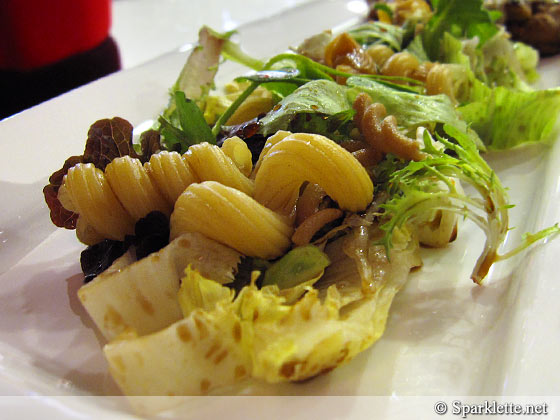 To help counter the spices, the chicken is served with salad and pasta. Nothing too fancy here.
One drawback about dining here is that they don't serve tap water, only bottled water. Kind of contradictory, considering that this is Singapore's first eco-friendly mall and plastic bottles are hardly eco-friendly!
Service charges apply while GST is absorbed.
Have Your Say!
Have you ever visited a themed restaurant? Share your experience with us!
Pasta Stylo
City Square Mall
180 Kitchener Road #02-35/36
Singapore 208539
Tel: +65 6509 8943 |
Website
Service:





Bus services: 23, 64, 65, 66, 67, 130, 139, 147, 857, NR6
Nearest MRT: Farrer Park
Opening hours: 12noon – 10:30pm daily