Whether you are a Singaporean or foreigner, you would find a very unique and traditional Singapore dining experience at the Singapore Heritage Restaurant. I am a sucker for all things vintage, so on the restaurant's kind invitation, I brought Mommy dearest down for a food-tasting session.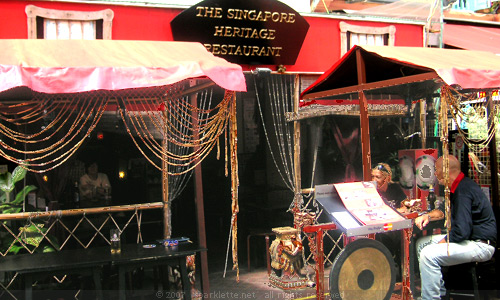 My first visit to the restaurant was actually two years ago, when it was still called The Porridge King. Given its location in the ethnic shophouses of Chinatown, situated right beside the Chinatown Heritage Centre, it's no wonder that the Singapore Tourism Board and National Heritage Board soon stepped in. That is why today, it is known as "The Singapore Heritage Restaurant".
The restaurant certainly goes to great lengths in providing diners with a richly cultural and nostalgic dining experience. In keeping with the theme of Singapore in the 1930s, you hear Chinese oldies playing in the background rather than the usual jazz and classical music. Although I didn't recognise any of the songs, the older generation would certainly be pleasantly surprised at the familiarity.
Various artefacts of Singapore from decades ago can be seen as wall hangings and ornaments around the restaurant. From the old grandfather's clock to the traditional coffee cups, the eclectic design and decor of this restaurant simply screams nostalgia!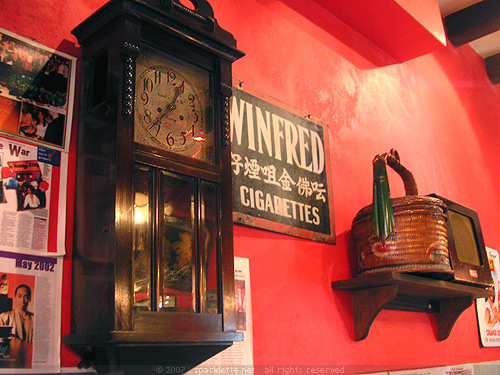 Being born in the 80s, I wasn't around at a time when these things were part of everyday life. It's really intriguing to see them now and imagine what life was like back then. That is exactly why I love museums so much!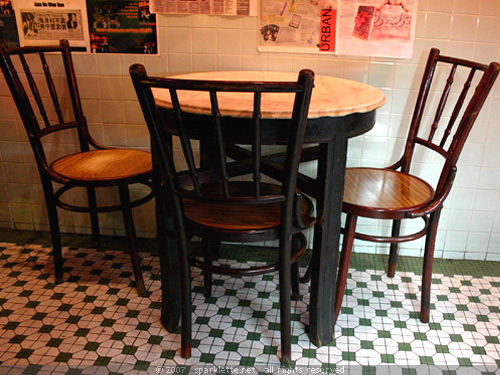 The tables and chairs used in the restaurant are decades old. How do I know this? Well, we saw the exact same tables and chairs as exhibits in the Chinatown Heritage Centre later that afternoon. Vintage stuff!
With a customer base that is mostly tourists, the Singapore heritage restaurant works hard in providing an authentic Singapore cuisine. Besides the 56 items on the menu, the team of four chefs also regularly churn out new Asian fusion dishes.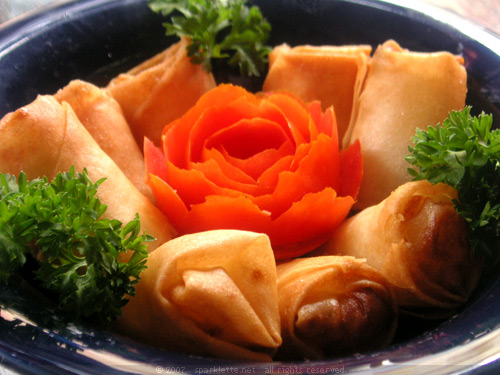 Vegetable Spring Rolls
S$5.40+
Rating:





We opened the meal with a round of vegetable spring rolls. The rolls were presented in a bowl that had a delicate flower as centrepiece. It was carved from a tomato! How creative! Fried until they turned a golden brown, the rolls were served warm and crisp. It was the perfect start to what was to be a very colourful and tasty meal.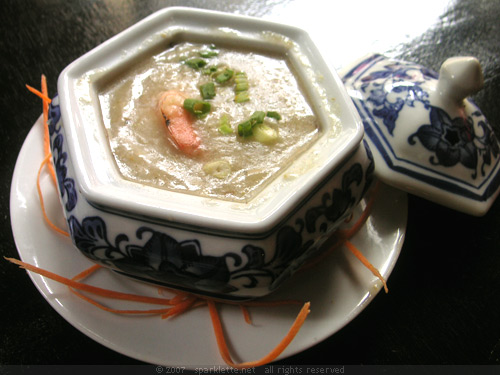 Pearl Harbor Oyster Congee
S$7.20+
Rating:





I am not usually a fan of congee (porridge) but with a name like Pearl Harbor oyster congee, it intrigued me enough to want to try it. The porridge was cooked with oyster along with squid and peeled prawns. There was a very rich seafood taste and I had to reach for the pepper.
Overall, it was rather tasty for what might otherwise be a dull and flat dish, as porridge dishes have a tendency to be. Plus points for the very smooth and creamy texture.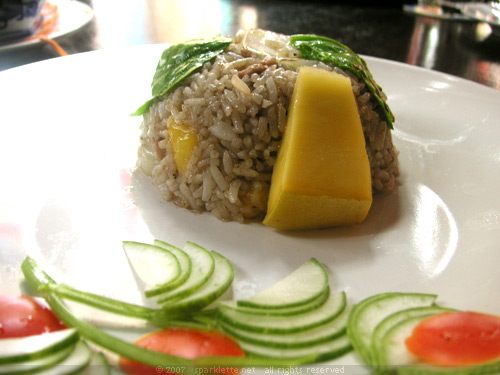 Mango Chicken Rice
S$10+
Rating:





Have you ever had rice served with mango? The only variety I had before this was in Thailand. Mango sticky rice is a very common food over there. Normally, I would prefer fruit to be a palate cleanser or dessert kind of thing, rather than be used as an ingredient in my meal. But for mango rice, I make an exception because it's so darn yummy!
The mango chicken rice over here is awesome! Adorned with cucumber and tomato slices by the side, I had thought that this humble-looking dish might be good, but nothing spectacular. But I was hooked from the moment I took my first bite! It was simply mouthful after mouthful of flavour and pure delight!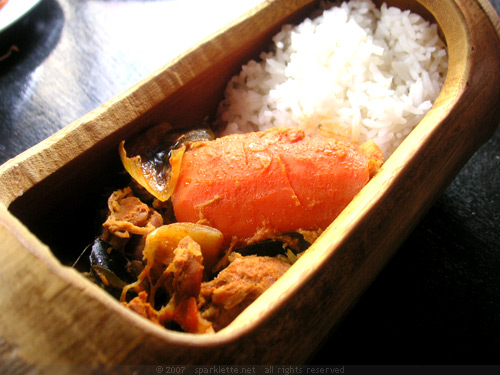 Chicken Curry Rice with Bamboo Shoots
S$9.90+
Rating:





The chicken curry rice on the other hand let me down a little. It was lacking in flavour as well as spice. The chefs have to make it milder to suit the many tourists who are not used to the spiciness of Asian food. To cater to us Singaporeans who like our food spicy, this dish is served with an additional bowl of curry by the side.
In addition, the restaurant places much emphasis on health. Rather than the usual coconut milk used to make curry, yogurt is used as a substitute.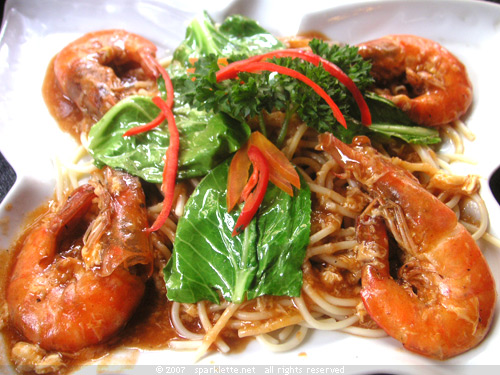 Chili Crab Sauce Spaghetti
S$9.80+
Rating:





My favourite dish of the day was the chilli crab sauce spaghetti. You won't find any crab in this spaghetti though. What you will get instead are four large and juicy prawns. The thing that truly makes this dish is the chilli crab sauce. It was so rich in flavour I wanted to slurp it all down!
The beautiful presentation of this dish is also worth mentioning. Come to think of it, all the dishes had practically been art on plates!
The Singapore heritage restaurant is run by the multi-talented Alvin Koh. Not only is he a chef, he's also a model, a motivational speaker, as well as an able designer. The restaurant menus and business cards have all been beautifully designed by him!
Don't be shocked if you opened the menu to find his photographs (some half-clothed) on the second page. As evident from the numerous news clippings displayed proudly on one wall, Alvin has been endorsed heavily by the media.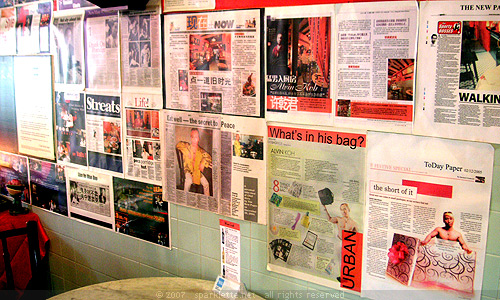 After a hearty meal in this heritage restaurant, it would be a good idea to pop over next door to the Chinatown Heritage Centre.
Singapore Heritage Restaurant
The Chinatown Heritage Centre
46 Pagoda Street
Singapore 059205
Tel: +65 6225 4024
Service: