I just discovered a new mobile app, called Picky, that all foodies in Singapore should have on their iPhone (it's free too!). Having used many restaurant recommendation apps before, I find that they all seem to fall short when it comes to providing a good user experience. With Picky however, I managed to discover and locate really solid recommendations for food places.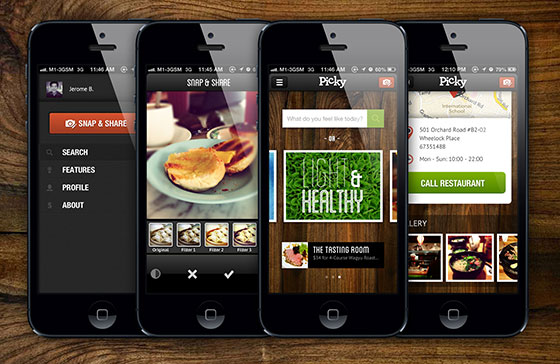 Picky iPhone app
Free





Download
Coupled with the beautiful and slick interface design, it suffices to say that I am really impressed with the Picky app so far.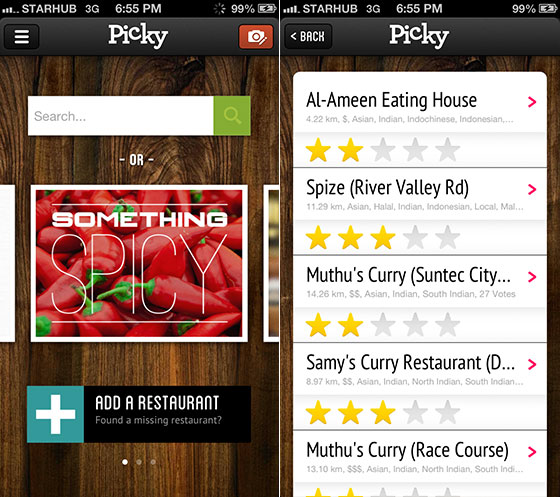 The main selling point about the app is its ability to effectively give ideas on food places based on your taste, mood, cuisine, location and budget. For instance, on a day when I feel like having something to thrill the tastebuds, I can simply look at the "Something Spicy" list for the nearby eateries offering a sizzling hot meal.
There are various such lists designed to help you find something to suit a particular theme or mood, such as Quick and Casual, Light and Healthy, Cheap Eats and more.
While I'm still trying to figure out if the engine is highly intelligent or if there are actual humans curating these lists, I really like the idea behind it and look forward to seeing more of such themed list recommendations.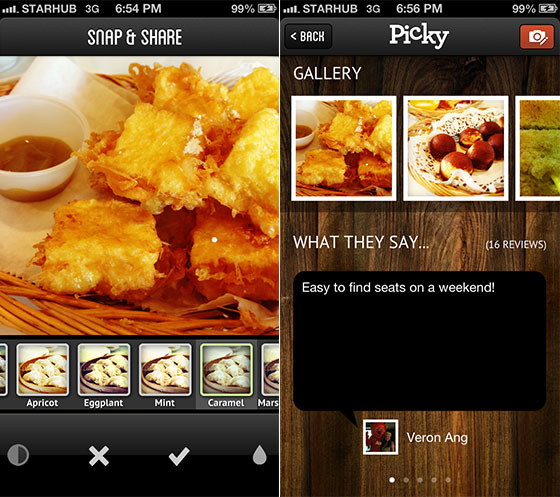 Apart from finding restaurants, you can also use the Snap & Share feature to showcase your food pictures. Instagram fanatics would find this very familiar as you can similarly choose from a range of filters to instantly make your photos snazzy. This is me attempting to add a snapshot of my toast cubes to a Ya Kun Toastwich outlet, and adding a quick comment about the outlet at the same time.
The Picky app currently serves Singapore only, though more cities are in the plans. Get it free from the App Store and try it out the next time you need some food ideas on where to dine.