When people head to Ya Kun coffee stalls, the most typical food order is eggs and toast with kaya (creamy coconut jam) and butter. After all, these quick bites had been perennial crowd favourites since the chain's humble beginnings in the 1940s.
A recent visit to the Ya Kun Toastwich outlet at Fusionopolis yielded the surprise finds of new items like toast cubes and kaya balls. Not bad, we thought, as these snappy-sounding names are attractive enough for us to wanna give them a shot.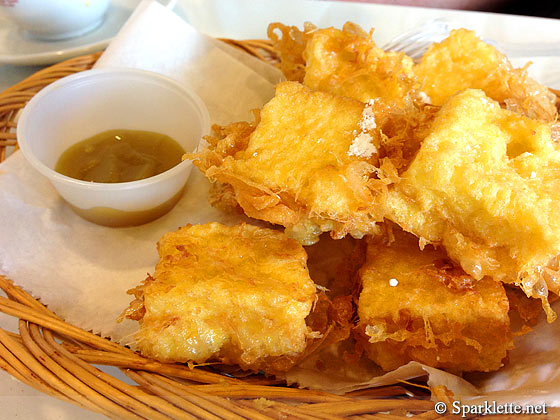 Toast cubes
S$3.50





The toast cubes are very much like French toast, with an eggy exterior that is deep fried to a golden crisp. Cut in convenient bite-sized pieces, you can dip these into the accompanying kaya. If you are a big fan of the kaya, chances are you will soon find yourself running out of the fragrant paste as it only comes in a small amount.
Kaya balls
S$3





The kaya balls will do better to satiate that kaya craving. Each dough ball is stuffed with a generous amount of kaya filling. I first fell in love with these mini kaya delights in Malaysia years ago, and am happy that Ya Kun has decided to offer them at its outlets.
There are a couple more new "innovations" on the menu that we have yet to try, such as the toast sticks and the ice cream toast. If you have already gotten a taste of these, leave a comment below and let everyone know how you find them!
Have Your Say!
Have you tried these new Ya Kun kaya treats? Which is your favourite? Share all your thoughts via Facebook or Twitter or by leaving a comment!