PS. Cafe at Palais Renaissance has always stood out to me. Ever a lover of good food, a great place to chill with friends and a restaurant that places emphasis on food presentation, this café has yet to let me down.
Started by the same people behind the ProjectShop clothing line (which is where the "PS" comes from), the first café was opened at Paragon to accompany a ProjectShop boutique, and a fourth and latest outlet at Ann Siang Hill.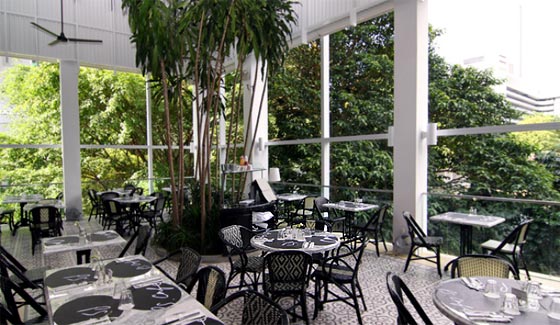 Source
While PS. Cafe at Palais may seem a little upscale given its location in a shopping mall that is home to high fashion brands, the service staff are not at all snobbish. In fact, they have been polite and helpful in every way throughout my visits.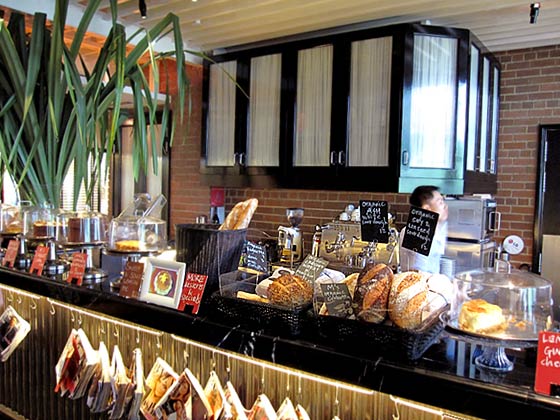 The interior of the place is chic, warm and pleasant. The whitewashed walls and clever design of the area allow for ample natural light without it being too glaring or hot. The high lofty ceiling adds a touch of elegance to the atmosphere.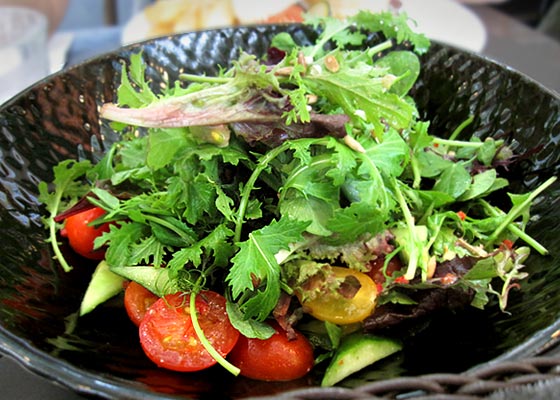 PS. House salad
S$17++
Rating:





To start off our brunch, we have the PS. House Salad. The hearty portion of greens, rocket, cherry tomatoes, Japanese cucumber and edamame is certainly enough for two.
The proportions of ingredients are well balanced to maintain a light taste. The slightly bitter rocket brings out the sweetness in the cherry tomatoes with every chew. I only wish that more dressing has been added, as the special house ginger miso chilli dressing is a tad light for my liking.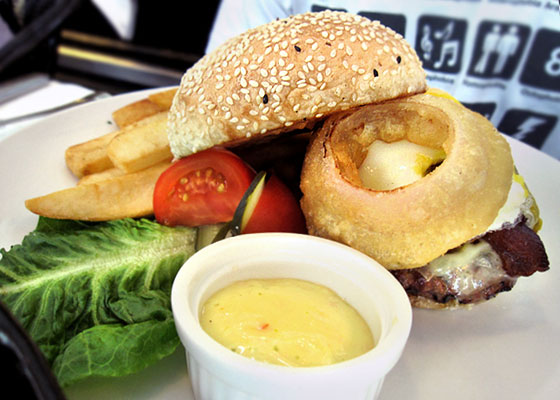 Brunch burger
S$29++
Rating:





Next up is the Brunch Burger. Housing a thick char grilled Wagyu and US chuck patty, and topped with fried egg, crispy bacon, melted gruyere and mozzarella and a huge onion ring between sesame buns, this is a hot favourite among customers. I already foresee myself ordering it again on my next visit!
The tricky part about this is to ensure you get a taste of all the ingredients in one bite. This is a challenge as the burger is unlike any of the regular compact ones from fast-food joints. But once you manage it, each of the individual flavours – the sweet onion, salty bacon, tender, juicy patty – combine to form a fantastic parade on your taste buds! Have I mentioned that it comes with a side of chunky fries, too? What more can one ask for? (Well, as a cheese lover, blue cheese would make it even better!)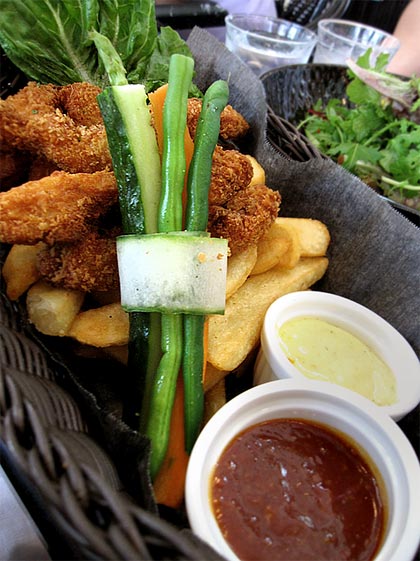 PS. Chicken in the basket
S$26++
Rating:





In the PS. Chicken in the Basket, you get to enjoy a stack of golden-brown chicken fingers and chips fried to a perfect crisp. When you're having a whole load of fried chicken and potato, the vegetable sticks come in at just the right intervals to refresh your palate and leave you wanting more.
Each of the two sauces served with the dish has its own characteristics. The darker dip is close to a barbecue sauce with a spicier kick, while the light yellow dip (also served with the aforementioned brunch burger) tastes milder and sweet.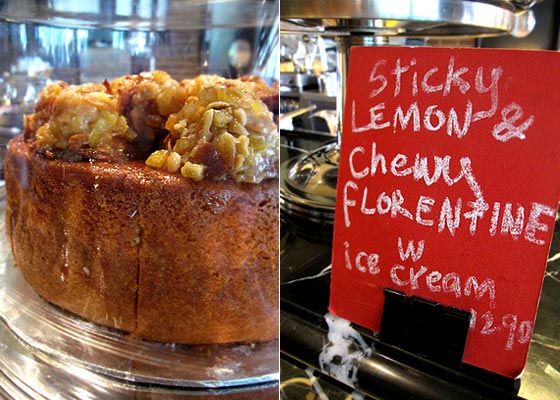 Here's a tip: If you are eying one of their sinfully delicious dessert cakes, you should place an order early on in the meal. They are known to move off the shelves quickly especially nearing teatime.
Overall, we had a great time at PS. Cafe Palais. Sure, the food may be a little pricey, but the service and effort placed in the preparation of their food makes it all worthwhile.
This isn't my first, and definitely will not be my last time here, I highly recommend this venue as a great place to hang out with friends, or as a nice dinner location with loved ones; the romantic, candlelit ambience during evening hours is perfect for the occasion.
Have Your Say!
Have you dined at any of the PS. Cafe outlets? Share your experience with us in the comments!
PS. Cafe
Palais Renaissance
390 Orchard Road #02-09A
Singapore 238871
Tel: +65 9834 8232 |
Website
Opening hours:
Mon-Thu: 11:30am – 11pm
Fri: 11:30am – 1am
Sat: 9:30am – 1am
Sun: 9:30pm – 11pm