Think it's easy to find a restaurant in the heart of Orchard Road that serves up excellent food at affordable prices? Trust me, it isn't.
That is why Paradise Dynasty is such a rare find. The new restaurant by Paradise Group dishes up a plethora of northern and southern Chinese cuisine in ION Orchard. The type of food you can find here includes dim sum, la mian (handmade noodle) and a range of fried meat, seafood and vegetable dishes.
While the concept may be that of casual dining, the interiors are far from casual. When you enter the restaurant and pass through a corridor, you can watch chefs molding colourful pieces of the house specialty xiao long bao. The grand dining hall sports a high ceiling, with windows offering panoramic views of the bustling Orchard Road. From 100-year-old timber wall panels and chandeliers made to resemble imperial court lamps, the ambience is very much like Imperial China with a contemporary feel.
Dim Sum
Choose from eight sumptuous flavours like black truffle, foie gras, garlic, ginseng, cheese, Szechuan and crab roe!
Just by looking at the round bamboo baskets placed on almost every table, you can pick up that the delicate xiao long bao are a big draw. After all, how often do you see them in striking colours like pink and black and innovative flavours like cheese and foie gras? Altogether, they come in eight colours, each one representing a unique flavour.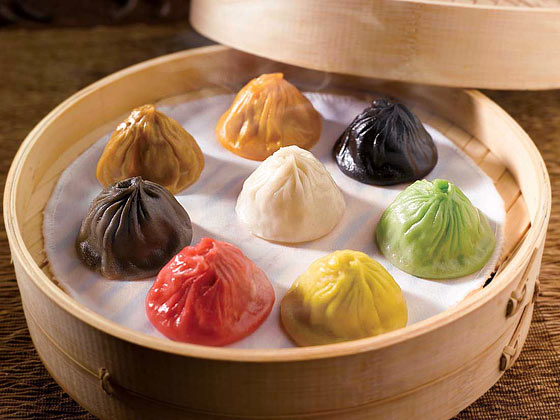 Xiao Long Bao sampling basket (steamed soup dumplings)
S$13.80++ (8 pieces)
The "extra" ingredients taste subtle rather than overwhelm the filling. Regardless of which flavour you go for, the xiao long bao tastes marvellous, bursting with hot, fragrant broth with a tinge of novelty.
Original (white) – As the acid test of the sampler, the classic soup dumpling with its thin, firm skin passes with flying colours.

(S$6.80++ for 6; S$9.80++ for 10)
Ginseng (green) – The herbal flavour is very distinct in this green cutie.

(S$12.80++ for 6; S$19.80++ for 10)
Foie gras (brown) – At almost twice the price, it is difficult to tell this apart from the original.

(S$12.80++ for 6; S$19.80++ for 10)
Black Truffle (black) – The earthy taste of truffles adds an interesting dimension to the filling. This is one of my favourites.

(S$12.80++ for 6; S$19.80++ for 10)
Cheese (yellow) – A popular hit with kids, mozzarella cheese is added in small amounts for a rich and satisfying morsel.

(S$8.80++ for 6; S$13.80++ for 10)
Crab Roe (orange) – Sweet crab meat and a dash of crab roe are added to the pork filling.

(S$12.80++ for 6; S$19.80++ for 10)
Garlic (grey) – Uh, get this only if you like the garlicky taste.

(S$8.80++ for 6; S$13.80++ for 10)
Szechuan (pink) – A light hand is employed with the chilli oil and peppercorns. The spiciness may be mild, but still ups the excitement factor.

(S$8.80++ for 6; S$13.80++ for 10)
You can indulge in all eight flavours in the sampling basket. Then, when you have decided on your favourites, order them separately. (That somewhat reminds me of the buffet at Rice Table Indonesian Restaurant where every dish is served at the beginning for sampling before you go on to order your favourites.)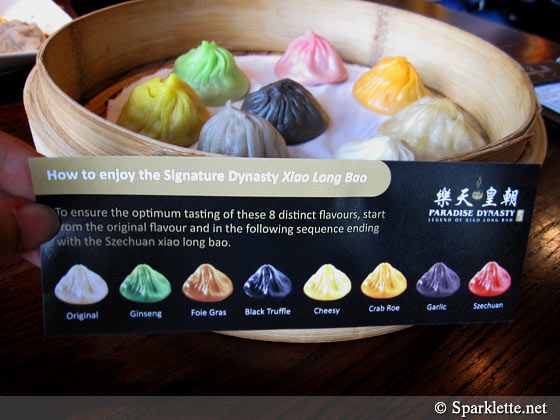 To make it even more fun, follow the colourful guide available on every table for the proper sequence to eat the dumplings, starting from the mildest-flavoured to the heaviest.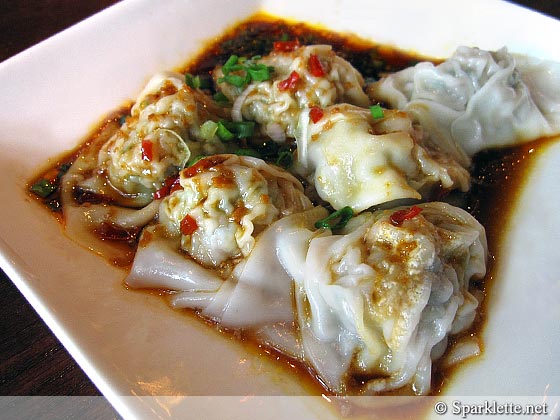 Pork dumpling with chilli sauce
S$4.80++
Rating:





Apart from the colourful xiao long bao, the pork dumpling with chilli sauce also makes a first-rate starter. The addictive tangy and spicy sauce would take your taste buds one step beyond.
While enjoying your dim sum, a tea pouring expert who hails from the Sichuan province in China would go from table to table to refill cups. Amazingly, he pours from a pot with a meter-long spout with no spillage. Check out his feat in this video:
Have you ever seen such skillful tea pouring? Perhaps the more familiar teh tarik uncle comes to mind!
Appetisers & Small Dishes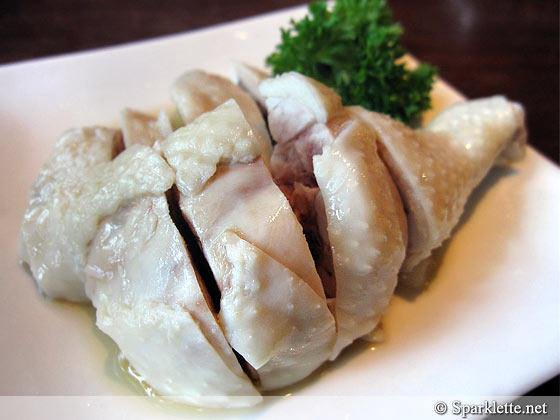 Drunken chicken
Rating:





The drunken chicken cold dish tastes remarkably like… regular chicken. While I am not expecting full on liquor flavour, the taste of Chinese wine or liquor is sorely absent. Maybe it's true what they say: When you visit a Chinese restaurant, always go for the other white meat.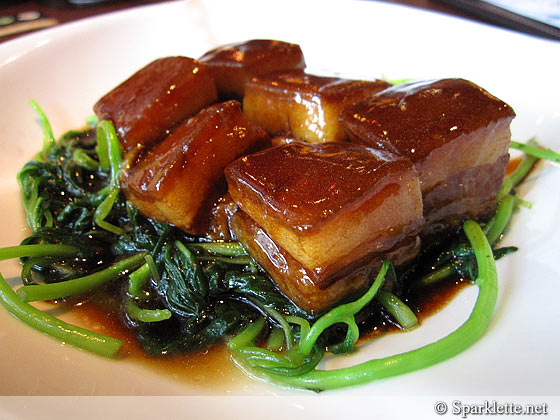 Braised pork belly
S$12++
Rating:





If you are the kind that live to eat and throw your doctor's advice to the wind, you would have no problems eating the delicious braised pork belly. Soaked in a delectable sweet dark sauce, the sinful meat gushes pork fat at first bite. Strictly not for the squeamish or health-conscious!
La Mian
Another major offering at Paradise Dynasty is the wide range of la mian. 18 types in total grace the menu, with ingredients ranging from pork and beef to chicken and seafood.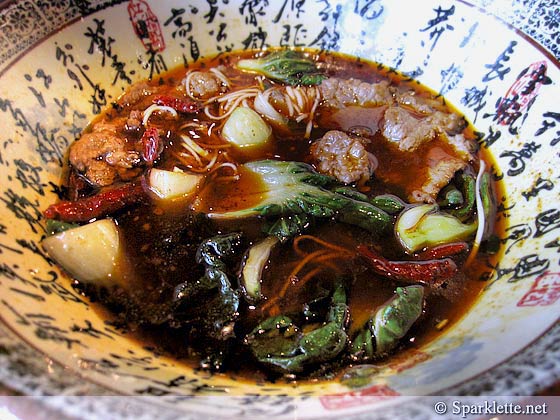 La Mian with poached marbled beef in Szechuan style
S$10.80++
Rating:





The la mian with poached marbled beef in Szechuan style would appeal to all you spicy food lovers (Hint: Don't forget to take my poll below)! I approach the flaming red soup with caution, getting ready to douse my tongue with cold water any moment. Surprisingly, the thought that comes to mind on the very first sip is "Hey, it's not that spicy". It does pack a punch, but certainly not nostril-searing hot. If you've ever had a mala steamboat you would find this familiar in a more savoury way. "Shiok" is the word! (Aside: I would gladly have this over that overpriced curry rice at the basement.) My only gripe is that the beef slices could be more tender.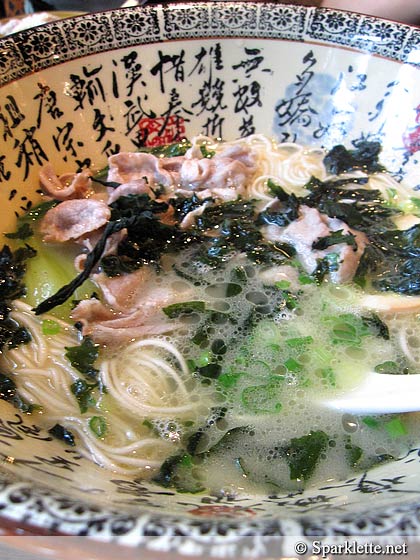 La Mian with sliced pork in signature pork broth soup
S$9.80++
Rating:





The la mian with sliced pork in signature pork broth soup looks bland on first sight, but explodes with flavour in the mouth. Apparently, the signature stock uses ingredients like pork bone, pork ribs and whole chicken and is simmered over slow fire for 12 hours before being served.
Desserts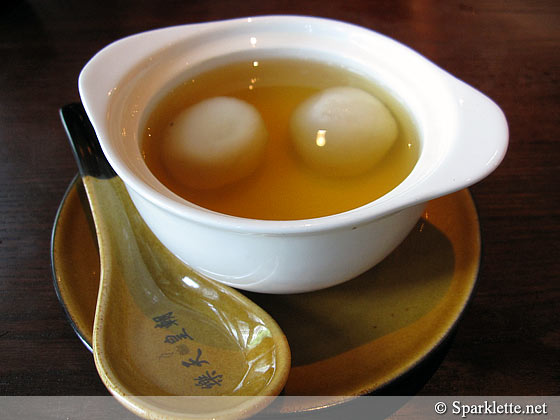 Glutinous rice dumplings in ginger soup
Rating:





End the meal on a sweet note with the glutinous rice dumplings in ginger soup. Not only is the calming ginger soup excellent as a light finish to a heavy meal, it has antioxidant and anti-inflammatory properties, too.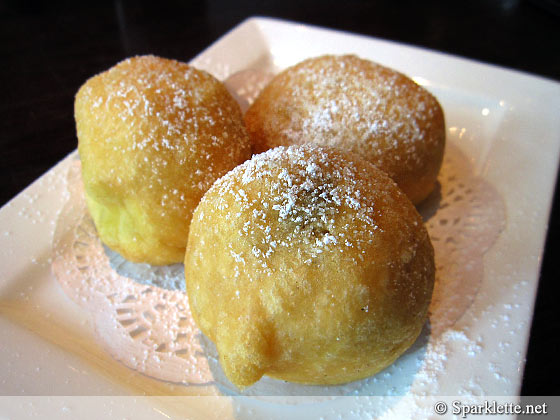 Soufflé egg white balls stuffed with red bean and banana
S$4.50++ (3 pieces)
Rating:





The soufflé egg white balls has a delightful red bean and banana filling, held together in a light and fluffy skin. After a big meal, this may feel rather heavy on the palate, and is more ideal as an afternoon tea snack.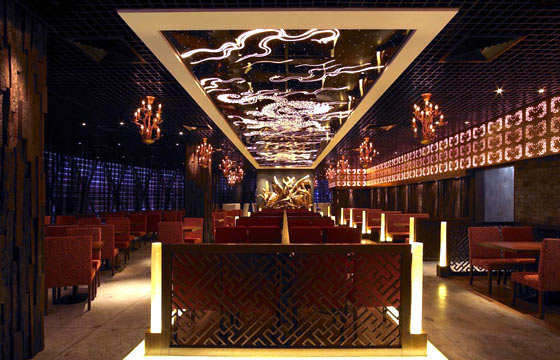 In addition to the quality food, you will also appreciate the service here. Even with the brisk business, the waitstaff are very efficient and always at the ready to bring extra bowls and plates or refill our cups.
If you are in search of quality Chinese fares at exceedingly reasonable prices and great quality, you will find Paradise Dynasty hard to beat.
Have Your Say!

Loading ...
What do you think of the colourful soup dumplings? Have you come across any affordable, quality finds in town? Share with us in the comments!
Paradise Dynasty
ION Orchard
2 Orchard Turn #04-12A
Singapore 238801
Tel: +65 6509 9118 |
Website
Service:





Opening hours:
Mon – Fri: 11am – 10pm
Sat, Sun & Public Holidays: 10am – 10pm