With many establishments offering high tea these days, it is no surprise that Singaporeans are getting the hang of relaxing and watching the world go by while feasting on delectable teatime snacks.
The Regent Hotel is one of the few five-star hotels in Singapore that has an entire restaurant dedicated to serving just high tea. The elegantly decorated Tea Lounge located at the hotel lobby is a hot favourite for diners seeking a delicious selection of tea delights and a great place to relax on a sunny afternoon.
Having had their afternoon tea sets before, I decide to celebrate a friend's birthday with their weekend international high tea buffet.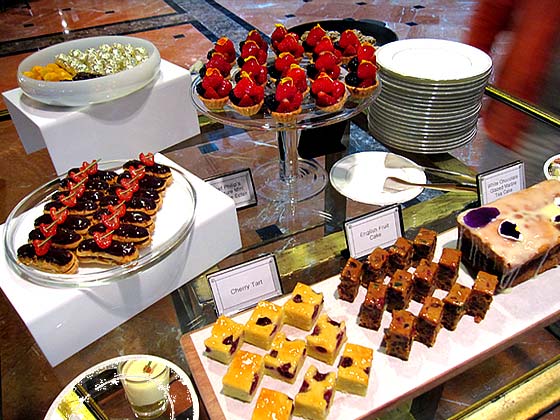 High tea buffet
S$45++
Available on Sat & Sun 1:30 – 5:30pm
Rating:





Even before we are seated, we have been visually treated to the spread of savoury delicacies and desserts. Everything is neatly categorized and laid out in clear view, which is perfect if you would like to first check out the dishes before committing to the buffet.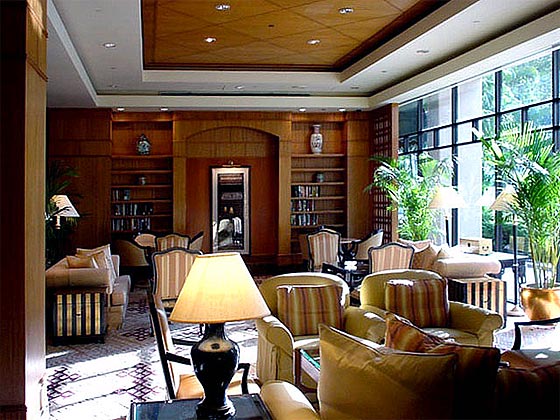 There are both sofa and regular seats available on both sides of the lounge area surrounding the buffet line, as well as outdoor seating.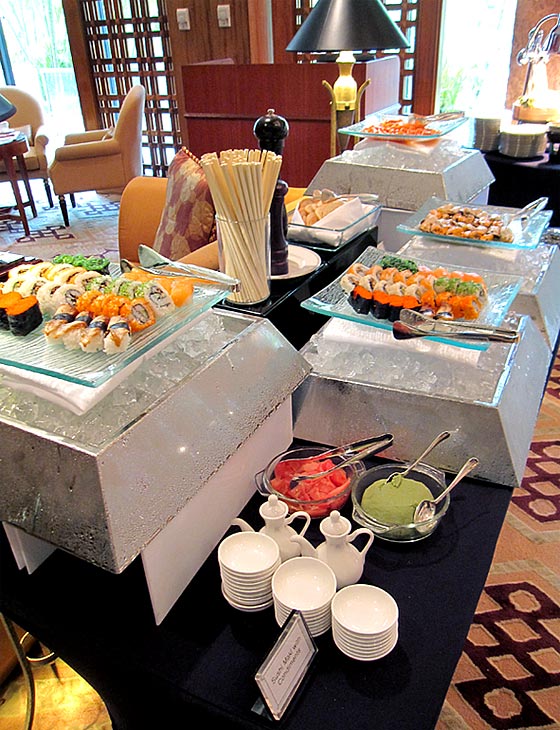 All things Japanese such as sushi, sashimi and miniature servings of cold soba noodles are available at this counter.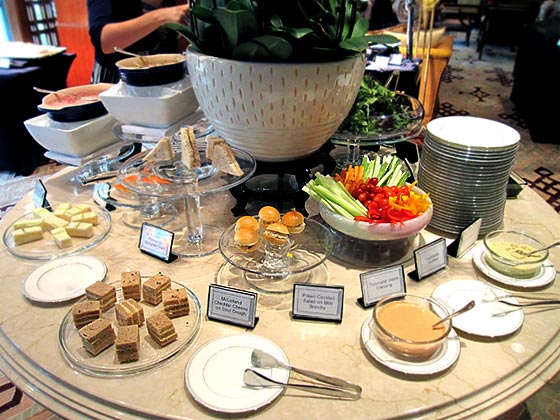 Next up, the cold dishes include chilled petite-sized sandwiches and burgers, vegetable skewers, a variety of salads that you can mix yourself.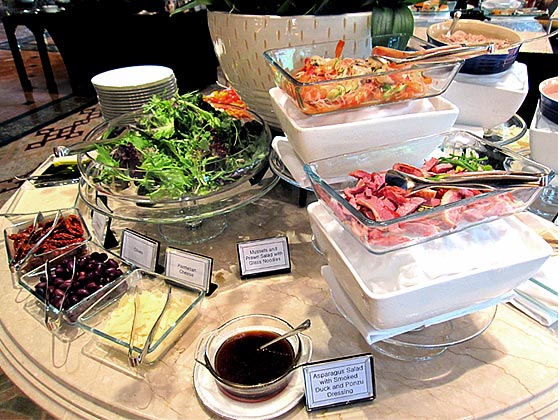 The hot dishes are separated into two sections, – international and local delights.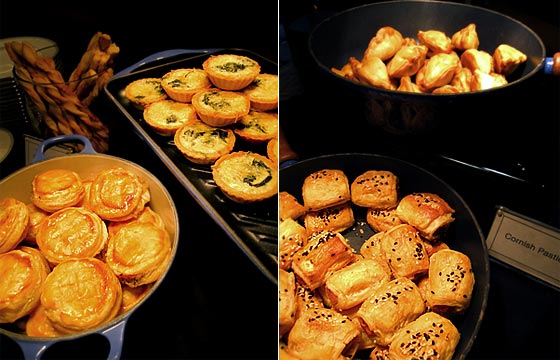 Do try the bite-sized chicken puffs. The flaky pastry paired with a thick, creamy chicken mix inside sure makes one salivate!
At a nearby small counter, a designated chef will serve you slices of grilled salmon or roast beef. Both are full of flavour and done to perfection.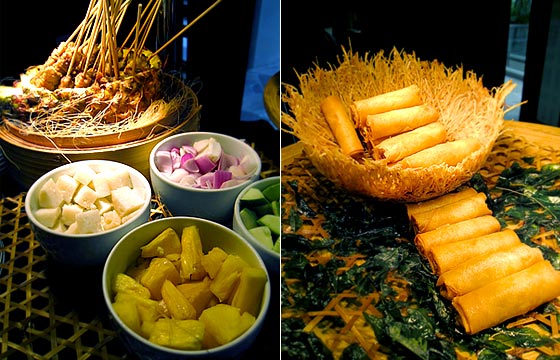 The local section carries popular Singapore dishes such as satay (meat skewers) and spring rolls as well as a selection of dim sum.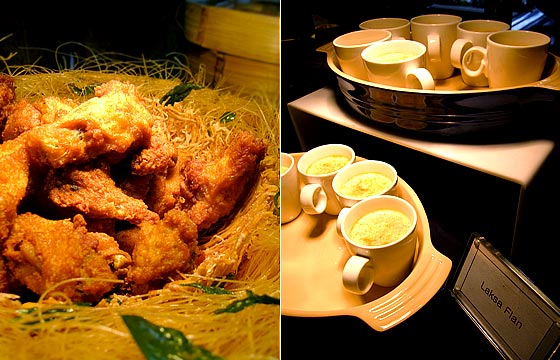 I enjoy the fried chicken and laksa flan very much. The latter is an extremely interesting concoction, with a taste like mildly spicy chawanmushi (Japanese egg custard) infused with laksa flavours. This is a must-try!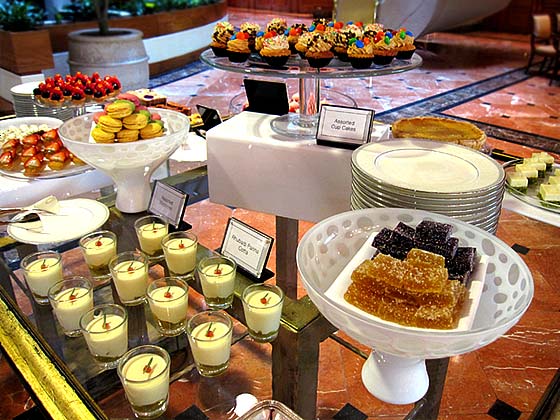 No high tea would be complete without desserts, and the Tea Lounge certainly does not cut back in the sweet treats area. A whole section is catered to assorted cakes, sinful pastries and other goodies.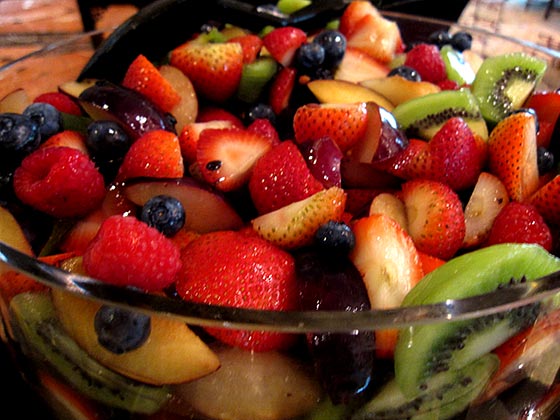 What I find most interesting in the desserts corner is this huge bowl of fresh fruits and berries. You can help yourself to the fruits; add it to a salad to spruce it up, or scoop some hot chocolate from the fondue and create your own berry mudpie. No prizes for guessing what I did!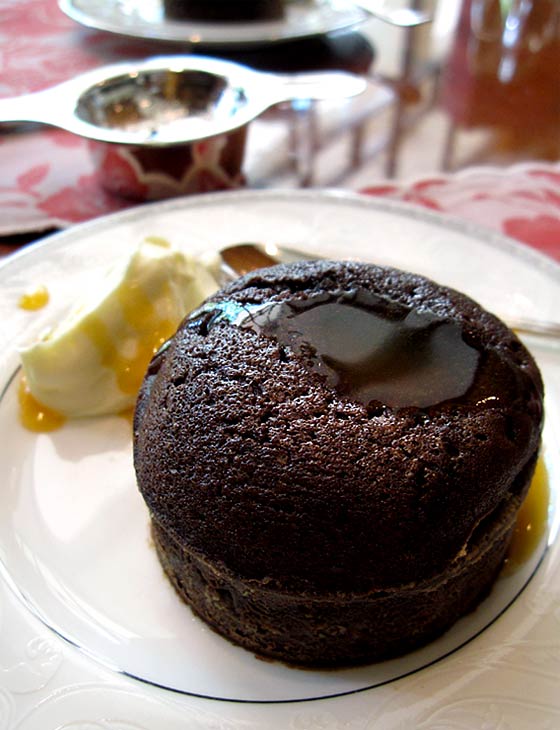 Right beside the desserts section is a mini kitchen where chefs prepare lava cakes and whip up crepes based on your preference. There may be some waiting time as they do each order a la minute, but the wait is all worth it. The warm lava cake paired with homemade vanilla ice cream is overflowing with chocolate even before I sink my fork into it.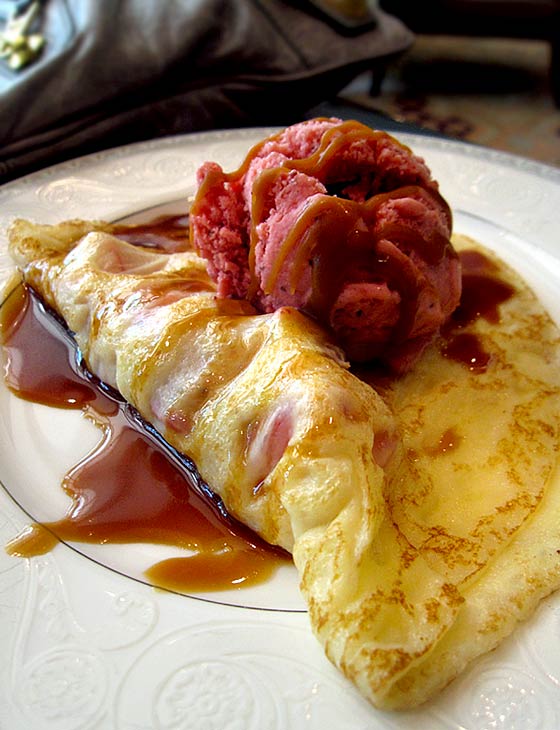 The strawberry crepe, with my choice of raspberry sorbet and maple syrup, is so light and delicate, I'll admit to having more than one serving.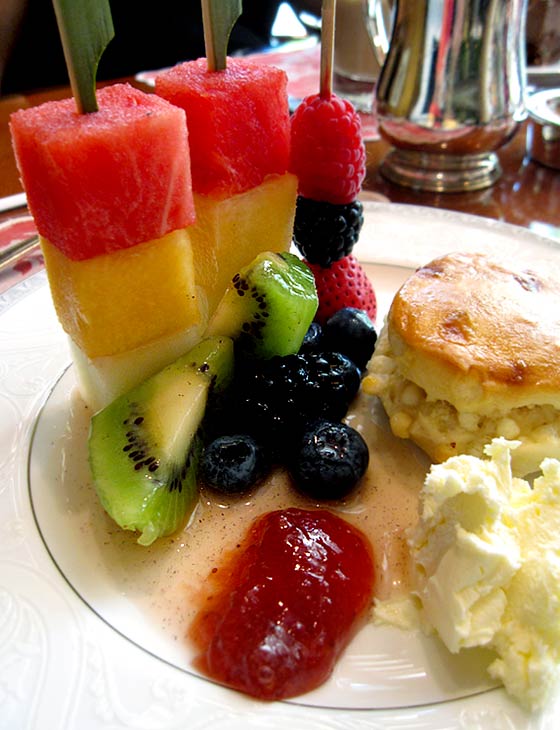 Also not to be missed when visiting the Tea Lounge is their renowned scones! These are firm and crunchy on the outside, soft on the inside. When paired with sweet jams or clotted cream, it seems to just melt your troubles away as you bite into it.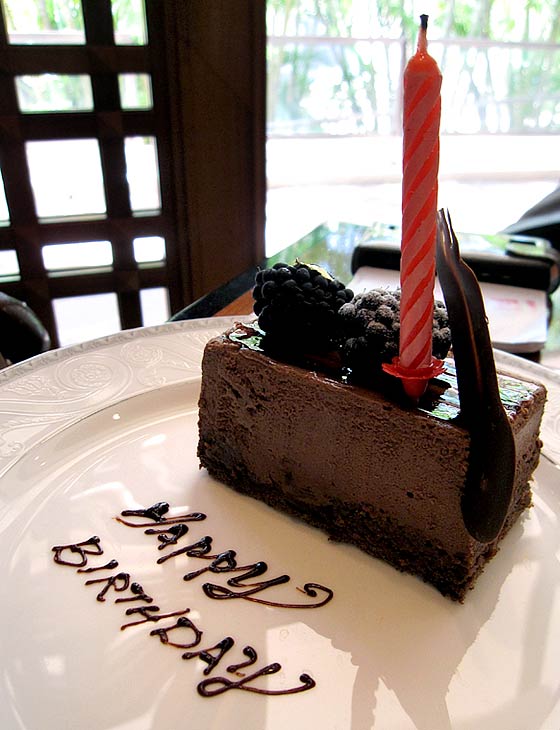 Knowing that it is my friend's birthday, the ever prompt and polite waitresses decide to surprise us by specially preparing a slice of cake and a birthday song – complete with accompaniment from the lobby pianist! Their standard of service and thoughtfulness certainly delight us and make it a very memorable dining experience.
With a selection that changes periodically, repeat visits to the Tea Lounge would not get boring. I can't wait to see what new additions they will cook up next!
Have Your Say!
Where do you go for high tea in Singapore? If you have any recommendations, don't forget to share with us in the comments!
Tea Lounge
The Regent Singapore
1 Cuscaden Road
Singapore 249715
Tel: +65 6725 3246 |
Website